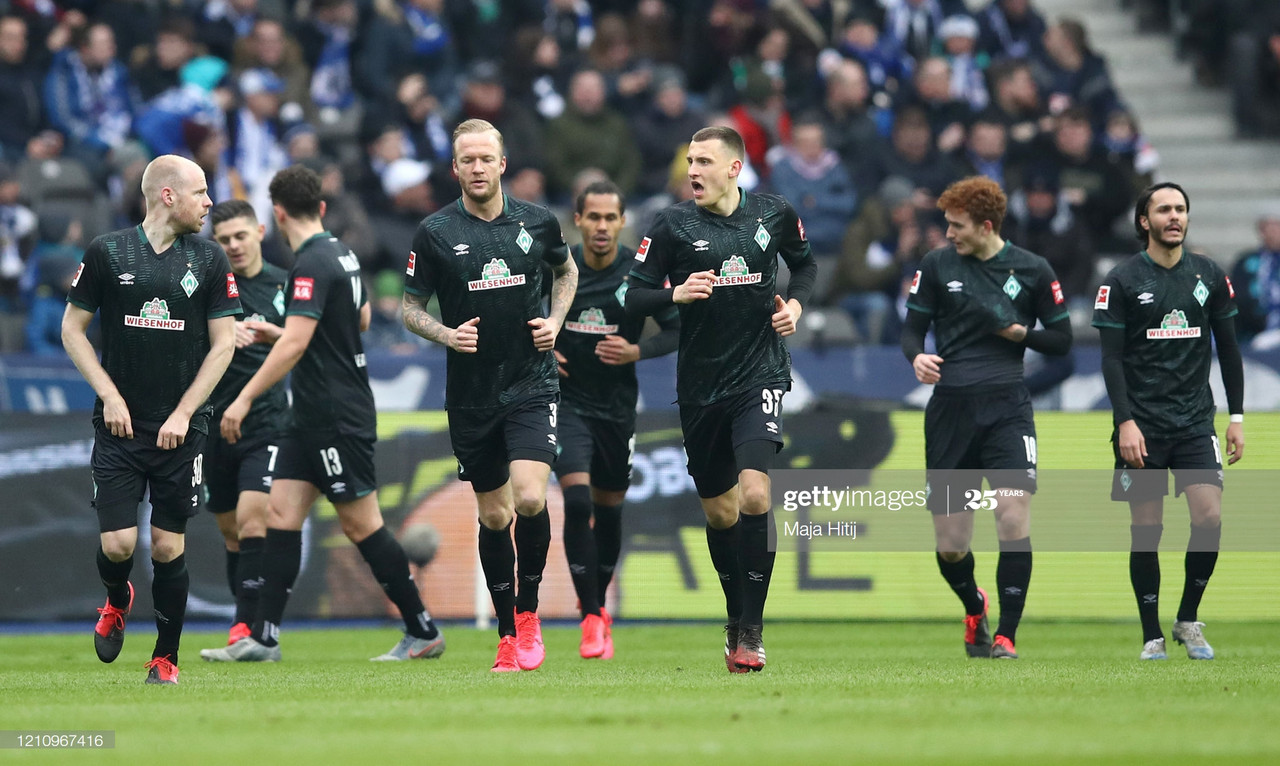 After 10 long weeks of waiting, the Bundesliga is finally back.
The coronavirus pandemic has halted play for the last few months, but after putting in the proper safety regulations, German football is set to kick off this weekend. Supporters aren't allowed back in stadiums just yet, but fans will still be overjoyed to see their teams back on live television once again.
Now, every club has to refocus, and get ready for the final stretch of the season. Werder Bremen are no different, and the Green-Whites will be under immense pressure to perform from the very start.
Before the hiatus, the 2019-20 campaign had been a disastrous one. Starting the year with the goal of qualifying for Europa League football, Bremen quickly slid down the table. At the moment, they find themselves in the relegation zone, four points behind 16th placed Fortuna Dusseldorf in the fight for the relegation playoff spot.
It'll be tough, but Bremen might just have enough talent to make a great escape and stay in the Bundesliga for another year.
The run in
First things first, Bremen do benefit from having a game in hand on their relegation rivals. That will take place in early June against mid-table side Eintracht Frankfurt, which won't be the easiest contest, but is still a great chance to pick up three crucial points.
With that in mind, they'll have 10 games to save their season.
Bremen's return starts with a Monday night matchup at home against Bayer Leverkusen, who are in a tight battle of their own for a top four spot and Champions League qualification. Led by wonderkid Kai Havertz, they are incredibly dangerous on the attack, and will prove to be a tough opening test.
The Green-Whites then go on the road to take on SC Freiburg, who have been the surprise package of the season so far, as they sit all the way up in 8th place. Things don't get any easier in the following weeks, as Bremen faces another top four side, Borussia Mönchengladbach, before then going up against 6th place Schalke.
After the aforementioned game versus Frankfurt, Bremen will host Wolfsburg, who are also pushing for a European spot. Then comes two games against teams on opposite sides of the league standings, as Bremen go on the road to play last place Paderborn before hosting 1st place Bayern Munich.
The biggest game of them all comes on June 20th, as the Bremen play 15th place FSV Mainz away from home. If things haven't been decided by that point, then that contest will almost surely decide who stays up and who goes down. If it doesn't, then the campaign will come to a close a week later when Bremen host FC Koln.
It's a brutal run of games all things considered. However, the extended break has at least reset every team's form, so Bremen won't have to worry about a lack of confidence going into matches at the start.
Too good to go down?
It's always a dangerous way to think, but you have to believe this current Bremen team simply has too much talent to get relegated.
The star of the show is Milot Rashica, who will likely be leaving the club in the summer no matter what happens. Incredibly quick and explosive on the ball, he has become a real nightmare for opposing defenders to deal with.
Often cutting in from the left wing, the Kosovo international has 7 goals and 4 assists so far, and he'll likely raise both numbers with the season restarting. His performances have caught the eyes of elite teams across Europe, so expect Rashica to make a big money move in the offseason.
On the other side of the field, Jiri Pavlenka has been one of the Bundesliga's best goalkeepers these past few years. Supporters have lost track of how many times he has saved Bremen since joining the club, often being the only reason why they've been competitive in games.
Lighting quick with unreal reflexes, Pavlenka is also reliable, rarely ever making mistakes at the back. Playing behind a leaky defense never helps him, and it's tough to imagine how many goals the team would give up without him bailing them out time and time again.
In the midfield, the pair of Davy Klaassen and Maximilian Eggestein are both excellent, and compliment each other very well on the field.
Klaassen, known to many as a former Ajax captain and Everton flop, thrives on late runs into the penalty area. He knows where the space is, and can finish as well as a top level striker. The stats show that, as he's tied for the 2nd most goals at Bremen this season.
When he goes forward, Eggestein makes sure to stay back and cover. A staple of the German youth international teams, he's almost got unlimited stamina, able to go up and down the pitch all game. Still only 23 years old as well, Eggestein will likely develop into a world class midfielder who can do it all. Only time will tell whether he does that at Bremen or somewhere else.
There's a solid supporting cast there as well. Former phenom Davie Selke returned to the club in January and will look to lead the line, while young American sensation Josh Sargent has made his mark on a few occasions this season.
At the back, Omer Toprak and Kevin Vogt both have loads of Bundesliga experience, and the team still has the legendary Claudio Pizarro to turn to off the bench when need be. This season might be his last, and even though he has yet to score during the campaign, there's no reason to bet against the 41 year old Peruvian icon finding the back of the net at least one more time before it's all said and done.
Bremen may have dug themselves into a deep hole, but supporters still believe they can climb out and secure yet another year of Bundesliga football.