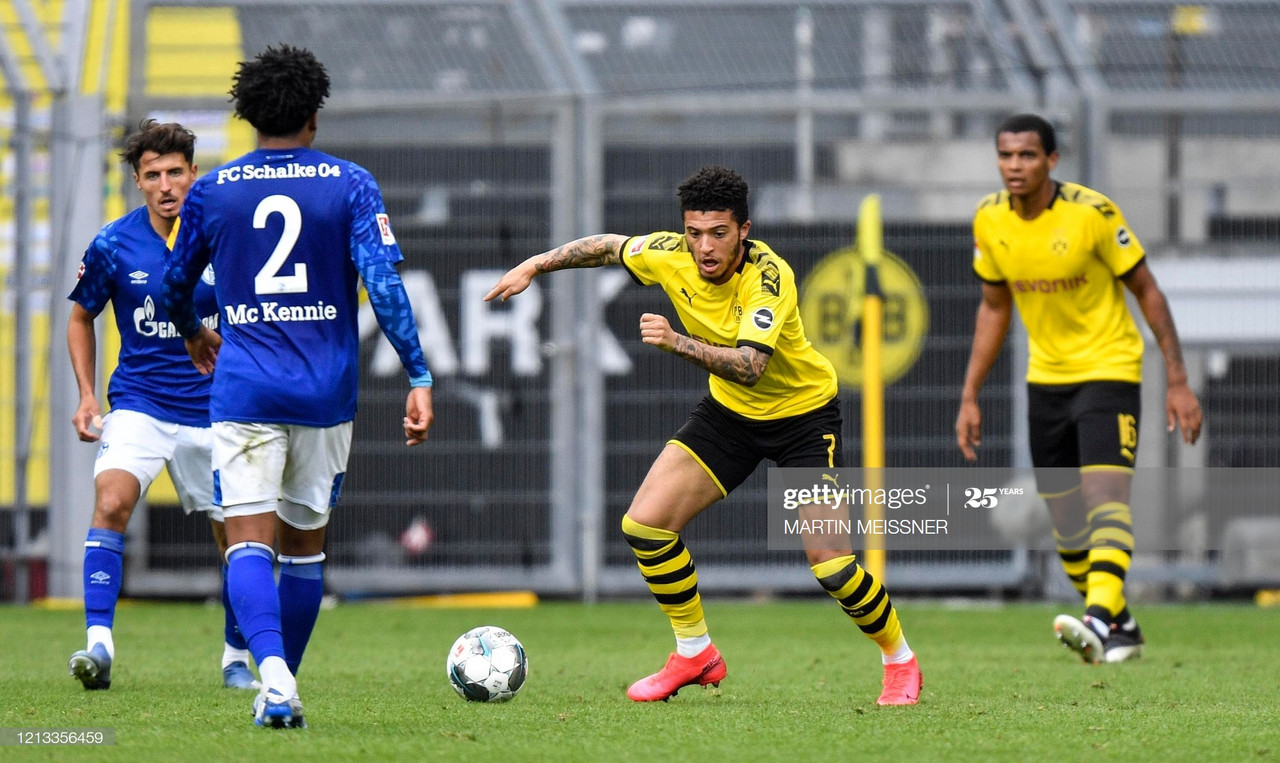 It all felt very dystopian. No fans. Voices from the sidelines echoed around the stadium. Every kick of the ball could be heard. The Bundesliga returned and it was all very surreal.
This is very much the start of a new normal. Bustling vessels of atmosphere have been replaced with hauntingly quiet mausoleums. It feels like intruding on something you shouldn't be seeing.
Everyone wants to like it. Scrap that. Everyone wants to love it. This is football for crying out loud! But it's not that simple.
It's like watching a film without the green screen, the music and the shifting cameras. The actors are still there. The story is still being told. But it's a very different experience.
People would watch Europe's biggest matches and they'd be transported into another world. Now, it's simply 22 players kicking a ball around on a field.
Of course, on the surface level, that's all it ever was and that is exactly what football-watching dissenters would tell you. What is so attractive about watching 22 grown adults trying to kick an inanimate object into some netting?
Almost everything around that concept has been taken away. No fans. No meet-ups with your friends. No gatherings at the pub. Football has been stripped back to its absolute basics. Still, there has been some good action to observe.
Borussia Dortmund returned to football by taking on Schalke 04, their fierce rivals and the match had lots of eager viewers from all over the world. Understandably, this derby took a little time to get going.
Dortmund's derby delight
It was one of the first matches to return in Europe and it looked like it. Dortmund were passing the ball around at a fairly slow pace. Schalke tried to press their opponents but didn't quite have the penetration to take advantage.
The opening goal was a reminder as to why we love football. Julian Brandt's silky flick was seized upon by Thorgan Hazard. Eden's younger brother played a delightful curling ball into the box and Erling Haaland expertly finished. A classic Dortmund goal and it was great to see.
It was a relief really. This was the biggest of the afternoon clashes so many eyes were fixed on the action at Signal Iduna Park. The goal took the shackles off and suddenly reminded Dortmund that they were capable of great things.
People love football for the game itself. If they didn't, they wouldn't get together and play. 11-versus-11 on a grass pitch. Heads-and-volleys with jumpers as goalposts. Keepy-uppies on the back street. The simplicity of kicking a ball around has always been a source of genuine entertainment for so many. That feeling hasn't been lost.
Football is still football
It was pleasing to see the fundamentals in order. The The Revierderby was physical and competitive. According to FOTMOB, each team featured in 97 duels and there were 17 fouls shared between the two clubs. Schalke weren't particularly impressive on a technical front but they weren't afraid to be engage in physical tussles.
This is important. In the UK, Sportsmail reported on several ideas that were being mooted in order to limit the possibility of spreading coronavirus. Encouraging players not to touch each other. Turning heads after initiating a tackle. Players wearing face masks. It was beginning to sound ridiculous.
Football is not rugby but, by equal measure, it's not basketball. It's a contact sport and it was concerning to read about the suggested changes that were on the table. Thankfully, the Germans have kept things rather simple. It's business and usual as far as the players are concerned. The only obvious difference was the lack of supporters.
A new normal
The spectacle of football is suffering an existential crisis but the hope is that football, the game, does not. The Bundesliga has demonstrated that competitive football can return in an authentic form. The technicalities of the game remain untouched.
It's important that the fundamentals of the game we all know and love do not get shafted. Otherwise, what's the point?
It looks like Germany have passed the litmus test and that's all we can ask for at this moment in time. Congratulations to all of those in Germany that worked hard to make this happen. It will be a huge boost to the country's economy and a ray of light for other countries who want to follow in their footsteps.