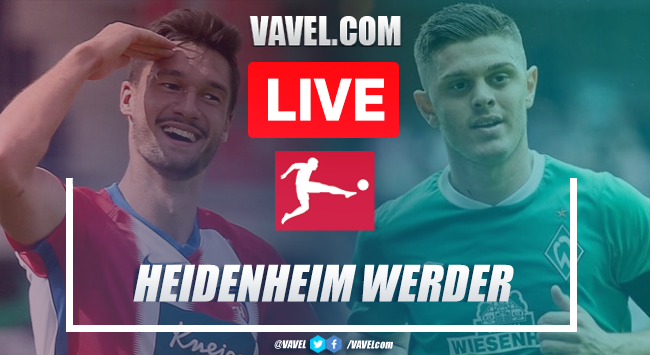 Full Time: 1.FC Heidenheim 2-2 Werder Bremen
GOAL HEIDENHEIM
PENALTY HEIDENHEIM
GOOAL WERDER BREMEN
85' GOOOAAAAL HEIDENHEIM
Second half underway!
Second half to start soon!
Half Time: 1. FC Heidenheim 0-1 Werder Bremen
3' GOAL WERDER BREMEN
1' Here we go!
Werder in new kit tonight
Heidenheim fantastic at home
Pizarro's final match
15 minutes left
How to watch on TV and Stream
Four former Bremeners in Heidenheim's side
30 minutes left!
45 minutes to go!
Heidenheim: Starting Lineup
Werder Bremen substitutes
Werder Bremen: Team News now in!
A sunny Voith-Arena
90 minutes to go!
Previous Heidenhiem home tie
First taste of the Bundesliga for Heidenheim?
3 hours to go!
Pizarro's swansong
Can Werder stay up?
First leg highlights
How to watch Heidenheim vs Werder Bremen Live TV and Stream
Werder Bremen: Predicted Lineup
Heidenheim: Predicted Lineup
Werder Bremen: Team News
1. FC Heidenheim: Team News
Weak first leg
The decider
Kick-off time
Welcome