FC Rosengård stopper Erin McLeod is facing months on the sidelines after injuring her knee again - and she may even need surgery.
McLeod suffered the setback during Wednesday's UEFA Women's Champions League clash with 1. FFC Frankfurt, going down in agony after only 10 minutes of the match as she took a goal-kick.
Now, Sporting Director Therese Sjögran has told Sydsvenskan that the goalkeeper has "a cruciate injury," one she admitted is "serious." However, she added that "nothing is decided yet" as to whether "she will have surgery or not."
Sjörgan continued, saying that this decision will be made "after the Easter weekend" as Rosengard search for a back-up.
Replacement needed - again
It was only a couple of weeks ago when Rosengård signed Sofia Lundgren on a short-team deal to offer back-up to McLeod, but now the experienced stopper has become first choice at the club due to a massive injury crisis.
Usual number one, teenager Zecira Musovic, is still recovering after breaking a bone in her hand, whilst even the junior number one, 16-year-old Olivia Elofsson, is out with a foot problem.
Lundgren played the remaining 80 minutes of the Frankfurt game, which Rosengård lost 1-0, and is currently the only option the team have for the return leg as they travel to Germany looking to progress to the last four of the Champions League.
However, the club are looking to act fast to bring in a back-up.
"We will get nothing clear today," said Sjörgan. "We have investigated various options and have little time left on Friday to fix it."
Furthermore, the Easter holiday will make things difficult, as will the urgency with which they need an option to come in before they fly out to Germany in midweek.
Nonetheless, the high priority of the deal that needs doing suggests that something will be sorted.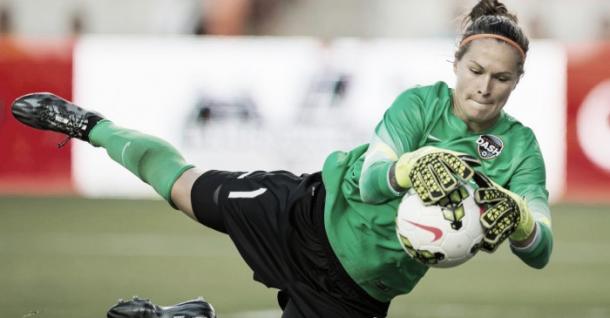 Big blow for Canada
The seriousness of the injury could be a problem for McLeod's country too, with her having expected to be Canada's number one at the Olympics this summer.
However, they could be without her come August given that it is cruciate ligament damage. The examination of the injury revealed that it is the meniscus and ligaments that have suffered, and surgery seems likely.
The only bright side is that Rosengård will have few problems showing a medical certificate to UEFA to prove the 'keeper will be out for at least 30 days, which is a requirement to bring in a new goalkeeper to the squad at this stage.
Unfortunately, this is hardly the shiniest silver lining.