Wales are top of Group B, with Russia to face England later tonight. You can follow that live here on VAVEL UK. I've been Harry Robinson, thanks for joining me today as this Wales side made history. Next up? It's only a game against the rivals as two Home Nations sides meet in Lens. England - Wales, possibly to decide who finishes top if England can win this evening.
Well deserved for Wales. An excellent first half and they responded to Slovakian dominance, including the equaliser. Scenes of delight in Bordeaux as the players applaud the fantastic support. At the other end of the stadium, the Slovakian fans are still in good voice despite the loss.
58 years in the waiting and Wales win on their comeback to major international tournament. Chris Coleman managed the game well, bringing on Robson-Kanu for Edwards and it made a huge impact. His goal was the main reason, of course, but he helped Bale come into the game in the late stages.
FULL-TIME: Wales win in their first international tournament match for more than 21,000 days. Gareth Bale with the early free-kick, Slovakia responded but Hal Robson-Kanu won it with a shinned strike in the second half.
93' One minute to hold on.
91' YELLOW CARD | Martin Skrtel is booked. Many would say he should have been sent off in the first half.
FOUR MINUTES ADDED ON
90' Gunter heads straight back into the penalty area as he looks to clear but Mak sees his shot rise well above the crossbar.
89' Bale breaks by himself but his shot, as Slovakia leave only two players at the back, is straight at Kozacik. He gives away a free-kick as he looks to win the ball back.
87' SUBSTITUTION: Aaron Ramsey OFF Jazz Richards ON
86' Ramsey has another chance to give Wales the win as he's through on goal again. He tries to get the perfect angle for the shot and holds the ball up for his oncoming teammates but Slovakia get back in numbers to stop him.
85' Slovakia with a very clear reminder that this is not over. A shot almost creeps into the inside of the left post but it's cleared by Wales after it smashes off the post.
84' Ramsey is almost through with a chance to make it three but he can't quite make the lofted ball.
83' YELLOW CARD | Kucka is booked.
81' GOOOOOALLL! WALES LEAD AGAIN! ROBSON-KANU SCORES. The substitute comes on and delivers. On his left foot, he strikes it and it curves with little power in, it's scuffed. Ramsey loses his footing as he's playing Robson-Kanu in but does well to poke it through. Robson-Kanu shins it in, and the penguin slides are out for Wales again.
80' YELLOW CARD | Vladimir Weiss is booked.
79' Another free-kick for Wales, Bale approaches it (looking extremely like Ronaldo) but is dribbles through to the goalkeeper.
78' Ramsey delivers a lofted free-kick but Kozacik punches away with power, confident from the Slovak goalkeeper for once.
76' Martin Skrtel appears to go down with cramp, much to the delight of the Wales fans after his elbow on Jonny Willams, which won't be forgotten.
73' Robson-Kanu holds up play excellently, a role he fills so well under Coleman, before a good cross to Ramsey. It's inch-perfect but Ramsey heads over. It should have been 2-1 for Wales but Ramsey seemed to be falling as he was heading it, jumping too early.
70' SUBSTITUTION: Hal Robson-Kanu ON Jonny Williams OFF A wonderful performance for Williams, and indeed it is not Ramsey and instead the young Williams. Robson-Kanu will be a willing runner off Gareth Bale, penetrating the halfspaces on either side.
69' Ramsey's number is held up to come off but he looks confused and Robson-Kanu has to wait to come on. Bale goes through on goal but Skrtel takes both him and the ball and Slovakia are on the attack. The game is being played with pace now.
68' SUBSTITUTIONS: Joe Ledley ON David Edwards OFF
67' Wales need a change. Mak strikes a shot with power. Robson-Kanu and Ledley set to come on.
64' Wales are struggling now. Slovakia are playing with urgency and confidence. Ward parries a long range shot from Kucka and Chester has to head out for a corner. They take that straight away but Ward claims the resulting cross.
63' Ashley Williams looks in trouble with an injury. James Collins is now warming up for Wales and the captain, the leader of the team, looks in pain as he gingerly wanders across his backline. Slovakia fans are enjoying themselves in the Sun, a lot.
61' Slovakia have changed the game with two substitutions and that goal. The momentum has swung. Immediately, they're back on the attack and earn a free-kick. It's over the bar. More on the goal: Aaron Ramsey was past with ease before the cross evaded the efforts of Ben Davies before Duda, excellently, dragged it across Ward's goal and into the corner.
60' GOOOOOALLL! SLOVAKIA ARE LEVEL! Duda equalises just moments after coming on as a substitute. He lets the ball run across his body and drags it back across the goal into the bottom right corner.
59' SUBSTITUTIONS: Nemec (in) - Ďuriš (out), Duda (in) - Hrošovský (out)
56' Bale gets close again! He struggles to get enough power from a slow cross having to use only his neck muscles. It's accurate, though, and forces Kozacik to dive to his right and save.
55' It's becoming end-to-end now with Weiss and Hamsik combining well, growing in confidence. Wales are still just as confident.
54' Mak has a shot for Slovakia on his left (weaker) foot. Slovakia break through suddenly and surprise Wales. They get back well to pressurise Mak, who shoots well over.
53' Jonny Williams earns a free-kick after ducking between defenders. Excellent game from the young man so far despite not being expected to start.
51' It's Ward's first start for Wales but he's confident. Takes his time on the ball rather than booting it away pointlessly, Wales retain possession. Coleman applauds on the touchline.
47' Williams goes for a great reverse pass but he's falling as he kicks it and the ball doesn't reach Ramsey. He's arguably been Wales' brightest player despite Bale scoring.
45' One chance for Slovakia early on in this second half and they have the momentum so Wales must take control in the opening stages in possession. Slovakia looked very dangerous at times in the first half, particularly Hamsik. As they go for the equaliser, the game will become more open, most prominently in the midfield where Wales have three men, which could be to their advantage.
KICK-OFF: We're back underway in Bordeaux, Wales kicking us off.
Wales and Slovakia are back out for the second half, the latter need to up their game.
Time for a cup of tea, a beer, whatever. If you're Welsh, you'll be enjoying yourself. For everyone else, it's hard not to be happy for this Wales side, making history after their predecessors failed.
HALF-TIME: A good first half for Wales, excellent I should say. Bale's tenth-minute free-kick puts Chris Coleman's side in front at the break. Skrtel should have been sent off for an elbow on Jonny Williams who earned the free-kick for Wales. A good all-round performance that thoroughly deserves the lead at the break.
45+1' The ball comes to Bale and he strikes it first time at Kozacik.
44' Weiss with a corner but Bale is back to do his defensive duties. A long ball is lofted over the Welsh defence and Skrtel, who is the highest Slovakian player on the pitch for some reason, is almost through one-on-one with Ward. The long ball comes down just over Skrtel's head and he can't reach it.
42' Finally, Weiss has an impact on the game. Moves with both feet, a stepover or two, using the sole of his feet, but it's a tame effort at Ward. The Welsh defence did well not to allow him to draw the foul in the penalty area there.
41' Slovakia find their talents. They have a good chance for the first time since Hamsik's third minute shot. Weiss has a shot blocked before Hamsik responds with the follow-up but that, too, is blocked by Ashley Williams. Wales need to avoid conceding before half-time and losing the momentum.
38' Ramsey crosses and it's out for a goal kick. There is a terribly annoying shadow on the pitch. I have always wondered why football stadiums are not built to avoid a shadow given the Sun always rises and sets from East to West. Anyone with a suggestion, tweet me @HarryRobinson64.
36' Another amazing rendition of the Welsh national anthem. Some atmosphere this. In terms of the football, they're on top too. Vladimir Weiss is not having a good game for Slovakia despite big expectations ahead of this, Hamsik is the only player having an impact.
34' Skrtel is being booed with every touch, and deservedly so. He should have been sent off. Wales still with the higher quality and higher number of chances. Taylor and Gunter on the flanks as the two wingbacks are causing trouble to Slovakia.
31' PENALTY SHOUT! Jonny Williams is elbowed in the face by Martin Skrtel as he makes no attempt to play the ball. The fifth official is going... nothing. Who would have thought? He's immediately in front of the elbow from Skrtel and the referee appears to be none the wiser. Wales should have a man advantage.
30' YELLOW CARD | For Hrosovsky of Slovakia. Wales earn a free-kick near their own penalty area as Hrosovsky goes in on Williams, replays show it is a very soft booking. Some good build-up play from Slovakia, revolving around Hamsik, before that.
26' Neil Taylor with a late challenge on Marek Hamsik who remains on the floor for enough time for his teammates to kick the ball out. Boos ring around from the Welsh support but Slovaks will be pleased to see their main man up off the ground.
23' For you Welsh fans, enjoy these pictures. Bale's celebration showing the fantastic attitude of the Welsh squad. Real Madrid's Bale with Wolverhampton Wanderers David Edwards, all part of a team like very few other nations.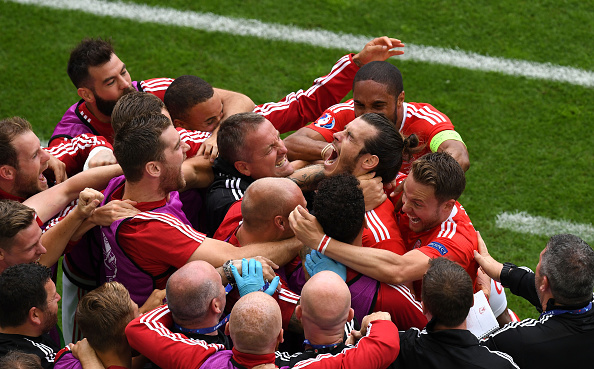 21' A good game so far, despite some pre-game expectations. Slovakia getting a grip on the game now. Kucka shoots from a free-kick, further out than Bale's goal, and it's not quite the same. It's way over, to the relief of a cheery Welsh support.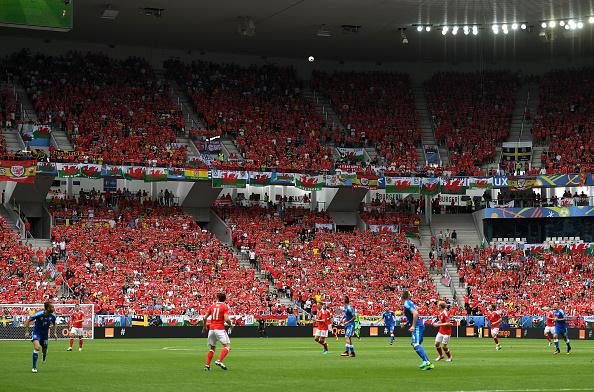 19' Ramsey attempts a long range shot but Kozacik claims it well, falling to the ground. The red end of the stadium sing: "There's only one Gary Speed."
18' Wales trying a similar tactic on a few occasions with Ramsey and Allen targeting Gunter on the right flank. Although Chris Coleman's side are on top, Slovakia are dangerous and they cannot get complacent. Hamsik showed his quality early on.
16' Much like the Irish fans at Euro 2012, this is memorable support from the traveling Welsh so far. Bordeaux is serenaded with some wonderful Welsh singing. Their team are repaying them. They're on top, without a doubt. Jonny Williams looks lively just off Gareth Bale.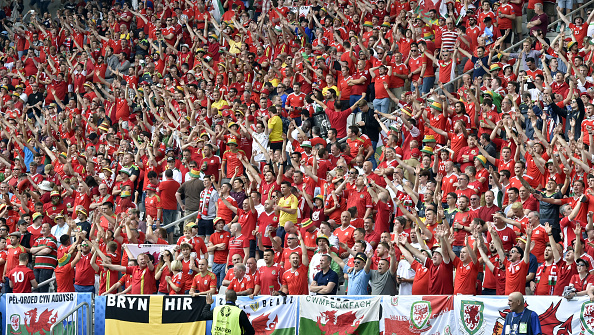 13' Joe Allen picks out Chris Gunter, playing at right-wing-back, excellently. He takes it down well and plays it into the penalty area but Slovakia are out quickly to claim it. Wales very much on top here.
12' It's an excellent free-kick and an even better celebration. The full squad and coaching staff celebrating together. Kozacik certainly should have done better, but the atmosphere is still just as loud at kick-off. Wales lead.
10' GOOOOOALLL! BALE GIVES WALES THE LEAD WITH THE FREE-KICK! 10 minutes in, of course it's Gareth Bale. It's Ronaldo-esque, dipping to perfection. It's a very good strike from Bale and Wales are in front within the opening quarter of an hour, but Kozacik did poorly, stepping to his left before Bale took it and giving him free range of his right post.
9' Jonny Williams, who has had a bright start just behind Bale, earns a free-kick for his attacking partner to take in a very good position. Almost central, 30 yards from goal.
7' A Ramsey free-kick from a long way out is met by the punch of Kozacik. It's not a powerful one and it's in the box but Joe Allen can't quite get his feet in the right place and it stays under a plethora of bodies. Ashley Williams can't get enough power behind it either. First chance for Wales, though not clear-cut.
6' Ramsey is painfully easy to pick out with his new silver-blonde hair. Not that he's done anything yet, just something to note.
4' That could have been a goal of the tournament contender, even after Dimitri Payet's strike yesterday, from Hamsik but for Ben Davies. Sloppy from both sides so far, not a great flow to the game as such.
3' ALMOST! Sensational run from Marek Hamsik. He gets into the penalty area after a wonderful run, he shoots past Danny Ward but Ben Davies is there with a goalsaving clearance off the line. Incredibly close after just three minutes.
2' If early positions are anything to go by, Aaron Ramsey is in the number ten role for Wales while Slovakia are sitting deep.
KICK-OFF: Emotions put to one side now. Marek Hamsik faces Gareth Bale, Wales face Slovakia. Two sides in their first ever European Championships. And it's underway.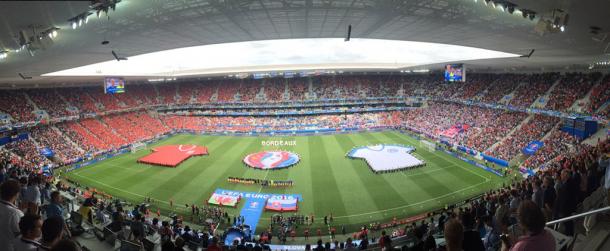 That was one hell of a rendition of the Welsh anthem. Loud and proud in Bordeaux with a thought for Gary Speed, of course. Stunningly loud from the many Welsh fans who have traveled to see their country in their first major tournament for 58 years.
A Slovakian national anthem which appears to have a triangle in the background. Anyway, Martin Skrtel leads his side as captain in a good rendition of the triangle-accompanied anthem as a giant Slovak flag moves across the crowd. Now for Wales.
It is quite an atmosphere in this new stadium. Finally, Wales are back. Slovakia are in their first European Championships too. Some emotional national anthems to follow.
The players are in the tunnel, this is going to be some atmosphere when they walk out. The Stade de Bordeaux is pretty much full now with a lot of filled by the red of the Welsh. 58 years, and they're back. We're just moments away.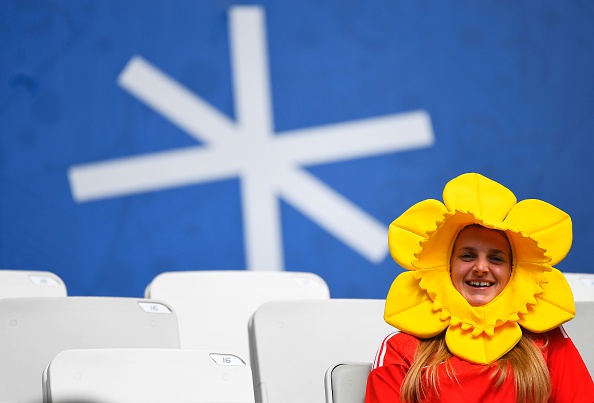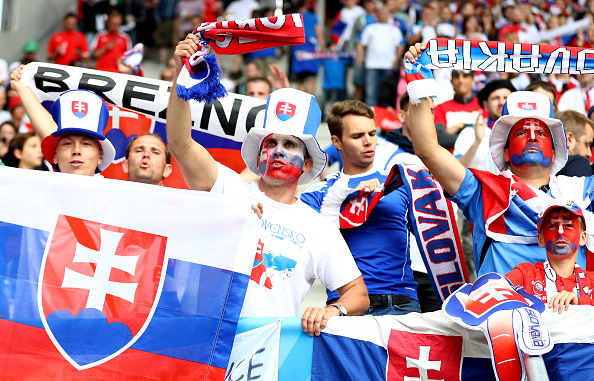 There's some horrible scenes involving England and Russia fans clashing in Marseille. In Bordeaux, it appears to be more calm, more of a celebration than a clash. Just 10 minutes before kick-off, the players will be in the tunnel shortly.
Less than 25 minutes until Wales - Slovakia kicks off. It's been a staggering 21,178 since Pele knocked out Wales at the 1958 World Cup. They're back, and the Stade de Bordeaux isn't full yet but there's a great atmosphere already and it looks like it's predominantly the Welsh fans there. Although there is this fantastically well-painted Slovak.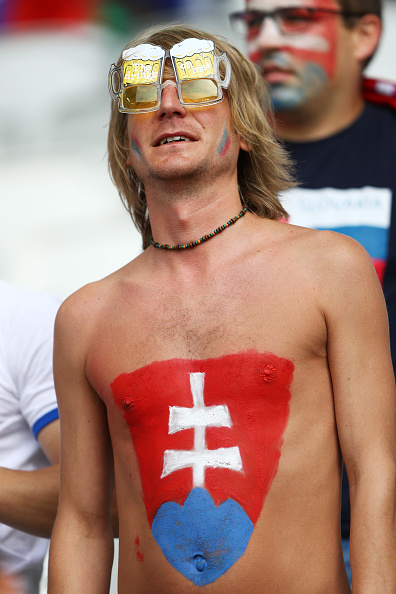 Ashley Williams on Bale: "There's definitely a moment in every training session and every game where there is a Bale moment. He's a superhuman. It's a privilege to play on the same pitch as him." Bale is the superstar, Wales' very own Galactico. By no means, however, is he separate from the rest of the squad. As the motto goes "Together Stronger".
More from Coleman: "I thought it would never happen, but we're here. It's something we've dreamed about. I understand we've got 25,000 or 30,000 Welsh supporters here to back us, which is incredible. We want to do them proud.- It's not the time to sit back and enjoy the moment."
No nerves for Coleman who wants his players to enjoy this momentous occasion for the country. The atmosphere in the stadium is already sensational, just for the players coming out of the tunnel to warm up. Could be another great game this, kick-off is in 40 minutes or so now.
Chris Coleman, speaking to the BBC, said: "We're very excited, this is what we've always wanted. You can feel the tension and the excitement and the anxiety. It's such a big deal for us, such a long wait to get to a major tournament. So many thousands have traveled from Wales to see their team. I want my players to take a look, take a deep breath because if you can't enjoy something like this, what can you?"
An incredible day for the Welsh team, the fans, the nation. Sure memories of Gary Speed will be vivid today as the Welsh fans approach the Stade de Bordeaux, which is filling nicely. Here's one of the many flags at this evening's game.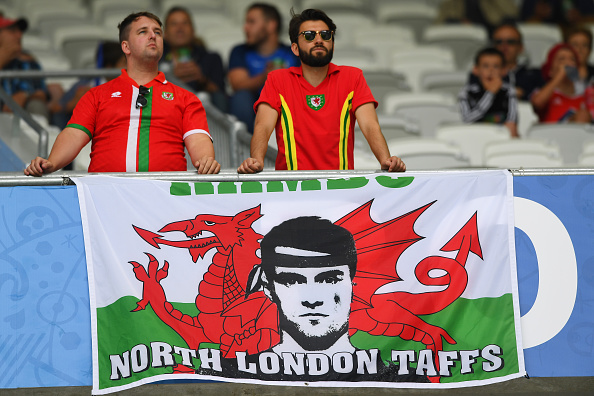 For Slovakia, the danger men are Napoli's Marek Hamsik and Vladimir Weiss who had more assists in qualifying than any man in Europe. Read our full tournament preview for Slovakia from Chris Lincoln here.
Joe Ledley made the squad after recovering quickly from a fractured leg but only makes the substitutes bench for today with Joe Allen, David Edwards and Ramsey forming a midfield three. Surprisingly, Jonny Williams is alongside Gareth Bale in a top two rather than Hal Robson-Kanu who has played in that position frequently.
There you have it, confirmation that Danny Ward, aged 22, starts for Wales. He's only ever played 90 minutes for his country before. The main men Gareth Bale and Aaron Ramsey start while Chris Coleman has gone with his preferred back five formation. Chris Gunter and Neil Taylor are the two full-backs while Ben Davies and James Chester accompany the captain Ashley Williams in the three central defensive positions.
Slovakia Starting XI: Kozacik, Svento, Durica, Skrtel, Pekarik, Hrosovsky, Kucka, Weiss, Hamsik, Mak, Duris.
Wales Starting XI: Ward; Gunter, A Williams (C), Chester, Davies, Taylor; Allen, Edwards, Ramsey; Bale, J Williams.
CONFIRMED TEAM NEWS
Wales are here! Gareth Bale and Joe Ledley check out the pitch and the Stade de Bordeaux.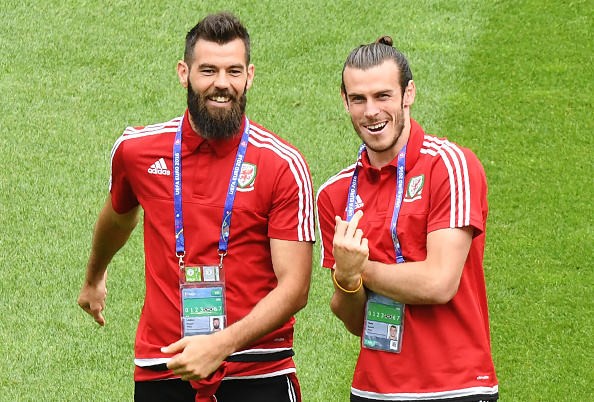 Suggestions that first choice goalkeeper Wayne Hennessey is injured for Wales but not confirmed team news. Danny Ward will come in for him, we'll have the confirmed line-ups in just a few moments. Ward has played just ninety minutes in total for Wales, two 45 minute appearances that is. His first full game? Wales first ever game in a European Champions. No pressure.
The stadium is filling up very slowly with a few flags already dotted around the place.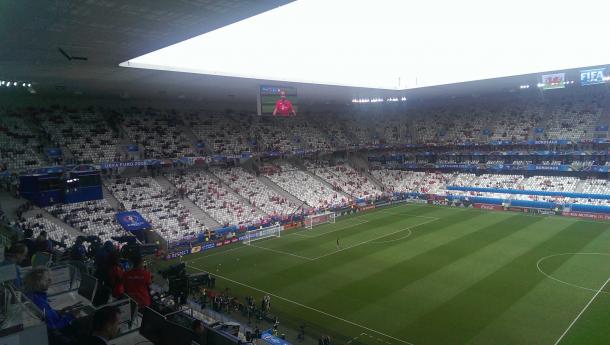 The Welsh are outside, one Slovakia fan has got in nice and early to assess the pitch. He's well dressed too. Good effort, Sir.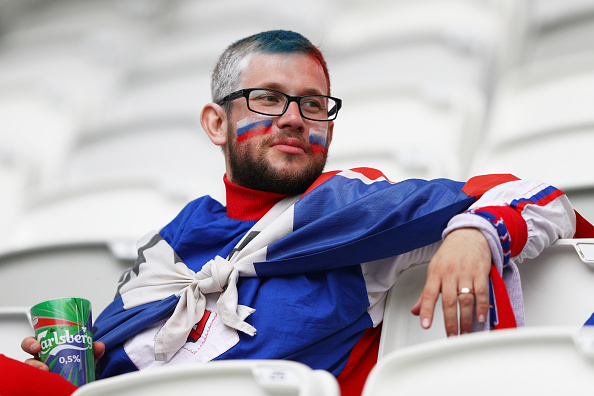 The Welsh fans are enjoying the French sun ahead of the game, we'll have team news for you very shortly.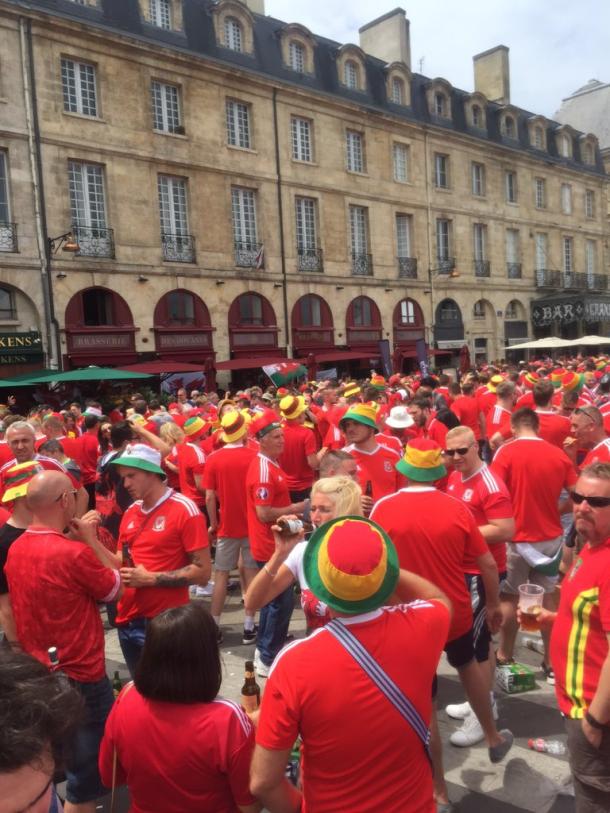 We've got our history wrapped up, our form guide all done and the team news there for you. Now, we'll have confirmed line-ups for you about an hour before kick-off at 16:00BST accompanied by many pictures of Welsh fans, undoubtedly with Dragons plastered on their faces. It's the start of Group B, it's the European Championships, here we go.
Yesterday, Dimitri Payet was the hero with a sumptuous strike. The most perfect placement and he left the pitch with tears of joy. Can someone pop up for Wales or Slovakia tonight and make themselves the hero for the weekend? We'll see. For now, you can follow Albania - Switzerland as the Xhaka brothers go head-to-head right here.
Wales Predicted XI: Hennessey; Gunter, Chester, Williams, Davies, Taylor; Ramsey, King, Allen; Bale, Robson-Kanu. [5-4-1]
Ramsey and the two Joes, Allen and Ledley, are the first choice midfielders. Ledley has just recovered from a fractured leg, impressively, to make the squad but could be rested for this opening game, which would be his first since the injury. Hal Robson-Kanu is likely to play up front with Bale just off, using the constant running of Robson-Kanu to emphasise the ability of Bale.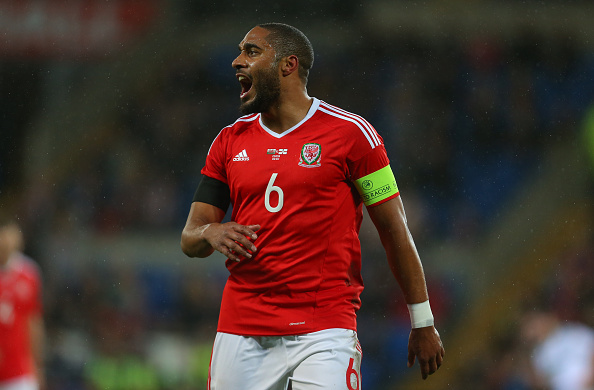 Wales' key men are obvious. They have their very own Galactico and no one will be offended, not even in the Wales squad, to hear the plaudits coming to Bale for dragging his team to France. Without him, they wouldn't be here, that is true, but the defence led by captain Ashley Williams has been equally impressive. Only England, Spain, and Romania conceded fewer goals than the Welsh in qualifying. Coleman tends to use a back five with Williams as the most central of the centre-backs with Ben Davies, usually a full-back for Tottenham Hotspur, and James Chester either side of him. Neil Taylor and Chris Gunter are likely to play in the full-back roles.
Predicted Slovakia XI: Kozacik; Pekarik, Skrtel, Durica, Gyomber; Kucka; Hrosovsky, Mak, Hamsik, Weiss; Duris. [4-1-4-1 flowing into 4-2-3-1]
Napoli captain Hamsik is the key man in Slovakia's side but they are strong right across the midfield. Vladimir Weiss created more goals than any other player in qualification for the tournament. They could come stuck in the forward positions with very little strength in depth up front.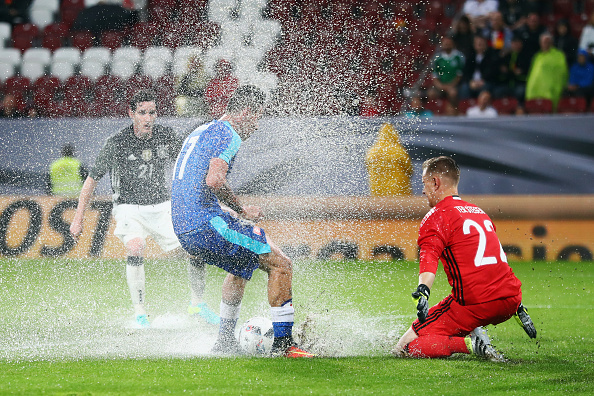 What are the Slovaks like then? Read VAVEL UK's full tournament preview here. Manager Ján Kozák has been upfront about things, suggesting that his side will "fight and be very hard to beat." As our preview states, Kozák is tactically astute and, predominantly, uses variations of his favoured 4-1-4-1 formation. While against England he may choose to go with three central midfielders to protect against both the counter-attack and win the midfield battle, he is likely to use a two-man midfield against Wales to allow more creativity against a weaker midfield. However, Wales' counter-attacking ability could force him into deploying a drifting third man in midfield to occupy both roles.
Slovakia have had many more friendlies than their opponents. Since the conclusion of the league season, they've played thrice. It's been very successful too, with a shock 3-1 victory over World Champions Germany thanks to goals from Marek Hamšík, Michal Ďuriš, and Juraj Kucka. They beat Georgia by the same scoreline just two days before and, most recently, faced Northern Ireland in a goalless draw.
In the March friendlies for Coleman's side, Simon Church scored a late penalty against Northern Ireland for a lucky 1-1 draw before a 1-0 loss to Ukraine away from home. In both games, they were missing the two key men, Bale and Aaron Ramsey, and it showed.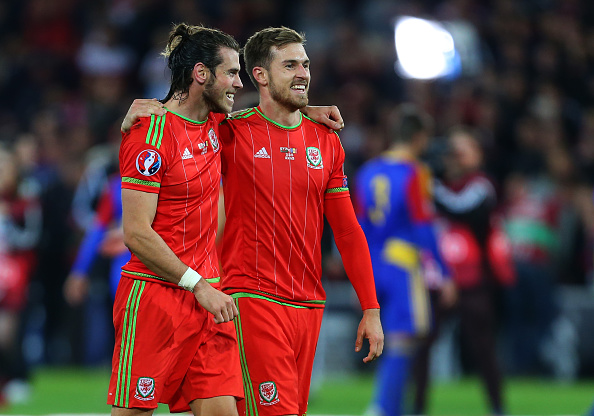 Right, another history lesson done at speed, let's look at more recent form for these two sides before some team news from France. Chris Coleman's Wales had a superb start to their qualifying campaign but a spell of poor performances began as they, oddly, qualified with a 2-0 loss to Bosnia & Herzegovina. Coleman arranged just one warm-up game for his side, in which the majority of the side looked lacklustre as Gareth Bale was only a second-half substitute after playing in the UEFA Champions League Final with Real Madrid. Coleman described the 3-0 loss to the Swedes as a "slap in the face," perhaps a good summation.
Well, having played as the Slovak Republic before the Second World War, Slovakia were represented by the Czechoslovakian national team for fifty years following the war. In 1994, they regained independence but had to wait until the 2010 World Cup for their first international tournament. It was a special one, though, beating then World Champions Italy in the final group game to go through to the knockout stages where they were beaten by the Netherlands. After missing Euro 2012, they're in their first European Championships this year.
So, hope you enjoyed that quick history lesson in Welsh football. Since then, Wales have had Mark Hughes, Ryan Giggs, Ian Rush and other big name players but never a team like this. How have Wales' opponents fared in recent tournaments, though?
Three draws in Group C saw Wales scrape through by another playoff. They played Hungary, who had lost in the 1954 World Cup Final, and came back from a goal down to go through despite scoring just two goals in the group. Having had the luck of the playoff ties, such luck ended quickly there. Wales faced Brazil with the fresh-faced 17-year-old Pelé . No doubt you will have guessed, but he scored one of his six goals in that tournament to send Murphy's Wales home. 21,178 days on, the Welsh are back.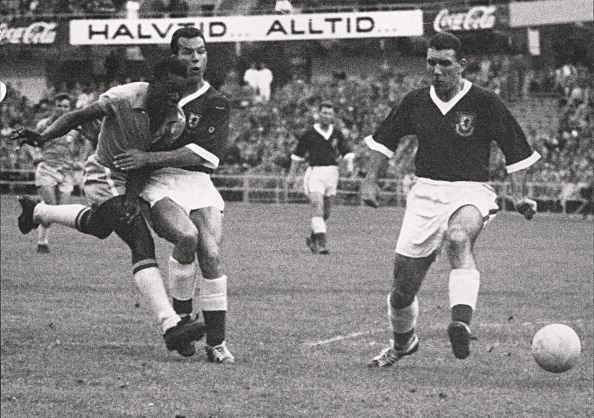 Now, it's been 58 years, so let's look back at Wales' last appearance in a major international tournament. Managed by Jimmy Murphy, Sir Matt Busby's assistant at Manchester United, Wales qualified thanks to a play-off victory against Israel. Interestingly, Israel managed to get to that playoff game without playing a single match after opponents forfeited due to political stances. Wales won 4-0 on aggregate and went into Group C at the Swedish World Cup.
In the other Group B game this evening, England face Leonid Slutsky's Russia at 20:00BST with live coverage, of course, on VAVEL UK again.
Talking of the Stade de Bordeaux, it's one of the few stadiums built in anticipation of Euro 2016 with a 42,115 capacity. It's also designed by the same architect who built the fantastic multi-coloured Allianz Arena, home of Bayern Munich.
We'll have all of the pre-match build-up and then minute-by-minute commentary of the game at Stade de Bordeaux at 17:00BST. Get the Welsh cakes out of the oven, find your great grandad, possibly the only man who remembers Wales' last tournament appearance, sit down with him, it's tournament time.
Hello, and welcome to VAVEL UK's live minute-by-minute coverage of Wales' first game in a major international tournament for 58 years. The face Slovakia in the opening Group B game of Euro 2016. Kick-off is at 17:00BST on Saturday afternoon in Bordeaux.