Poland will face a Northern Ireland side that has shocked everyone during the qualifications for Euro 2016, finishing top of their group and only losing one out of ten fixtures.
Poland will want to start off from where they left in terms of the good run during the international friendlies.
Strong back-line
With the side spoilt with three good goalkeepers to select in the starting line-up, most likely it will be Wojciech Szczesny who will start in goal. Lukasz Fabianski and Artur Boruc will be prepared to pounce on any mistake produced by Szczesny which could lead to a change from the manager.
Jakub Wawrzyniak and Lukasz Piszczek will be doing their job as a full-back, Nawalka has turned Poland has turned the side from a counter-attacking team to one that dominates most of the match. So both Wawrzyniak and Piszczek will be playing a big part for Poland if they were to be successful.
Michal Pazdan and Kamil Glik will be partnering up at the heart of defence. With Pazdan being one of the talents who are unknown and Glik completing over 40 appearances for Poland, it wouldn't be a surprise if the pair forms a solid partnership throughout the competition.
Solid midfield
Grzegorz Krychowiak will definitely be starting in the centre of midfield. The Sevilla midfielder will be the key man in the middle, especially if Poland want to qualify for the knockout stages. He will be partnered with Piotr Zielinski; the 22-year-old has reportedly been linked with a move to Liverpool and Napoli. The attack-minded player will be looking to create chances through the middle, the Empoli midfielder will always be looking for a chance to attempt a long shot.
On the flanks will be Jakub Blaszczykowski and Kamil Grosicki. They will look to use pace and movement to cause problems to Northern Ireland's full-back.
If Grosicki places some quality passes and makes a few good choices in the final third, without a doubt Poland will be even more dangerous. The attacker was the second top goal-scorer for his side, Stade Rennais, will be looking to be a big threat during the Euros too, but will first hope to overcome a niggling injury that makes him a doubt for this game. If he isn't 100 per cent today, Slawomir Peszko or 19-year-old Bartosz Kapustka will replace him on the left.
Meanwhile, Blaszczykowski has had a poor campaign this year. He was loaned out from Borussia Dortmund to Fiorentina and completed only 15 league appearances for the Italian side. The player has had a mere time for club and country in the recent year and was very fortunate to be part of the Poland squad for the Euros.
Attacking duo
Adam Nawalka will be looking to keep the same attack, which has helped them finish second in the qualifications for Euro 2016. Robert Lewandowski and Arkadiusz Milik should be expected to carry out their duties in attack, the manager's big call of playing two strikers paid off in recent years but will be interesting to see if it does during the Euros.
At the start of the qualifiers, Lewandowski found it difficult to get going especially with no support close to him. This was turned around, now Milik and Lewandowski have formed into one of the most lethal striking partnerships in Europe.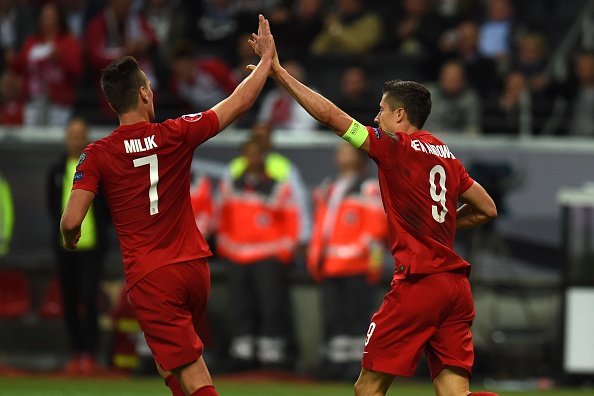 Predicted XI: Szczesny; Piszczek, Glik, Pazdan, Wawrzyniak; Blaszcykowski, Kyrchowiak, Zielinski, Grosicki; Milik, Lewandowski.