Cristiano Ronaldo and company didn't get their European Championship off to the best of starts last night as minnows Iceland came back to draw 1-1.
It is thought 8% of Iceland's population is in France for the Championship's, and last night many of them witnessed their side make history as they scored the first ever goal in a major tournament, and to add to the joy their first ever point.
There was no doubting Portugal had much more of the game; they had more possession, and Iceland's keeper Hanne Thor Halldorsson made some great saves to keep the Nordic nation in touching distance.
Nani opened the scoring midway through the first-half with a well taken finish; but as England found out to their dismay last Saturday, if you don't take your chances it can come back to haunt you.
And for Portugal that's what happened 10 minutes after the restart, when a cross found Birkir Bjarnason at the back post; he calmly swept home a neat volley to send Icelandic fans delirious.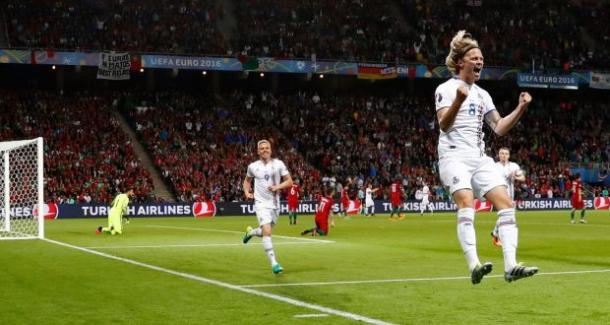 Ronaldo feels Iceland won't do 'anything' at the Euros this summer
After big games that the Real Madrid star Ronaldo is on the wrong end of, he has a habit of throwing his toys out of the pram, and last night was just indication of that.
Speaking after the game last night, Ronaldo said: "I thought they'd won the Euros the way they celebrated at the end."
For a long time many believe Portugal are a one man team, and if you can subdue Ronaldo you have a chance of getting something, and that was the case last night.
It certainly wasn't Ronaldo's best game in a Portugal shirt; ad Iceland's defensive solitude prevented Ronaldo on many occasions.
Ronaldo was really frustrated with Iceland's tactics, saying they showed: "a small mentality and they are not going to do anything in the competition."
But for Ronaldo and his teammates they have to forget about the game and concentrate on the next one; which is against Austria who started their Euro campaign with a disappointing 2-0 loss to Hungary.