Kevin De Bruyne insists he never once worried about his place in Belgium's starting eleven although Marc Wilmots had threatened to drop him for their clash with Republic of Ireland on Saturday.
The Red Devils boss opted not to bench De Bruyne and Romelu Lukaku, whom he had suggested might lose their places after underperforming in their first group game, and that decision paid dividends as the two helped engineer a convincing 3-0 victory in Bordeaux.
Lukaku's second-half brace, either side of Axel Witsel's header, was enough for the Belgians to bounce back and give themselves a much better chance of reaching Euro 2016's knockout stages - with De Bruyne central to everything positive they did in the final third.
Wilmots has since admitted that he was "bluffing" with his threat of dropping Manchester City's De Bruyne, something the 24-year-old has acknowledged he was aware of.
"We answered the critics on the field after a lesser performance against Italy," he told Reuters, admitting that he "read some of the speculation" about his place in the starting team but that he "never felt" that he was "under threat" of missing out.
The Belgian No.7 insisted: "I've proven myself enough in the past in the national team. I think we played really well and were patient in our approach."
De Bruyne hoping for end-to-end game against Swedes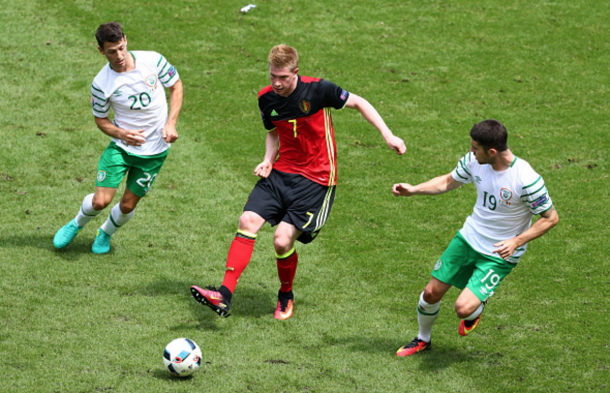 De Bruyne's inclusion had also been under threat due to a troubling hamstring injury which had threatened to keep him sidelined having forced him to miss a training session earlier in the week.
But having managed to overcome the problem, the attacking midfielder believes that because he "ran less" against Martin O'Neill's side, he now "feels better" going into their final group game in Nice on Wednesday, where they take on Sweden needing only a point to secure second-place.
De Bruyne, who came into this summer's tournament backed to be one of his country's key players, declared that his nation's focus is now "solely on Sweden" and acknowledged them as "a good team with Zlatan Ibrahimovic" whom he called "a classy player."
"They have to win so they will attack us," he continued, before declaring that he hopes it is "an open game" because that would give him and his compatriots "an advantage."