"This will be a day we'll talk about for the rest of our lives," said co-coach Heimir Hallgrímsson after Iceland's historic 2-1 victory over England, perfectly encapsulating the size of the feat accomplished.
Nice witnessed the Nordic nation of 330,000 people stun 50 million plus across the Channel on Monday night, as well as the sport as a whole as they booked an incredible quarter-final place in their first ever major tournament.
The manner in which the result was recorded though was the most incredible thing; Iceland comfortably defending against the Three Lions and looking a threat whenever they poured forward.
It's no surprise then that Hallgrímsson referred to the performance as his team's "best" at Euro 2016 so far, with fellow co-coach Lars Lagerbäck putting this down to the togetherness shown on the pitch - a characteristic that has been the most influential in Iceland's unlikely progression to the last eight this summer.
Teamwork makes the dream work
Hard work, teamwork, was responsible for Strákarnir okkar's win on Monday. Furthermore, it has been responsible for their unbeaten run in France; two wins and two draws in their major tournament debut.
Lagerbäck continued to elude to this, as he has throughout the summer, after the "great victory" over England, saying: "It was a team performance.
"We're really doing well defensively," he believes, with every player "well organised, doing their jobs and reading the game."
Hallgrímsson too was pleased with his team's efforts in their own half, saying that they "didn't have too much problem" thwarting England - and defender Ragnar Sigurdsson agreed.
Sigurdsson, who scored his side's equaliser on six minutes, said: "We don't feel as though they created many chances. I wasn't really stressed in the second half, apart from the last few minutes."
Building on the strong foundation at the back, Lagerbäck was impressed with his side's attacking side of the game too, describing it as "really good.
"Football is about winning and scoring as many goals as you can," Lagerbäck said, adding: "This team has really shown what it can do."
Nonetheless, Hallgrímsson disagreed with his co-coach on the latter, saying: "We still haven't shown what we can do and hopefully our best game is still to come."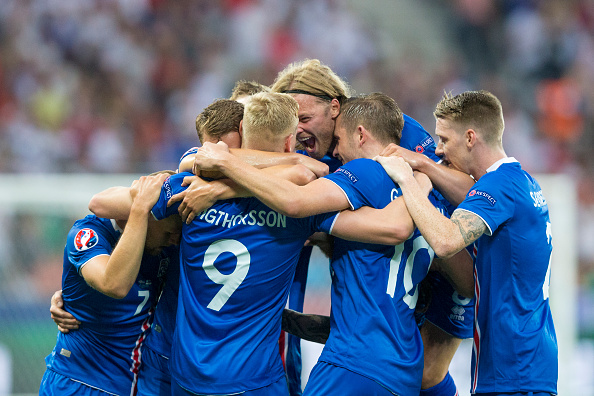 Quick fire equaliser was 'the key moment'
Something all seemed to agree on, on the other hand, was the importance of a quick-fire equaliser after England went ahead on just four minutes.
It seemed set to be the smooth sailing that the majority expected when Wayne Rooney's penalty made it 1-0 early on, but Sigurdsson replied two minutes later to level the scores after a long throw caused problems.
Speaking about his goal, the defender described the long throw as one of Iceland's "weapons," adding that it was "no surprise" to him that the team scored from one having done so already this tournament.
"They started very well and with great power," Sigurdsson said, "but they were shocked by the equaliser and the 2-1 goal. They panicked."
Hallgrímsson, meanwhile, described the equaliser as "the key moment" in the match.
"Answering right back had more of an effect on England than their goal did on us," he said. "Their plan was to shut us off from the beginning and they probably thought they did that," with a fourth minute goal giving them the edge and potentially dealing Iceland a confidence blow.
Hallgrímsson understood the significance of replying quickly then, adding: "If we hadn't done that, I don't know how the game would have panned out. Psychologically it was very important."
Underestimate Iceland at your peril
While Iceland were able to apply themselves psychologically, England have been criticised for not doing so themselves, underestimating their opponents and ultimately paying the price.
"They thought this would be a walk in the park," said Sigurdsson. The defender recognises that England are "a good team," but believes they should have known much better than to see the game as a straight-forward fixture: "As you know, it's difficult to score goals against Iceland."
In stark contrast, Iceland's mindset going into the game was just right and Hallgrímsson has urged them to maintain it.
"The boys were ready for this opportunity that was put in our hands," he said. "If we prepare well and the players perform with the same attitude as today, we can beat anybody."
With France up next, they'll need to be perfectly ready if they want to continue their incredible campaign too. The hosts are one of the favourites, if not the favourites, to win the tournament, but they still have weaknesses Iceland can exploit.
After beating England though, Hallgrímsson says his team will "believe more in themselves" going into the new biggest ever fixture of their footballing history.
Could a new historic win be in the waiting?