Poland head into the last eight of Euro 2016 with no fresh injury concerns, with star man and captain Robert Lewandowski declared fit despite doubts over his fitness.
The striker was struggling with a foot problem during and following the last 16 victory over Switzerland, however he will be ready for the clash with Portugal tomorrow evening.
Poland's only absentee then is goalkeeper Wojciech Szczęsny, who has not featured in any of their last three games after picking up a thigh injury in the opening 1-0 win over Northern Ireland.
Lewandowski good to go
Speaking to the media this week, assistant coach Hubert Małowiejski revealed that Lewandowski is fit as Poland await his leadership in the country's biggest game for over 30 years.
Małowiejski told the press that the team "are not worried" about their poster boy, "not at all."
"Of course he felt some pain after [the Switzerland] match," having been the victim of many fouls throughout the 120 minutes, but the assistant coach added that "there is not even the slightest bit of doubt" regarding his fitness.
"He will be ready for Portugal."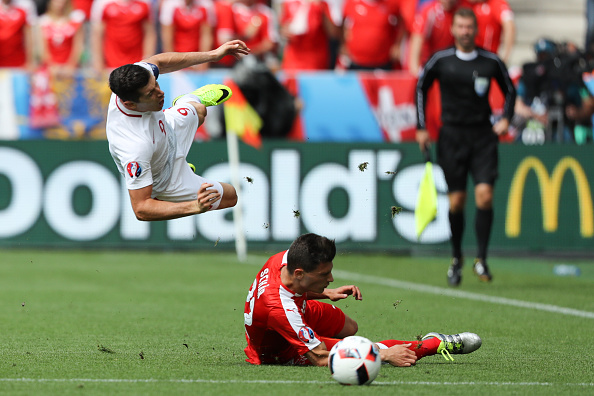 Szczęsny still struggling
Lewandowski's fellow Pole, goalkeeper Szczęsny is not so lucky. He suffered what seemed a relatively minor knock in his country's first game, but has been unable to feature since because of it.
Lukasz Fabianski has been in between the sticks since, doing his best to ensure the team do not miss their first choice stopper too much by keeping two clean sheets and conceding just one goal in three games.
Speaking to the press ahead of tomorrow's game, Szczęsny declared himself "not 100 per cent fit" too, despite him having "started to train again."
He said that he needs "some time" to get back to full fitness, adding that he cannot "help the team as Lukasz does at the moment" given his current fitness levels.
"I will not play against Portugal," he stated. "I will try to support the team from the bench." He conceded that "of course" he is not "happy" with the injury, but "that's life.
"I will not cry because of it and it is still nice to be here with the team."