On Wednesday, VfL Wolfsburg confirmed that goalkeeper Almuth Schult had extended her contract with the club until 2019.
The goalkeeper will remain an important part of the Wolves' squad, who are grateful to have her back after a lengthy spell on the sidelines.
Promising beginnings
Schult began her career with FC SG Gartow at the age of five, before moving on to Hamburger SV in 2007.
She then moved on to Magdeburger FFC, where she helped them gain promotion to the 2. Frauen-Bundesliga and stay there for a further two seasons.
SC 07 Bad Neuenahr then came calling and a two-year stint at the now dissolved German giants provided her with the platform to shine.
The 25-year-old made an impression on Wolfsburg, who snapped her up in 2013. Since then, she has gone on to make 42 appearances for the club.
Terrific time in Lower Saxony
The Wolves' shot-stopper has enjoyed plenty of success already in her career, and is now the German national team goalkeeper after Nadine Angerer retired.
Schult helped Wolfsburg claim the UEFA Women's Champions League and Frauen-Bundesliga titles in 2014, adding the DFB-Pokal to the trophy cabinet last term.
She has also been successful on the international stage, with triumphs in the European Championship and Algarve Cup to her name.
Schult is also in possession of a very impressive Frauen-Bundesliga record, having gone the longest run without conceding in the league (1051 minutes).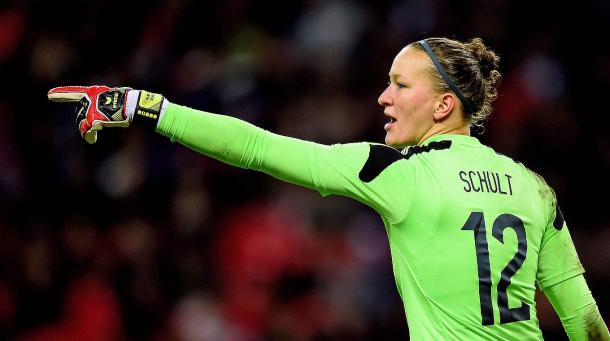 Kellermann and Schult have their say
"The fact that we have tied down German number one Almuth Schult on a long-term deal is a very important signal," confessed head coach, Ralf Kellermann.
Having recently extended until 2019 himself, he told Wolfsburg: "As a starting player she is a vital part part of the team."
Schult feels that she has "a lot of faith in the club" as they put so much behind the team.