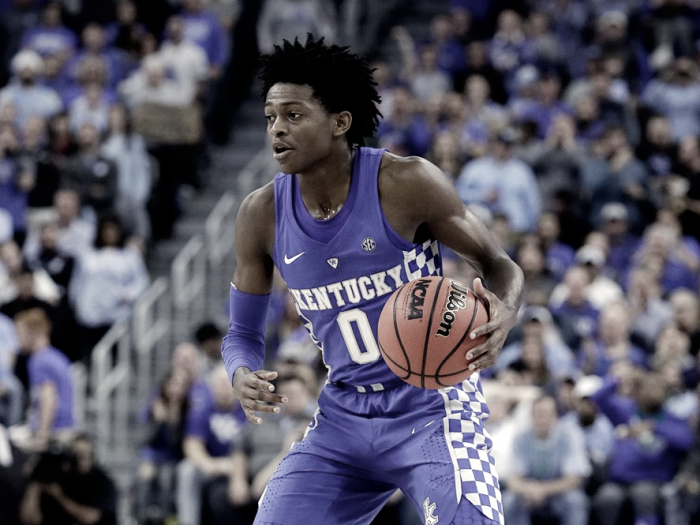 Of course I would pick to write De'Aaron Fox's draft profile, he's a Houston native. But this random fact isn't the only reason why I was excited to write about him.
After averaging 16.7 points, 4.6 assists, and four rebounds per game, Fox was rewarded with First Team All-SEC Honors. He also led his Kentucky Wildcats to the Elite Eight after destroying Lonzo Ball. Early prediction: the Ball/Fox rivalry is going to be a great one. Fox is sick of all of the hype surrounding Ball. Also, they are going to more than likely be in the same division, whether the Phoenix Suns or Sacramento Kings pick Fox. Or even better, imagine Ball's disdain if the Los Angeles Lakers pick Fox instead. Their matchups are going to be extremely fun to watch.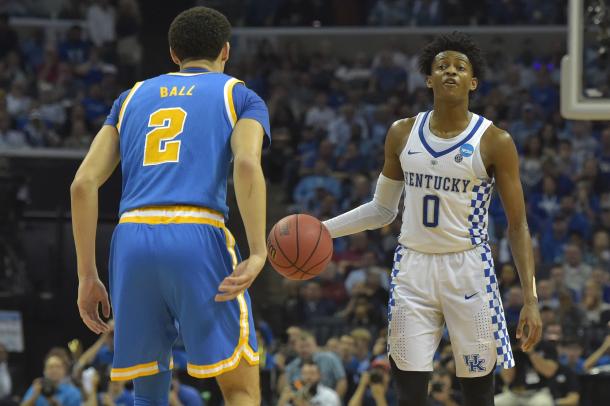 Anyways, Fox is a rare point guard with his combination of athleticism and height. This mixture led to a bunch of great highlights last year, especially during March Madness. John Calipari has developed a lot of great point guards in Kentucky, and Fox will be another one in a list that consists of John Wall, Eric Bledsoe, and Brandon Knight. Fox will at least be the second best among them.
Strengths
Fox's main strength is his athleticism and his ability to finish around the rim. Most of his offensive game involves him slashing towards the rim and either throwing it down or laying it up softly. His quickness helps him beat his defender and he's got the leaping ability and height to finish on bigger defenders. He didn't test his vertical at the Combine, but recorded 34 inches standing and 38.5 inches max last year. That would've ranked him tied for sixth and tied for tenth respectively, including second and third among point guards.
With this athleticism comes his 6-foot-4 height and 6-foot-6 wingspan. That only makes him even more of a threat in the open court and when he drives. If he beats the initial defender, rim protectors will have to step up because he will attack with ferocity. Solid playmaking will allow him to find open teammates as he collapses the defense.
On the other side of the ball, Fox is fast enough to play tight defense. Smaller point guards won't be able to drive on him as he can block them, and bigger ones will be too slow to get by him. His combination of athleticism and height makes him a very intriguing pick and gives him the potential to become a great player in the future.
Weaknesses
As a 19-year-old, his game still needs polishing; he only shot 24.6 percent from deep in his lone college season. Opponents will use that against him and sag off. Without an at least solid three point shot, his slashing ability becomes limited. He can work on it, but even his mechanics are slightly off, so it will require more work than just shooting a bunch of times. If he improves his form, he will also hopefully improve his 73.6 percent free throw percentage, which will be very useful as a slasher.
He averaged 2.4 turnovers per game compared to 4.6 assists. That's just a 1.92 assist to turnover ratio, good for 37th best among point guards in the NBA. Remember, that ratio is in college. His decision making is definitely one of his biggest weaknesses. He will have plenty of opportunities to find open players, he just needs to learn who to pass to and at what times.
NBA Player Comparison: PG - John Wall, Washington Wizards
The best case scenario and first player that comes to mind is fellow Kentucky star John Wall. Tall point guard? Check. Crazy athletic? Check again. Quick crossovers and great driver? Hard to distinguish between the two at this point. Granted, this doesn't mean Fox is going to for sure be that good, he just has the potential to be another Wall.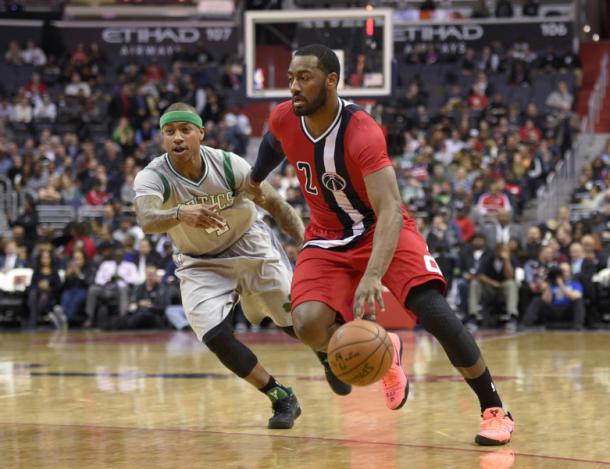 He even had the same weaknesses Wall had, a subpar jump shot and questionable decisions on his passes. But Fox is only 19-years-old, he has time to improve both. A more conservative comparison is Dennis Schroeder, but don't be surprised if he becomes better than him.
Best Fit
The Sacramento Kings. It will not seem like it early on because the team is so young. However, they have a lot of promising pieces that can complement Fox well. Buddy Hield is turning into a great shooter (don't know if he'll be Stephen Curry good though, as owner Vivek Ranadive believes). Fox and Hield together can create an intriguing young backcourt comprised of a slasher with solid playmaking and a good shooter. Think John Wall/Bradley Beal type potential.
The team also has Skal Labissiere, an athletic freak that can flourish with Fox at point if the latter can improve on his passing ability. Add Willie Cauley-Stein, an improving rim defender that will help Fox play tighter on his man and this Kings team starts to look promising. Fox would be joining the team most likely as the starter without too much pressure to perform. He can take his time to improve his game and, with the No. 10 pick of the draft as well, the Kings can eventually become a great team.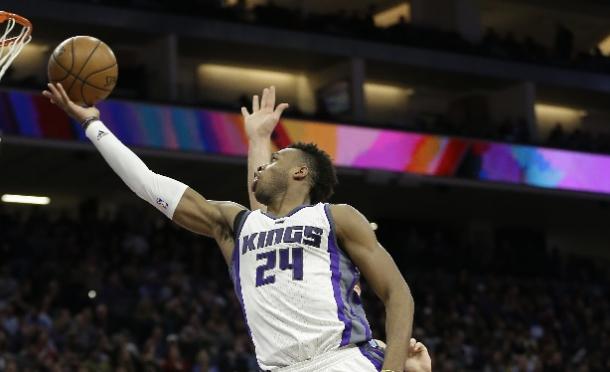 Career Prediction
All-Star level player. He's going to become the second best point guard out of this loaded draft class. In the right situation, he can improve on his weaknesses; an alright jump shot can always be worked on. Defensive discipline will also be good, but it's not like he's bad at that end and he will develop into an at least solid defender. The big 'if' statement is whether he can improve his decision making. His quickness will help him in that regard because defenses will collapse to contain him. If he can learn to find the open man in these situations, he will become a premier point guard in the league.
Selection Prediction
Fifth overall pick by way of the Sacramento Kings.
VAVEL Draft Coverage