 The 2018 Washington Spirit official roster will include 23 players. Of the 23 players, three will not be counted toward the official roster.
Young midfielder Rose Lavelle will be exempt due to the NWSL Dispersal Draft. All dispersal drafted players will not be counted toward the official roster. Forward Arielle Ship is placed on the 45-day disabled list. Forward Chyna Williams is on maternity leave and will miss the entire season.
The Spirit roster will include three international players, forward Francisca Ordega from Nigeria, Estefania Banini from Argentina and finally midfielder Yanara Aedo from Chile.
Also, the roster will include four USA/Canada Federation players: Forwards Lavelle, Mallory Pugh and defender Taylor Smith are from the USA. Defender/Midfielder Rebecca Quinn is from Canada.
Not included on the roster but the Spirit will retain the rights to draft picks: Schuyler DeBree, Brittany Basinger, Mallory Eubanks, Maddie Huster and Rachel Moore. Dispersal Draft pick Elizabeth Wenger rights will also be retained by the team.
Washington Spirit will open the 2018 NWSL season against the Seattle Reign on March 24 at UW Medicine Pitch at Memorial Stadium in Seattle, Washington. The match will be available to watch on the go90 app.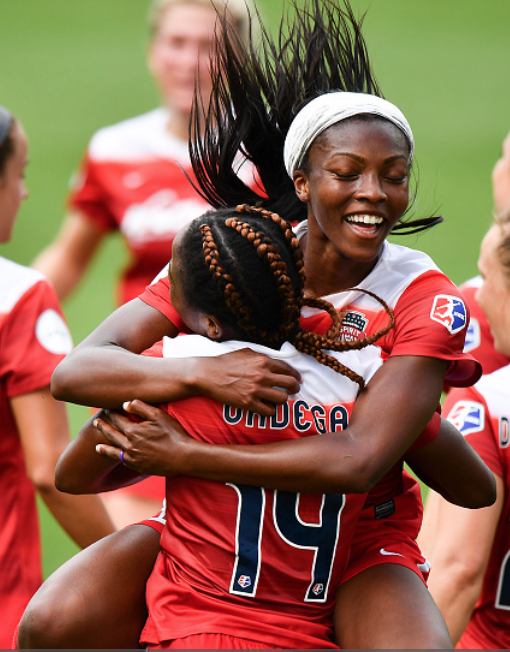 Official 2018 Roster:
Goalkeepers (3): Aubrey Bledsoe, DiDi Haracic, Kelsey Wys
Defenders (5): Whitney Church, Caprice Dydasco, Estelle Johnson, Rebecca Quinn (FED-CAN), Taylor Smith (FED-USA)
Midfielders (9): Yanara Aedo (INTL-CHI), Estefanía Banini (INTL-ARG), Meggie Dougherty Howard, Tori Huster, Rose Lavelle (FED-USA, DD), Joanna Lohman, Morgan Proffitt, Havana Solaun, Andi Sullivan
Forwards (6): Cali Farquharson, Ashley Hatch, Francisca Ordega (INTL-NGA), Mallory Pugh (FED-USA), Arielle Ship (D45), Cheyna Matthews (MAT)
Federation Players (FED): 4
International Roster Spots Filled (INTL): 3
Key:
Active roster:
FED (Federation Player): Any player assigned to a roster by virtue of being a Federation Player
INTL (International Player): Any player using an international roster spot
Rostered players not counted against active limit:
D45 (45-Day Disabled List): Any player on the 45-Day disabled list
MAT (Maternity): Any player out for an extended period due to maternity
DD (Dispersal Draft): Any player acquired via the Dispersal Draft