Nick Kyrgios opted to participate at the Fast 4 International exhibition in Sydney, instead of competing at an ATP 250 event for the second consecutive week at the ASB Classic in Auckland or the Apia International Sydney. The world number 14 participated in the Hopman Cup last week with Daria Gavrilova, and the Australians failed to defend the title, they won last year.
The two-time Grand Slam quarterfinalist enjoys the format, and hopes that it will be implemented into the men's game at an ATP 250 event or the Challenger tour, and spoke to the Daily Telegraph about it. "I certainly wouldn't be against it, perhaps there is space for events between ATP 250's and Challengers where it can be used as a testing ground? Or even at the new under 21 events next year? Most people coming into the game in Australia will have played Fast 4 first and grown up playing it, and if we keep producing players at the top level that will strengthen the voice to make it happen."
Kyrgios, reached his second Grand Slam quarterfinal at the Australian Open in 2015 losing to Andy Murray, and he made the third round last year losing to Tomas Berdych in four sets. The Australian number one was pleased with the responses, that the Fast 4 tennis format received in Australia.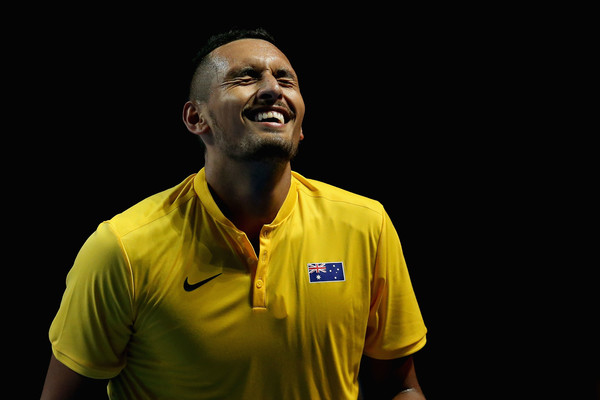 "Fast 4 is great because it allows you to look at some of your main competitors prior to the major event, but you're not playing full matches and running the risk of injury. It's something different to what we usually face on tour, it brings the pressure points or big points earlier which is fun to play but also fun to watch for the crowd."
Kyrgios defeated former world number one Rafael Nadal in a match that was observed by 8000 spectators in a sold-out crowd in Sydney's new Convention Centre. Kyrgios defeated Nadal at Wimbledon in 2014 to reach his first Grand Slam quarterfinal, and he defeated the Spaniard in four sets in the exhibition match. Furthermore, his knee has been troublesome in the past which forced him to withdraw in his second third match at the US Open last year, nonetheless, a fully fit Kyrgios will be a dangerous player for anyone to face at his home Grand Slam in Melbourne.