 Novak Djokovic's run with super coach Andre Agassi has ended. The two parted ways after Agassi said that there were too many disagreements in the relationship. Just a few days after that, it was announced that the Serb has also parted ways with his other coach, Radek Stepanek.
This leaves the former world number one with no coach headed into the clay season and looking to answer a lot of questions, headed into the clay portion of this 2018 season.
Short Relationships
Despite being together for almost a year, the time together between Agassi and Djokovic on-court was quite short. The two started their partnership at the French Open but an elbow injury, which required surgery, forced the former world number one out of tennis for the remainder of the season after Wimbledon.
The two started the 2018 season together at the Australian Open but an early exit in Melbourne came to a shock as many as he crashed out to Hyeon Chung. His elbow surgery came after the Australian Open, taking over a month off and returned to Indian Wells. The Serb suffered back-to-back losses at the Sunshine Double, giving him three losses on the bounce as Taro Daniel and Benoit Paire ousted the 12-time major champ.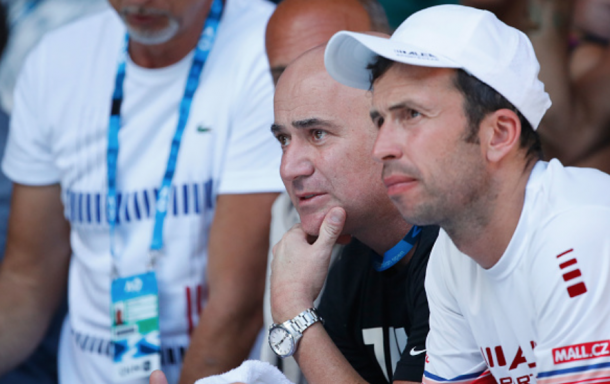 Djokovic's relationship with Stepanek was even shorter than his partnership with Agassi. Just after four months, the Serb and Czech parted ways. They cut ties after the Miami Open ended this past weekend.
Back To Winning Ways?
The Serb has struggled so far in 2018 and put out a statement on his site addressing his struggles. "Novak remains focused and eager to come back stronger and more resilient from the long injury break that has affected his confidence and game. He is continuously and passionately looking for new and different ways to regain winning form."