 France and USA go up against each other for the 14th time for that coveted Fed Cup finals spot. The USA, boasting an arguably strong squad, will be looking to get to back-to-back finals for the first time since 2009-2010 and standing in their way is the relatively weaker team in France who will contest the tie with just three players. The tie, to be played on indoor clay, could prove to be an advantage to France's star player Kristina Mladenovic who played a pivotal role in France's triumph against Belgium in the quarterfinals. However, with the USA having three of their team members ranked in the top 20, stopping them will probably be an uphill task for the French team.
Americans mean business
In their previous tie, they were quite a talking point as Serena Williams made her comeback since having given birth. However, it was her sister Venus Williams who was the star, winning both her singles rubber to give the USA a comfortable victory against the Netherlands on home soil. Though they are both not back in the squad this time around, the Americans have still assembled a solid team. Coco Vandeweghe, USA's hero in last year's final, is the only member who returns from the previous tie. Joining her is recent Miami Open and defending US Open champion, Sloane Stephens. World number 13 Madison Keys is called back to the squad and the bubbly and better known for her doubles exploits, Bethanie Mattek-Sands rounds up the impressive team. The Americans will certainly be a threat with such heavy hitters in their team.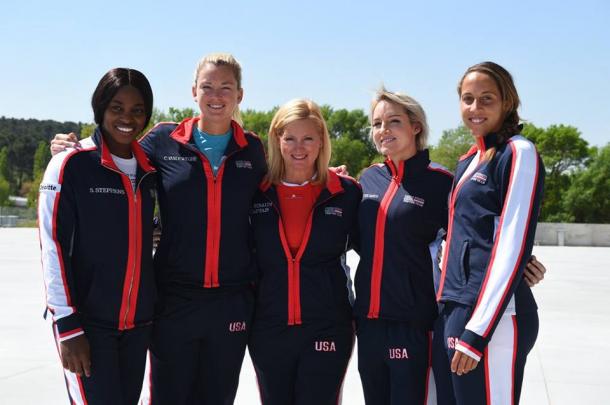 France look to trio to mount a challenge
Since last year, the French team has lacked depth. But what they lack in depth, they make up for it with their passion. Mladenovic undeniably their best player leads the team alongside Pauline Parmentier and Amandine Hesse. With Caroline Garcia seemingly not looking to be joining the side anytime soon with her focus on her singles career and with Alizé Cornet momentarily unable to compete in ITF competitions, France do not have any other choice really. Just like that in their previous tie, they will look to Mladenovic to be the key to unlocking the USA team. The Frenchwoman who hasn't been in the best of form for awhile stepped it up when her team needed her and shone in the quarterfinals to bring them to the semifinals. They will be hoping she does the same again, this time on her favorite and easily her best surface, clay.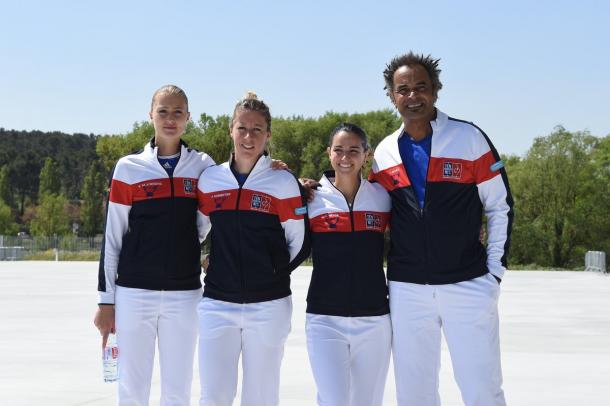 Analysis
The draw has been announced and Stephens and Vandeweghe for the USA and Parmentier and Mladenovic for France will be playing both singles rubbers. Day one sees Stephens take on Parmentier first before Mladenovic goes up against Vandeweghe. The reverse then happens on day two with the best-ranked players from the teams respectively, Mladenovic and Stephens clashing first. The nominations can change on day two for the USA where they look to call upon Keys if need be. Mattek-Sands and Keys will pair for the doubles while France will have Mladenovic and Hesse on the other side of the net. On paper, USA is the favorite. They have an imposing 11-2 record against France in the Fed Cup and the last time France won, they had Garcia to thank for.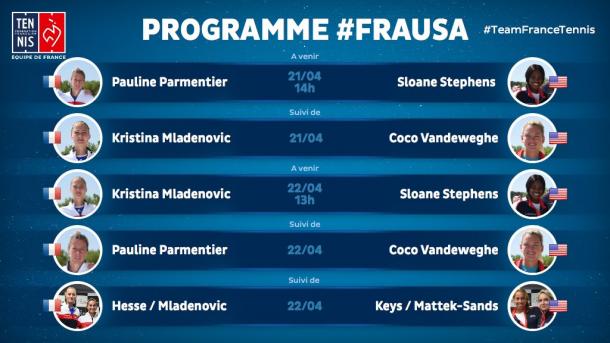 For Parmentier, there's a daunting task waiting for her against both her opponents. The 32-year-old has been struggling since the beginning of the year and has only registered one win in her last 10 matches and that came in an ITF tournament. Now out of the top 100, she can only hope clay will be a better prospect for her and an. This is why France need Mladenovic to win both her ties. She is, however, up against two players whom she does not particularly enjoy playing against. Although she hasn't played Stephens in over four years the American leads the head-to-head 2-0. Against Vandeweghe, the Frenchwoman has only won once in five meetings.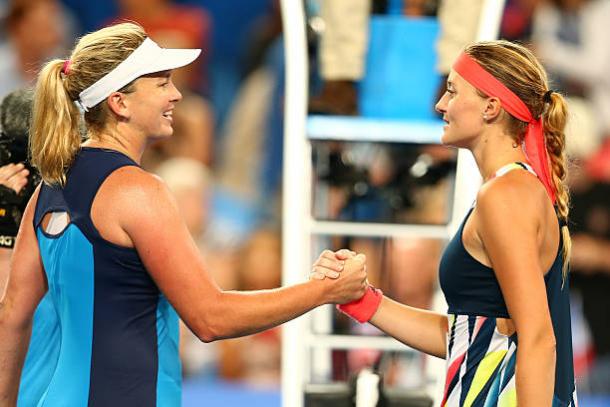 Mladenovic, however, can draw consolation from the fact she has not met them on clay, her strongest surface and credit to France for deciding on clay which could make this tie tricky. She will look to draw experience and confidence in reaching two finals, one of them on indoor clay court as well and the quarterfinal run at the French Open. Stephens has openly talked about her love for clay and despite winning a title on clay last year at the Volvo Open, she did not do as well as she would have liked in the subsequent tournaments in the clay swing. Vandeweghe likewise had a rather forgettable clay swing. The Frenchwoman definitely has a chance and will need to step up to lead the French charge.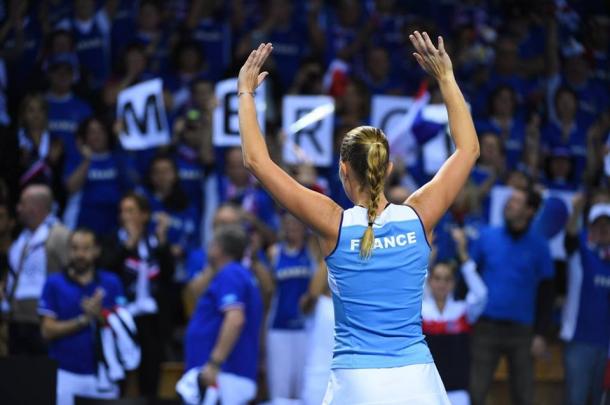 However, even with the crowd pushing their team, the burden might just prove too big for Mladenovic alone to carry. She may overcome Stephens but Vandeweghe's fantastic Fed Cup record could prove a problem after all. Even if Mladenovic puts up her best performance and brings the tie to a deciding doubles rubber, USA still has the advantage. Vandeweghe and Mattek-Sands have combined well and won their biggest title in Indian Wells together. The French duo did win the final rubber in the quarterfinals but the USA boasts experience and hence the edge. The best part of Fed Cup is that anything can happen and France will be hoping for that magic this weekend to make this a tight affair.
Prediction: USA to win, 3-1