 The winners of the 2015-16 UEFA Women's Champions League, Lyon, along with the top two clubs from the 11 highest ranked associations all receive a bye into the Round of 32. The Norwegian champions, LSK Kvinner, also are given a bye to the Round of 32.
British clubs
The WSL Champions Chelsea are unlikely to be seeded in the Round of 32. Currently, they sit in the final seeded spot, but they will be overtaken if FC Zürich gets through to the Round of 32, or Neulengbach finish as runners-up in their league. This will be their second season in the Champions League, having lost in the Round of 32 to Wolfsburg.
The WSL runners-up Manchester City will be making their debut in the competition and also have a place in the Round of 32, but they will be unseeded.
For the first time ever, Scotland will have two representatives in the competition. Glasgow City will once again be seeded, but will be hoping to go further than last season where they were knocked out in the Round of 32 by Chelsea.
This will be the fourth time Hibernian has played in the UEFA Women's Champions League, although, the last time they did so, it was known as the UEFA Women's Cup in 2007-08. Each time, they failed to progress from the Qualifying Group, so already they have had their most successful European campaign.
Sides from the same association cannot meet until the quarter-finals.
The other British and Irish interests all start their campaign in the Qualifying Round. Wexford Youths for Ireland, Newry City for Northern Ireland and Cardiff Met for Wales.
Round of 32 seedings
The top sixteen ranked sides will be seeded in the Round of 32
1 Lyon (FRA, holders) 114.410
2 Wolfsburg (GER) 116.535
3 FC Rosengård (SWE) 85.615
4 Paris Saint-Germain (FRA) 74.410
5 Fortuna Hjørring (DEN) 51.705
6 Brøndby IF (DEN) 50.705
7 Barcelona (ESP) 49.695
8 Rossiyanka (RUS) 44.365
9 Glasgow City FC (SCO) 39.900
10 Sparta Praha (CZE) 36.550
11 Bayern München (GER) 34.535
12 Zvezda-2005 (RUS)) 32.365
13 Brescia (ITA) 27.705
14 Verona (ITA) 25.705
15 Slavia Praha (CZE) 25.550
16 Chelsea (ENG) 24.830
17 Eskilstuna United (SWE) 21.615
18 LSK Kvinner (NOR) 21.405
19 St. Pölten (AUT) 18.065
20 Manchester City (ENG) 16.830
21 Athletic Club (ESP) 13.695
22 Hibernian (SCO) 9.900
TBC from AUT: Neulengbach (41.065) or Sturm Graz (10.065)
The sides below Chelsea will, therefore, be unseeded.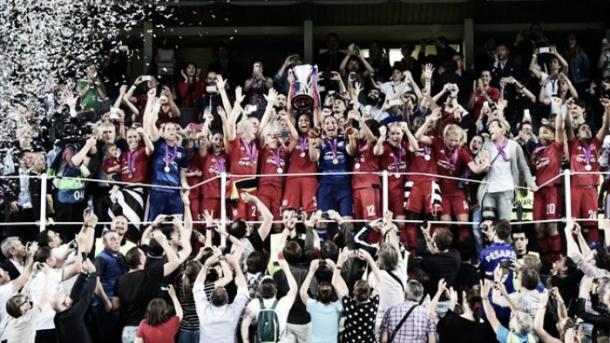 Qualifying round
The Norwegian runners-up, Avaldsnes IL, and the champions of the other 35 associations will face the Qualifying Round, which takes place between the 23 and 28 August.
The Qualifying Round draw will take place on 24 June at 13:30 CET in Nyon, with nine groups to be decided. Their are four seeding positions with nine sides in each. The home club has been decided for each group, and they are as follows: Apollon, Twente, PK-35 Vantaa, SFK 2000 Sarajevo, Medyk Konin, Osijek, Pomurje, Wexford Youths and Cardiff Mett.
The nine group winners will progress into the Round of 32 which takes place in October.
The seedings are as follows:
Seeding position 1
1 FC Zürich (SUI) 34.240
2 Apollon (CYP) 23.940
3 Standard Liège (BEL) 22.610
4 FC Twente (NED) 21.600
5 Olimpia Cluj (ROU) 21.280
6 ŽFK Spartak (SRB) 19.950
7 BIIK-Kazygurt (KAZ) 17.270
8 PK-35 Vantaa (FIN) 16.290
9 SFK 2000 Sarajevo (BIH) 14.630
Seeding position 2
10 Gintra Universitetas (LTU) 13.965
11 Konak Belediyespor (TUR) 13.795
12 Medyk Konin (POL) 13.445
13 Pomurje (SVN) 11.970
14 Osijek (CRO) 11.970
15 WFC Kharkiv (UKR) 11.300
16 PAOK (GRE) 10.305
17 Avaldsnes (NOR) 9.405
18 NSA Sofia (BUL) 8.645
Seeding position 3
19 Pärnu (EST) 7.980
20 Minsk (BLR) 7.800
21 Ferencváros (HUN) 6.455
22 Slovak Bratislava (SVK) 5.815
23 Wexford Youths (IRL) 5.630
24 CF Benfica (POR) 5.465
25 Breidablik (IRL) 5.445
26 KÍ Klaksvík (FRO) 3.990
27 Ramat HaSharon (ISR) 2.640
Seeding position 4
28 KS Vllaznia (ALB) 1.995
29 Cardiff Met (WAL) 1.660
30 Rīgas FS (LVA) 1.330
31 Dragon 2014 (MKD) 0.990
32 Newry City (NIR) 0.990
33 Hibernians (MLT) 0.665
34 Breznica Pljevija (MNE) 0.330
35 Criuleni (MDA) 0.000
36 Hajvalia (KOS) 0.000
KÍ Klaksvík's history
The Faroese champions KÍ Klaksvík retain their record of appearing in every single season of the UEFA Women's Cup/Champions League, the only side with that record, however, they have never progressed past the Qualifying Round.
For the first time ever, Kosovo will have a representative in Hajvaia. Hajvaia is alongside another seven debutants. Avaldsnes, Ramat HaSharon, Newry City, Breznica Pljevija all enter the Qualifying Round. Eskilstuna United and Manchester City will enter in the Round of 32.
The final place in the Round of 32 will either go to the Austrian runners-up, which will either be Neulengback or Sturm Graz.
Lyon and Wolfsburg, who both contended in last season's final, are the only past European champions in this season's competition. PSG, Fortuna Hjørring and Zveda-2005 have all been runners-up.
Key dates
Qualifying round draw: 13.30CET, 24 June
Qualifying round: 23–28 August
Round of 32 draw: 1 September
Round of 32: 5/6 & 12/13 October
Round of 16 draw: 17 October
Round of 16: 9/10 November & 16/17 November
Quarter-final & Semi-final draw: 25 November
Quarter-finals: 22/23 & 29/30 March
Semi-finals: 22/23 & 29/30 April
Final (Cardiff City Stadium): 1 June