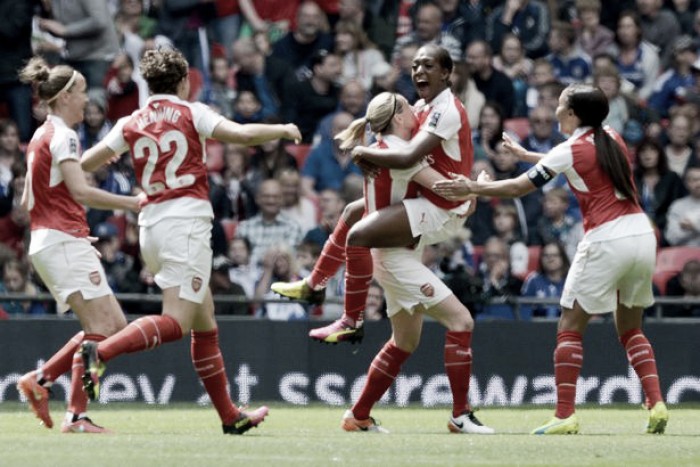 Next in our series of mid-season reviews we look at Arsenal who have had contrasting league form to their heroics in the FA Cup.
After a short break from the Women's Super League, Pedro Martinez Losa' team return to play this week with a home fixture against Sunderland at Boreham Wood. They will be hoping to get straight back into action and attempt to turn their league form around.
The Gunners have had a disappointing first half of fixtures and currently sit in fifth place. After losing against their two main title contenders, Arsenal sit 12 points behind Manchester City and eight points behind Chelsea.
Given that there are only 16 games in the WSL season, the Gunner's chances of claiming the silverware have most likely come and gone, albeit a major disaster from the teams above them. This is extremely disheartening for Pedro Losa after the heavy investment Arsenal put in to the team during pre-season.
Consistency
Arsenal Ladies started their WSL season with a convincing 3-1 win over newly-promoted Reading Ladies, courtesy of goals from Dominique Janssen, Dan Carter and a debut goal for Asisat Oshoala.
Up next for the Gunners was a trip to Manchester City, Losa' side recorded their first defeat of the season at the Manchester Regional Arena, after goals from Jane Ross and Toni Duggan. They were somewhat unlucky in this fixture, Arsenal matched their opposition for 70 minutes, before defender Jemma Rose was given her marching orders for a professional foul on Jane Ross.
The following week, Arsenal lost to Chelsea to the same score line, but were completely played off the park by the defending champions and their title aspirations looked to be vanquishing. With City and Chelsea beginning to pull ahead of Losa's team, Arsenal needed to get points on the board - they recorded a well-needed victory over Reading, but were disheartened once again after a goal-less draw with Birmingham City.
The arrivals of seasoned professionals such as Fara Williams, Jodie Taylor and Josephine Henning gave supporters great optimism going in to this year. But, unfortunately the Gunners have struggled to turn a team which is sheer quality on paper into a quality team on the pitch. That is not to say that Arsenal haven't shown glimpses of the team they will inevitably become, but at the moment there is no consistency in performances.
A team in transition
England's most capped player Fara Williams arrived at the beginning of the season from Liverpool Ladies. The midfielder, who has huge experience at both club and international level has been in and out of the team at central midfield.
The form of Dutch international Dominique Janssen has given the manager an increasing selection headache and has kept Williams out of the team on many occasions. The versatile 21-year-old has impressed in both defensive and midfield roles since her arrival last July.
With an array of talent in the midfield, Losa is yet to find balance in his team and a winning formula that he is willing to stick to in order to win matches, and this has certainly translated onto the field. The Arsenal manager has struggled to strike a balance between rotating players in order to retain team moral and building a cohesive team unit to produce results.
German international Josephine Henning, who has spent her last two seasons with Paris-Saint Germain, signed for the club in February of this year. The 26-year-old brings in a wealth of experience, having three Champions League trophies and four Frauen-Bundesliga titles under her belt, plus a Euro 2013 winners medal to add to the collection.
Henning has certainly become a first choice centre-half alongside experienced England international Casey Stoney, replacing the unlucky Jemma Rose; who was one of Arsenal's shining stars last season.
However, the formidable pairing of Stoney and Henning continues to go from stength to strength and considering the form of goalkeeper Sari Van Veenendaal, this can only stand Arsenal in good stead going into the second half of WSL fixtures.
Switching to an attacking sense and Arsenal made more key signings this season in the way of Jodie Taylor and Asisat Oshoala. Due to injury, Taylor is yet to make her competitive debut for the Reds after arriving from Portlands Thorns at the end of March, but the England international was on the teamsheet for the postponed fixture against Doncaster in May.
Oshoala arrived from Liverpool Ladies at the start of the season and has certainly clocked some fine performances. However, she has struggled to find consistency after being in and out of the team. The 21-year-old has great pace, skill and can beat defenders at will, but she is lacking in some areas - her final product needs to be improved, which was particularly evident during her performance in the FA Cup final.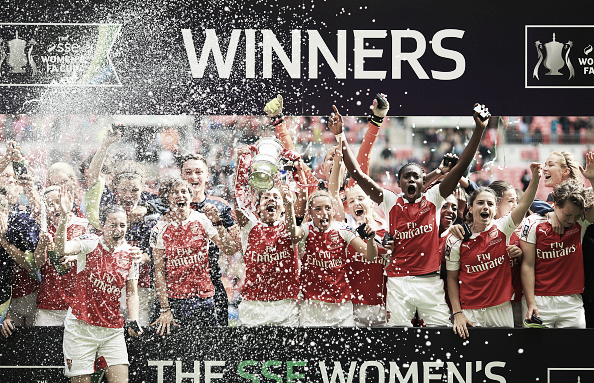 What's next?
There is plenty of opportunities to build momentum in the second half of the season, the players and fans will be looking to the manager to strike a balance between rotating players and building a cohesive team unit.
Whilst Arsenal will be looking to emulate their revival of 2014. Two years ago, the Gunners had a faulty start to the season and found themselves at the bottom of the table at the half way point. They won the FA Cup for the 13th time in the mid-season break and went on an inspired run to eventually finish in fourth position.
Pedro Martinez Losa will be hoping their emphatic win at Wembley can inspire his players to get great results going in to the rest of the season. Arsenal will be looking to take maximum points from their next round of fixtures, starting their revival with three points at home to Sunderland on Saturday.