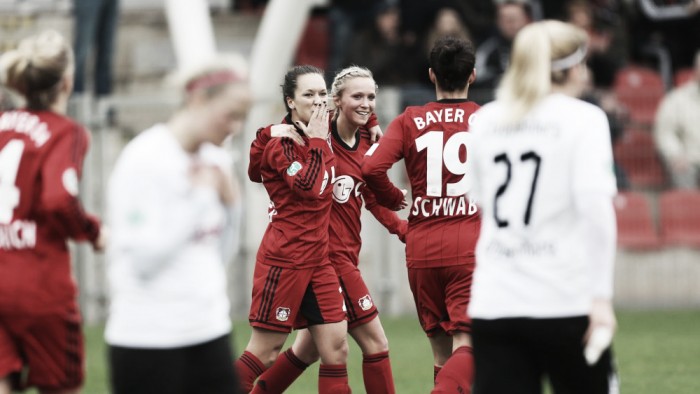 After finishing the 2015/16 Frauen Bundesliga season in 10th place - just above the relegated duo, Werder Bremen and 1. FC Köln - Bayer Leverkusen are looking to strengthen for the coming season.
Die Werkself have announced the extensions of three contracts. Lisa Schwab and Francesca Weber will stay with the team, as will German international, Annike Krahn, who joined the club last season.
Experience and loyalty to the club
The offensive duo have been with Bayer since 2009 and have played in more than 180 Bundesliga games. Last season, Weber found the net three times and Schwab added a further two. They are the only players who have been with the Wesfalen outfit from the second division, through to their promotion to the top tier.
The two 27-year-olds are important players for Thomas Obliers' side. The head coach says: "Francesca Weber and Lisa Schwab will be us in the coming season."
He added, "Their experience and positive attitude are great, especially after Lisa had to contend with long-term knee problems this season." Obliers concluded, "When both are in top shape, they are very valuable to our young team. They assume more on-field responsibility next season."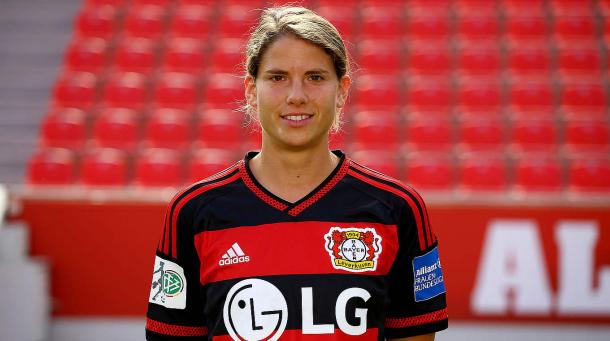 Another player who has extended her contract is the internationally experienced defender, Annike Krahn. The 30-year-old, who was crowned world champion with Germany in 2007, has featured for both FCR Duisburg and Paris Saint-Germain; she announced her decision to remain with the Leverkusen team for another season.
"The contract extension is good news for Bayer 04. In Annike Krahn, our most experienced player has extended. We are very happy that Annike is staying with us, as well as her personality and forward-looking," said Obliers.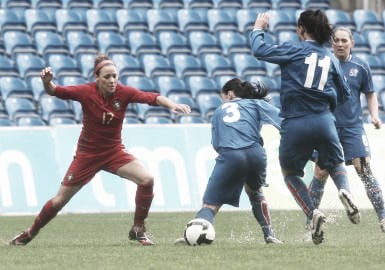 Portuguese international forward comes into the team
The team also announced the arrival of 24-year old forwad Ana Cristina Oliveira Leite. Born in Germany - but with Portuguese citizenship - she has already featured in the top tier for FCR 2001 Duisburg and SGS Essen, and joins from newly-promoted Borussia Mönchengladbach.
She only played in a few games in the 2. Bundesliga due to injury, with his 2015/16 appearance tally standing at just four.
With Duisburg, the forward - who was born in Bocholt - won the DFB Pokal der Frauen in 2009 and 2010 as well as the 2008/09 UEFA Women's Cup.