Germany and Australia couldn't be split in their second games at the Rio Olympics, as Germany captain Saskia Bartusiak scored a late goal to level things up at 2-2.
Fast start
Australia came out of the starting block as a team that looked like they had something to prove. With every opportunity they got they applied pressure on the German defence, and the Germans clearly didn't seem to like it. Germany were also struggling with the fast pace of the Australian counter-attack, and especially the three forwards seemed to cause a world of trouble for Silvia Neid's team.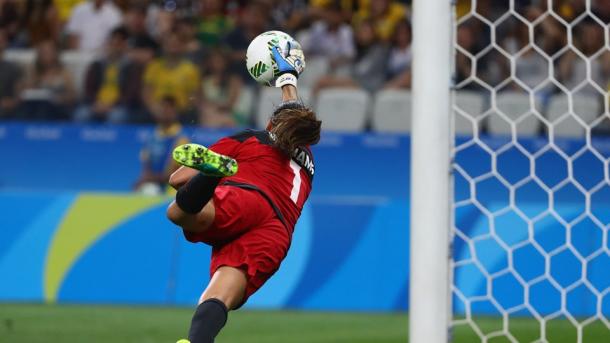 It wouldn't take long before Australia capitalised on this. In the fifth minute, after driving the ball forward on a counter-attack, Caitlin Foord found a wide open Sam Kerr, who slotted the ball in behind Almuth Schult, who made it 1-0.
Germany got more of the possession after this, and they also forced Lydia Williams into some fantastic saves via long shots, especially from Melanie Behringer and Dzsenifer Marozsán. However, Australia were constantly lurking on the counter, and their high pressure continued to cause trouble for Germany. Lisa De Vanna was a menace for the defense, and an interception by her found Gorry, leading to the midfielder only just missing the goal.
Thirty-five minutes into the match it looked like Anja Mittag would level things up, but after a neat little run, Williams once again came up big to deny the German forward. And instead, 10 minutes later, Australia would double up their lead, after de Vanna, once again applied pressure on the german defence, and with a pass found Foord, who calmly scored the goal. 2-0, and Australia thought they were headed into the break with a solid lead, but Sara Däbritz wanted it differently.
Minutes later, she received a pass straight into her run and struck it first time with the outside of her boot and put it past Williams, cutting the defecit to 2-1 at half-time.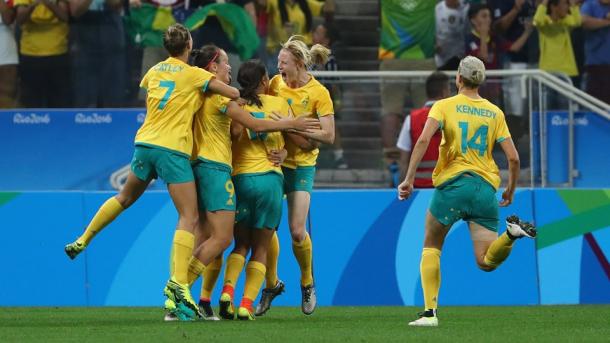 Late heartbreak
The second half was perhaps played even more on Australias terms. With incredible pace and continuing their high pressure, they managed to stretch Germany enough to get chance after chance.
Germany also had their fair share of chances, but it was Australia that looked more likely to score. Kyah Simon, Michelle Heyman, Foord and Kerr all had big chances to score, and it was clearly an Aussie side that weren't content on just sitting on the lead.
Maybe because they know Germany is never a side you should never bet against, something they certainly knew after the late goal. From a corner in the 88th minute, German skipper Saskia Bartusiak chested the ball in past Williams, and the game was levelled. Devasating for Australia, who played a stellar game, but with one point from this game they are still very much in with a chance of advancing to the knock-out stages.
With this result Germany have four points, while Australia have one. In the final game of the group stages, Germany go up against group leader Canada. Australia face Zimbabwe, who have lost both of their games so far.