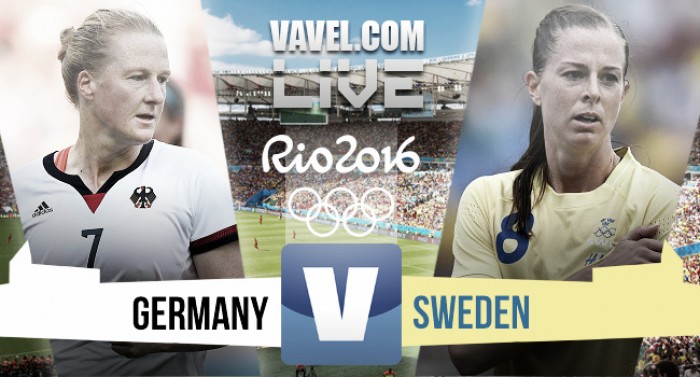 It was frantic at times, but German dominance prevailed and they claim gold, the only medal missing from the collection. Silvia Neid goes out on a high and Sweden are left to wonder "what if?"
Full time. Germany hold on and get the win!
90+1' WHAT A CHANCE! The ball drops to a Sweden toe but they just can't get the shot off, red shirts frantically trying to clear but Sweden just can't pull the trigger
90' Two minutes of stoppage time to be played as Sweden have another corner
89' Krahn concedes a corner, as she nips the ball away from - who else - Schelin in the box
88' The finishing in this game has been woeful - bar the Marozsán goal - but it's only fueled the drama
87' WHAT A CHANCE! Schelin races onto a ball on the left this time, takes it to the byline before firing across, Schough can only kick the air as she spins in place, completely missing the ball.
85' WHAT A CHANCE! Marozsán gives the ball away and Schelin chases it down, with options arriving in the box she spends way too long debating what to do and Germany get back to close down the options.
84' Marozsán fires the free kick and Lindahl makes a fine save to tip the ball over for a corner. Sweden still just about hanging on
84' Germany sub, Däbritz off, Svenja Huth on
83' It's not been Sembrant's night, she's the next into the book for catching Popp, Germany have a great looking free kick
82' Sweden doing their best to get forward but Germany are doing enough to repell the attacks
75' After some classy link-up play Maier lets fly inside the box and Lindahl greatfully clutches the ball
72' Sebrant makes a mistake to gift Mittag a chance, but she makes a hash of it and goes down softly. The referee not at all interested
70' Blimey, another sub! Magdalena Ericsson on for Rubensson
70' Germany sub, Lena Goeßling on for Behringer
69' WHAT A MISS! Popp gets to the ball before Fischer, Lindahl looks nervous as she comes out and Popp's effort just slips past the wrong side of the post
68' Sweden sub, Pauline Hammarlund on for Asllani
68' Germany come knocking once more and Leupolz forces an uncertain save from Lindahl, the big Swede's handling has been poor tonight
67' Asllani lays the ball off for Dahlkvist who slots the ball into the box as Blackstenius makes the run and gets there before the German defence to beat Schult.
67' GOAL! Blackstenius
65' It's red on yellow in the box and I can't be the only one craving chips with ketchup.
On the pitch, Popp skies her volley and Germany come once again.
63' Germany really starting to work the ball well around the Sweden box, the former world champions have grown and grown into this game.
62' Behringer leaves it for Marozsán who whips one in, it crashes against the woodwork and right back into the mix, with Germany advancing the ball bounces off of Sembrant's knee and rebounds straight into the heart of Lindahl's goal
62' GOAL! Sembrant OG
60' Däbritz is caught by Schelin as she tries to turn just outside the box and it's pulled back for a free kick. Behringer will fancy this one
60' Once again, Germany build from the back and look deadly going forward
57' Seger races on to a ball down the left, squares for Blackstenius who pulls back for Schough who sees her hopeful effort defelect out for a corner
56' First Sweden change as Blackstenius is on for Jakobsson
55' Asllani concedes a corner and Lindahl makes the claim, the Chelsea no.1 will be happy to have had a good touch after a shaky first half
52' This was exactly the start to the second-half Germany needed, Sweden look all sorts of frazzled
51' Rubensson gets a yellow for up-ending Maier
48' the ball drops to Marozsán right on the edge of the area and she lets fly with an absolute rocket to find the top corner and beat Lindahl
48' GOAL! Marozsán
46' We're back underway at the Maracanã for the second-half
HT; with the second half fast approaching will we finally saw a goal? The finishing has been poor tonight and Sweden have already have to come through two penalty shoot-outs, could they be facing a third?
HT; with 15 minutes to kill why not catch up on all the action from the bronze medal match? Jonathan Walsh provides the report
HT stat; Sweden have had 52% possession to Germany's 48%. How many people were expecting that before kick off?
HT; A well contested first-half and both side missing easy chances sees both go in all square
Half-time! 0-0
44' Popp sends it back into the danger area but Mittag's first touch is poor and the ball runs behind for a goal kick
44' Däbritz's deflected effort sees Lindahl scrambling and the no.1 willingly gives away a corner
42' Marozsán's slices her effort to gift the ball back to Sweden
40' It's not been clinical or vintage for either side so far, but it's been open and exciting. The packed crowd has been given a strong 40 minutes. But there's no telling if both will be able to keep up this pace into the second-half
37' WHAT A CHANCE! What on earth is happening, Asllani's corner is a dangerous one that finds the attacker again, her delivery is good but no one is taking chance in the box and Sweden fluff two excellent opperunities within three seconds
35' Behringer slides the ball out to Marozsán outside of the box but Marozsán's effort is high over the bar. A smart idea but poorly executed
34' Germany on the attack once more and Seger is forced to concede a corner
31' Dahlkvist takes the low shot from outside the box, the ball weaves through ten pairs of feet before Schult makes the low save
30' It goes back and forward and Sweden have another corner, Asllani still on delivery duty
29' Schelin has been playing like a woman possesed all tournament, she reaches another diagonal and Sweden have another corner
28' A rush of blood for Schelin as she runs onto a diagonal ball, breaks into the box and leans back as she pulls the trigger, the ball always rising
26' Very uncharacteristic stuff from Germany who are known for being ruthless, they won't get many chances like that in a game. No idea how Mittag missed that one, my grandmother wouldn't have missed from there and she's in a wheelchair.
25' WHAT A MISS! How many times am I going to say that today. Mittag misses a tap-in after Lindahl spilled yet another one
24' A delightfully open game so far
22' Yellow for Jakobsson, Kemme's nutmeg wrong-foots the attacker and they get into a tangle. That's a harsh one
22' Germany just starting to turn it on, causing more and more problems for Sweden
20' WHAT A MISS! Kemme whips a delicious cross in Leupolz jumps well but her header just slips over the bar
19' Schelin arcs her run which almost catches Schult out, but the keeper is out quickly and calmly heads away to snuff out the danger
19' Germany and sweeper keepers!
18' Mittag fires one from distance, Lindahl makes the save but it's less than convincing
18' Yet another Swedish offside, as Jakobsson once again goes just too soon
15' Kemme loops a cross in, Lindahl claims but there's an offside in there and any successful attack wouldn't have counted
14' Another niggly foul and Sweden have another free kick, it's taken quickly and sideways as the Yellows prod for their own openings
11' Germany all about the build-up, moving the ball quickly and working the spaces to cut through
11' Really sterling stuff from Sweden, going forward well and quick to get back in numbers to defende when Germany have possession.
9' WHAT A MISS! Schelin latches onto a long Dahlkvist ball before squaring for Schough, but under challenge the young attacker fires the ball well over the bar
9' These corners haven't been bang on the money yet, Asllani not quite on the same page as those attacking the ball
8' Searing run from Rubensson, and the defender wins Sweden yet another corner
7' Behringer's delivery isn't the best, and the eventual shot comes from Maier outside the box but it's high and wide
7' Germany have their first corner
6' The delivery from Asllani causes all sorts of problems but the ball bounces awkwardly as three yellow shirts all go for it and Germany turn it back over again
6' Jakobsson pressurises Bartusiak into conceding a corner, bright stuff from Sweden so far
5' Marozsán catches Seger late and Sweden have possesion back, deep in their own half
4' Very early days but neither defence looking too solid
3' Some nervy moments but Germany come away with it and Sweden look ragged at the back as Lindahl slips under pressure whilst clearing the ball
2' Early corner for Sweden as Dahlkvist sees her cross blocked
1' Sweden are trying to catch Germany out and Kemme is forced to concede a free kick for blocking Schough
1' and we're underway at the Maracanã, Germany with the kick-off
Will this be a last hurrah for Silvia Neid or will Pia Sundhage claim another big scalp in Rio? We're just moments away from finding out.
And Germany - in their red away kit - Schult, Bartusiak, Maier, Krahn, Behringer, Popp, Marozsán, Mittag, Kemme, Däbritz, Leupolz
Just a reminder of those line-ups, Sweden: Lindahl, Samuelsson, Fischer, Sembrant, Rubensson, Asllani, Dahlkvist, Seger, Schough, Jakobsson, Schelin
Both teams are out for the anthems
For anyone unfamilar we have a seperate Twitter for all our women's football news and articles, we can be found at @woso_vavel feel free to give us a follow.
With 15 minutes until kick-off, please do Tweet us your predictions. Final scores, gold medal winners, unexpected goal scorers, we want it all!
In case you missed it, Canada were victorious in the earlier bronze medal match, Jonathan Walsh was the one watching it, he brings you the report.
We're still 25 minutes from kick-off, so why not read Jonathan Walsh's preview of this match? It can be found here
Germany set-up much as expected, here's how Silvia Neid as set her line: Schult, Bartusiak, Maier, Krahn, Behringer, Popp, Marozsán, Mittag, Kemme, Däbritz, Leupolz
Sweden have gone with a new look for the knock-outs, Pia Sundhage looking to catch Germany's slow backline. This is how they line-up: Lindahl, Samuelsson, Fischer, Sembrant, Rubensson, Asllani, Dahlkvist, Seger, Schough, Jakobsson, Schelin
We're half an hour from kick-off so let's get you up to date on the line-ups
Sweden haven't offered much going forward, (the now injured) Fridolina Rolfö and Stina Blackstenius often left alone inside the attacking half, working hard to latch onto any long balls. Pia Sundhage's side has however, been steadfast in their defensive duties, refusing to buckle or bend under sustained pressure.
Sweden's Olympic campaign got off to a much better start that their World Cup as they claimed a victory in the first match. That was however, their only win inside of 90 minutes in Brazil. Sweden have been unapologetic in their approach to the tournament, defending for their lives, match after match. The US and Brazil both playing into their hands as they stood firm to progress through the knock-outs by way of succesive shoot-out wins.
Germany have netted 12 times so far in this competiton, Sweden just three times. Whilst not always the well-regimented attacking machine, Germany have consitently looked dangerous going forward and will be licking their lips at the all-European final that awaits them. Despite their far superior attack, Germany have often relied on a Melanie Behringer and Sara Däbritz, Behringer either from the spot or with a thunderbolt, and Däbritz with a moment of class inside the box.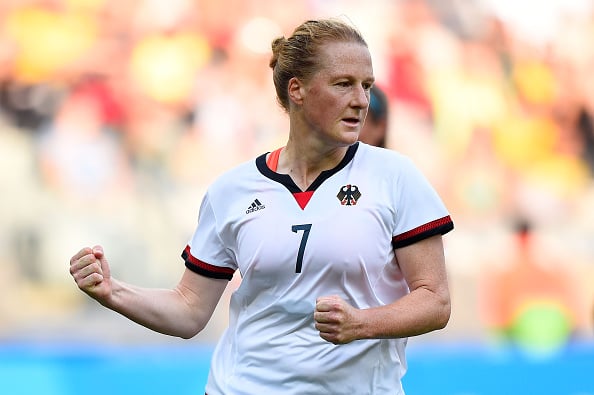 Her opposite number, Pia Sundhage hasn't had the easiest spell in charge of her national team either, and an Olympic final and at least silver medal will be enough to pacify her superiors but if it's enough for the fans, will remain to be seen. In 25 previous meetings, Germany have come out on top 18 times, Sweden seven.
There is no question the final will be played as attack - defence, even with Sweden banking up, Germany have the tools to unlock their defence. This match is sure to be Silvia Neid's last after a less than perfect time in charge of the national side, with Germany guarenteed silver, there is no doubt she won't go all out for the gold.
4-1 was the result that went the way of Germany last the two sides faced off. Anja Mittag, Célia Šaši? and Dzsenifer Marozsán were all on target for Germany that day, Linda Sembrant provided the concilation for the Swedes. Germany romped on nonplussed and Sweden were dumped out of the World Cup without having won one match.
Good evening! My name is Sophie Lawson, and welcome to VAVEL's live coverage of the Women's Football Gold Medal match at Rio 2016 as Germany face Sweden. After four gruelling knock-out hours in the blistering Brazilian heat, will Sweden be able to hault another one of the most ruthless attacks in the world?