Arsenal today have announced that Scottish forward Kim Little has re-joined the club, after accepting an offer to come back to England after a fruitful spell in the NWSL with Seattle Reign.
The 26-year-old will link up with her team mates in time for the Spring Series at the start of the new year as Pedro Martinez Losa's team look to challenge the likes of Manchester City and Chelsea once again.
Seattle Reign head coach Laura Harvey said, "Kim was presented with an unbelievable offer by Arsenal, so given our respect and appreciation for Kim, we felt it was right to let her return home to pursue the opportunity."
Re-joining Arsenal
Little will be returning to the club she played at for six years between 2008 and 2013, where she was involved in a hugely successful time for the club. The Scot will therefore be hoping that she can be a part of more success as Arsenal signal their early intentions ahead of next season.
The forward scored a hugely impressive 81 goals in 93 appearances during her first spell with the club, and therefore will be providing Arsenal with goals, area they've severely lacked over the last couple of season's in the WSL; goals. Little is certainly someone that can bring that, and after Jodie Taylor's move to the club came without success as she rarely played, this arrival is sure to improve Arsenal significantly.
Reigning supreme in America
Little's transition into the NWSL with Seattle Reign when she first arrived was phenomenal, taking her goal scoring form from English football straight into America as she took the league by storm. She won the NWSL Shield with Reign in her first season as they amassed a record tally of 54 points as Little won the league's most valuable player, topping the goal scoring charts with 16 goals.
She was then her team's top scorer again the season later with 10 goals, as Seattle Reign won the NWSL Shield for a second consecutive campaign. Little leaves America as the NWSL's all-time record goal scorer with 33 strikes, having made 67 appearances for Reign.
Following her departure from the US, head coach of Seattle Reign, Harvey said the following; "She is an extraordinary person and player, so while we hate to lose her, we are really happy for her and support her decision."
Little also had a brief loan spell in the Australian W-League with Melbourne City as she won the regular season and the grand final, scoring nine in 12 games as she carried on her impressive scoring form.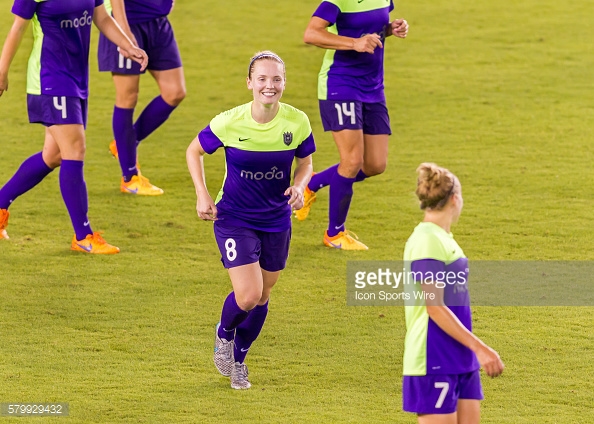 'Outstanding talent'
Little's talent is undeniable, and it will a huge loss for the NWSL but a massive capture for Arsenal and the WSL as a whole. Her scoring record speaks for itself, and Martinez Losa was rightfully delighted with his capture; "Kim is one of the outstanding talents in the women's game and we are so pleased that she will be re-joining us. She has proven that she can create and score goals at the highest level time and time again, and she will be a fantastic asset to our team."