Born on December 12, 1981, Esther Azzopardi is considered as one of the best referees in the Mediterranean island of Malta. Azzopardi refereed her first matches locally back in 1997.
Gradually, she started to excel in her performances and after cementing herself as a promising referee in the domestic scene, refereeing various mouth-watering contests, Azzopardi entered in the panel of FIFA referees in 2007.
She has been involved in over 60 international matches since, including UEFA Women's Champions League, UEFA European Championship qualification and also prestigious tournaments in the women's international calendar, such as the Algarve Cup and the Cyprus Cup.
Recently, she was one of the referees appointed to officiate in the prestigious 2016 FIFA Women's U-17 World Cup, in Jordan.
VAVEL and Gianluca Lia took some time to sit with her and discuss her experience in the Middle East, while also talking about what it takes to be a referee.
What matches were you involved in, in Jordan?
''I was involved in a total of five matches. I officiated the group stage match between Paraguay and Japan, and was fourth official during the group stage fixtures between United States and Paraguay and Canada and Venezuela. I was also involved as a fourth official in the quarter final between Germany and Spain and my final commitment was once again as a fourth official, in the semi final between Venezuela and North Korea.''
Which match was the toughest, from a referee's point of view?
"All matches presented different challenges but certain teams made it tougher for the referee in terms of management. Japan, PRK, Spain and Venezuela were amongst the top teams but in my opinion, Japan and PRK were a class on their own. In fact, they faced each other in the final. Japan were very fast and on the other hand PRK were more tough. So in all the matches, we referees were continuously facing different demanding situations.''
How did you see the level of the teams?
"As previously stated, Japan and PRK were superior in comparison with others but in all fairness all the teams had a very high standard of football. One might have the impression that since it's U-17, the level wouldn't be so high. But I can see that most of the players are already professional and some of them are even nominees for the world's best player!''
How did you see the level of the referees?
"In Jordan I had the opportunity to get to know many future top class referees from different confederations. Refereeing styles vary of course, but we all have the duty to safeguard the Laws Of The Game. To be selected for a top competition as the World Cup, one has to be in the best form ever, not only physically but also psychologically.
"Competition in between the referees in order to get the 'best' matches was a very healthy and positive one and for me to stay at the World Cup from the beginning until the very last day, is a very big achievement. Only the crème de la crème make it to FIFA!''
What was your typical day like during the tournament?
"A typical day would be waking up for an early breakfast, then practical training session on the field of play with players to assess different match situations. This would be followed by lunch and treatments when necessary. After, we used to have meetings or lectures with the match observers or instructors, usually with video analysis.
"Then on match days, officials who were not officiating on the day had the option to go to the stadium to watch a match. Obviously on match days, the officials involved on that same day would have pre-match meetings instead of training in the morning.''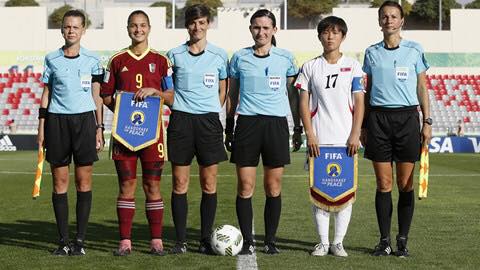 What did FIFA put in place for you and which aspects did they focus on?
"The first week of our stay in Jordan was a preparatory Seminar where we had to do several fitness tests and checks and ALS video tests. They show you a clip usually taken from a match, you see the incident and you have to mark if it was a foul or not, if its direct free kick or indirect, if penalty or not, if yellow card, red card or without a card, etc. So in a very short lapse of time you had to decide all this. We also had offside video tests where you had to decide if its offside or not.
"All these were then simulated by players on the field of play during training. The training sessions were recorded by several cameras and after you do the drill you move on to the screen area together with your assistants, where you review the recording. At that same moment you will be assessed, given feedback and given advice where necessary. This also served as a 'selective process' for FIFA to check and see who are the best referees.
"The exercises focused mainly on offside and penalty area situations. For example, if a foul was in or out of the penalty area, if it was an obvious goal scoring opportunity or stopping a promising attack or if it was a goal or no goal situation. Sometimes we had all these three major situations in one go! So in 10 seconds you had three major decisions to take while running from one place to the other!''
What meetings did you have with the delegates or the observers?
"The meetings with delegates and observers were very positive and also critical as they gave their feedback in order to become a better referee. Then, it is up to the individual referee to take on board the suggestions given by her superiors. These people deserve a lot of credit because they are our mentors and because they guide us to the top.''
How was a referee judged during the tournament?
"During the whole stay in Jordan we were being continuously assessed, on and off the pitch. During the practical training, as mentioned earlier, we were being continuously assessed by the assessors through the aid of several cameras. During a match a referee is holistically assessed.
"Some aspects include: overall performance, critical decisions, management of the players, understanding and interpretation of the Laws Of The Game, personality, techniques, fitness, body language, etc. Off the pitch, the observers take note how you relate with other referees and how you handle pressure in different circumstances.''
Due to the influx of technology, was it easier or more difficult to officiate?
"Personally, I am very pro-tech in sports as I believe it can be also used to improve the level of refereeing. When I am being recorded during a match or say during a training session, then I can review the situations and check if I took the best decision or else what can I do to be better the next time. During a match that is being televised, normally, there will be more than six cameras, all viewing from a different angle! Can you imagine how important it is for a referee to be in the best position for the best decision?"