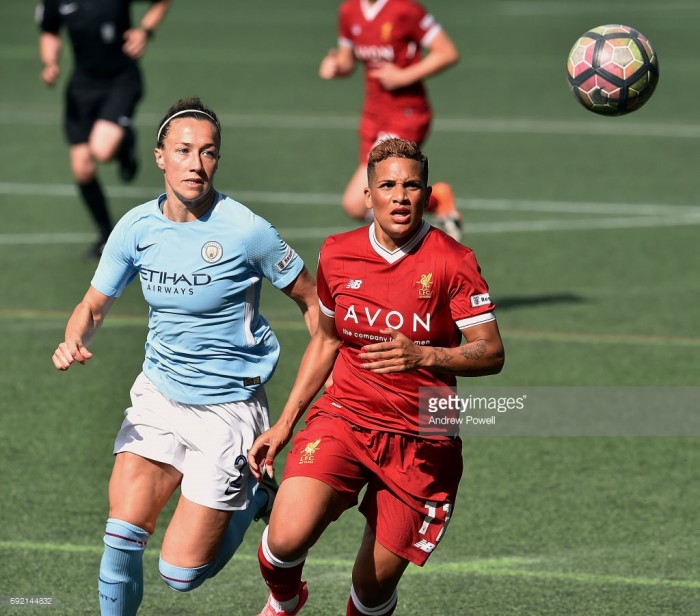 Coming on as a late second-half substitute in Liverpool's 6-0 loss to Lyon at the Toulouse tournament, there was little chatter of a move on the cards for European championship winner Shanice Van De Sanden.
However, it would mark her final game for the FAWSL side after she sealed a move to the French champions.
A player on stellar form
Van De Sanden firmly put herself in the shop window for a move to the Champions Leauge winners, through a string of impressive performances at the European Championships. It's that form that paved the way for her move to Liverpool from FC Twente just last year.
Speaking of her goals for the forthcoming season, Van De Sanden was clear. Her move to France was to win more domestic and European honours as she outlines, "I'm really happy, it's a dream come true, OL is one of the best women's soccer teams in the world and I look forward to meeting the players, being able to train and play with them I have a lot of goals, I would like to win the championship and the Champions League"
She added, "I will never forget this August, and on the 6th I won the Euro with my country and on the 29th Sign with this fantastic club that is Olympique Lyonnais I am very proud. "
An opportunity too good to turn down
Liverpool has presented Van De Sanden with the opportunity to develop as a player, a platform for growth that she was quick to allude to as she explains, "I have loved my time at Liverpool Ladies and feel as though I have taken my game to the next level since moving here in 2016. I have made friends for life and will take away some fantastic memories."
Citing the potential of her former club, unfortunately for the FAWSL side it wasn't enough for the European champion to stay on Merseyside.
The chance to play for the Champions League winners proved too hard to turn down, as she outlined, "This was a really tough decision to make as the squad at Liverpool Ladies is one with big potential. However, the chance to play for the current UEFA Women's Champions League holders was too good of an opportunity to turn down and one that I am really excited about."
Van De Sanden has signed a three year contract at the club, who begin their title defence at home against Rodez next week. For Liverpool manager Scott Rogers it leaves a significant gap in the team to fill.