 It wasn't meant to be like this. Everton fans were sold a dream. Sold hope that this year would be different.
Well, it was different, but not the way Blues fans wanted.
Ronald Koeman was coming off a solid first season in charge and everything seemed to be set for progress. The remit was progress and just that. Build on the foundations laid by last season.
Europa League football was back at Goodison Park, the long-standing goalkeeping void had been filled with a then club record transfer fee, the prodigal son Wayne Rooney had returned and the club broke their own transfer record numerous times.
Yet, it all went pear-shaped.
Summer spends, too many number tens
Last summer, Everton spent the best part of £150 million on new talent. Players who were set to help the Blues finally break that top-four glass ceiling.
Davy Klaassen was brought in from Ajax for €27 million, Michael Keane from Burnley for £30 million, Jordan Pickford from Sunderland for the same fee as Keane and, eventually, Gyfli Sigurdsson joined from Swansea City for £45 million.
Cuco Martina joined on a free after being released by Southampton.
The Blues broke their transfer record numerous times but perhaps more surprisingly, the key business was done early.
Sigurdsson's transfer didn't go through until the middle of August putting Koeman's side behind the eight ball in terms of forming a connection with the man now tasked with becoming their key creative outlet.
Clever buys elsewhere like Sandro Ramirez, Henry Onyekuru, Josh Bowler and Lewis Gibson - with the last two of those being youth signings - showed that Everton didn't have the tight purse strings of years previous and instead were looking to invest at every level.
The departures, whilst headlined by Romelu Lukaku, showed the final dismantling of the team Roberto Martinez had attempted to build.
Gareth Barry taxied to West Bromwich Albion for a minimal fee, Tom Cleverley headed for Watford whilst Barcelona opted to trigger their buy-back clause on Gerard Deulofeu.
For the most part, Koeman had a fresh squad that looked, on paper, ready to attack Everton key objectives on the season - progress in Europe, progress in the League and compete for a trophy.
They'd go on to do none of those.
Hope leads to early dismay
Everton started their season earlier than they'd have liked due to Europa League qualifiers. Whilst plenty of signings had been completed in time, the key void was left unfilled - the striker.
Romelu Lukaku departed for Manchester United and was replaced by Sandro Ramirez. On paper, Sandro looked a bargain at £5 million but despite an impressive pre-season, he was hurt by early injuries.
Add in the fact that Koeman had seemingly tried to replace Lukaku in the aggregate with signings like Sandro, Rooney, Klaassen and eventually Gylfi Sigurdsson - trying to replicate the loss in goals elsewhere - and it looked less than impressive in the early games.
The early Europa League games weren't as comfortable as they'd were expected to have been. The opening day fixture against Stoke City, whilst a win, was not the rousing, confidence-boosting opening day win you'd expect.
Add to that the trips to Chelsea, Manchester City and Manchester United in the first few fixtures and it wasn't going to end well if Everton couldn't figure it out.
Despite a brave draw at the Etihad, they couldn't figure it out.
Home defeats to Spurs and Burnley accompanied a terrible start to the Europa League group stages and Koeman was fighting an uphill battle before the season had even got going.
A fortuitous win over AFC Bournemouth at home was followed up by a poor draw away at Brighton and Hove Albion before a walloping at home to Arsenal.
Koeman, the man brought in to kick-start Everton's new, exciting and successful future was out and searching for a new job.
Koeman out, weeks of turmoil
David Unsworth stepped into the role hoping to make his case for getting the job on a permanent basis.
It wasn't set to be the case.
'Rhino' was dealt a difficult start with a League Cup tie away at Chelsea but the introduction of young midfielder Beni Baningime looked an inspired move.
It was a late defeat for a changed Blues side as eventually, Chelsea's quality shone through and Unsworth's men were beaten but the opening signs were, like his last interim reign, positive.
Defeats away at Leicester City and Lyon immediately followed and there would be little to no new manager bounce. Everton, like Unsworth in the top job, looked lost.
A battling win over Watford at Goodison Park showcased what Unsworth wanted his side to be. A fighting, never say die team like those that the former Everton defender played for during his career.
Whilst perhaps lucky with the win over the Hornets, the Blues showcases similar traits with a draw at Crystal Palace where they would come from behind twice to pick up a point.
However, it would be the next week that ultimately finished Unsworth off.
The Blues were battered 5-1 at home to Atalanta in the Europa League in front of a little more than 10-thousand fans.
One of the darkest days of the season followed.
Everton were dismantled by Southampton at St Mary's in a 4-1 defeat. In the span of three days, the Blues had conceded nine goals with little battle, zero hunger and absolutely no care.
Unsworth had been let down by his squad and the Everton higher-ups as he was continuing to a carry out a job that he had only expected to be in for a handful of games.
Instead, he was in charge for just over five weeks.
The interim boss was handed a positive in his send-off with a 4-0 win at Goodison over West Ham United.
New boss Sam Allardyce watched from the stands that evening but the night belonged to Unsworth and hat-trick hero Rooney.
There were signs of life in an Everton season that started with the most excitement in years but did its absolute best to spiral out of control and return to the dark days of the late 1990's.
Step forward Big Sam
Allardyce took over the role at the beginning of December and was ultimately an overwhelmingly unpopular appointment.
Whilst Everton fans knew what to expect in terms of style of play, Allardyce's media appearances rubbed a majority of the fanbase the wrong way.
There was little blame placed on himself and often there were others to blame for defeats, draws and moves in the transfer market.
Big Sam did steady the ship but that was achieved with a purple patch of form in the weeks that followed his appointment. The Blues went on a seven-game unbeaten run and finally snapped their away from home troubles with a scrappy win at Newcastle United.
Yet, after a defeat away at Bournemouth, the winter of discontent began to rear its head.
Three consecutive defeats followed against Manchester United, Liverpool and Spurs but it was the manner in which that annoyed Everton fans.
The Blues struggled to muster a shot on target from the end of December until the FA Cup defeat at Anfield and whilst safe in the league, there was little imagination from Allardyce.
January window confusion
Promising youngster Ademola Lookman looked positive in brief cameos but was shipped out on loan to Leipzig where he was an outstanding performer.
That move baffled Everton fans even further.
January was capped off by the signings of Cenk Tosun and Theo Walcott.
Tosun and Walcott were the only players brought in by Allardyce during the January window and made a positive impact on the Blues' second-half of the season.
Whilst Everton may have had issues elsewhere, the signings were resoundingly positive even if the departure of Lookman was not.
Winter of discontent continues into spring
Another battering at the hands of Arsenal followed the close of the transfer window. After finding themselves 3-0 down after 20 minutes, many fans situated in the away end began to head for the exits.
That wasn't for the first or last time that Blues fans headed for an early exit this campaign.
Their misery was compounded when Lookman scored a late winner for Leipzig on his debut after coming off the bench.
Defeats away at Watford and Burnley began to signal the end for Allardyce. In the defeat to the Hornets, Everton's best chance and only shot on target was a late header from Jordan Pickford.
Despite leading at Turf Moor against the Clarets, Everton - in true Everton fashion - threw away a result.
From there, the vocal anger towards Allardyce began. The away end chanted, in stronger terms, for him to 'go away' and hoped he'd be sacked in the morning.
He wasn't relieved of his duties but the discontent grew.
Big Sam, exit stage left
Rumours began to bubble that Allardyce was in trouble.
The Blues may have won at home against Brighton and then away at Stoke City but there was little going back. The fan base split which was apparent after his appointment only began to widen.
After the draw at Swansea City, the split was vast.
Everton led, fortuitously, 1-0 at the Liberty Stadium but Allardyce's decision to shut up shop and pivot from a negative set-up to an ultra negative set-up with the substation of Yannick Bolaise for Ramiro Funes Mori.
The Blues, as they usually do, conceded and were lucky to hang on to a point against the Swans.
Anger continued into the home win over Newcastle when fans displayed their dismay for the manager with pre-match banners. That banner travelled to the away trips that followed.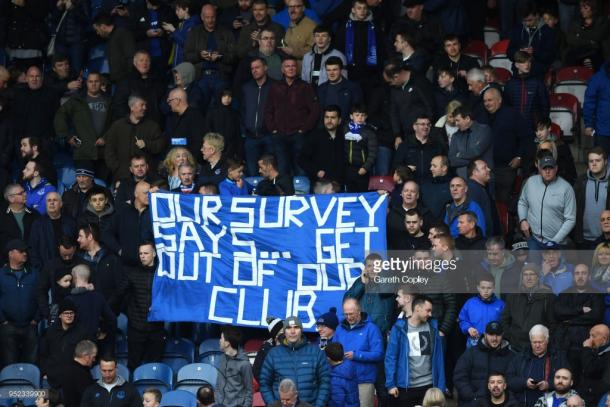 Wins over the Magpies and then against Huddersfield Town the following weekend were not enough to keep Allardyce out of the firing line.
The anti-Allardyce chants returned and became even louder than ever when the Blues fell behind to Southampton at home in their final home game of the campaign.
A late Tom Davies equaliser wasn't enough to satisfy the Goodison faithful's bloodlust and they made clear their displeasure by, in the majority, booing at the final whistle and not staying behind for the end of season lap of applause.
If it wasn't curtains for Allardyce then, it was when Everton were beaten on the final day by West Ham.
There was nothing left to salvage.
Allardyce was sacked three days later.
Where do you go from here
Marco Silva seems to be set to replace Allardyce as Everton manager.
The former Watford man was expected to take over the role in November when the Blues approached the Hornets with a sizeable compensation package for his services.
That deal never came to fruition and Silva ultimately lost his job in the weeks that followed - with his former employers blaming the Blues for an unbelievable downturn in form.
Silva's employment may be played out for a few days with the Portuguese boss locked into a legal dispute with his former employers and Everton, potentially, in trouble for accusations of an illegal approach.
For now, amongst the reshuffle at the top of the club and the impending reshuffle of the playing squad, there has to be a retune in focus from the club.
Majority shareholder Farhad Moshiri - who is expected to take total control in the near future - will be keen to see a return to the positivity of Koeman's first campaign and get his project at the club back on track.
Excitement will build once again if newly appointed Director of Football Marcel Brands can recruit well and ship away some of the club's deadwood.
For next season, the message is simple: Don't sell a pipe dream, just deliver.
End of season awards
Player of the Season, Signing of the Season and Young Player of the Season: Jordan Pickford
Like the club's official award night, it's a clean sweep for Jordan Pickford.
The 'keeper who is expected to be England's Number One at the World Cup had a fine debut season for the Blues.
Despite conceding 58 goals in the league and many more in other competitions, Pickford can only be faulted for a few.
The 24-year-old has had to deal with rotation and mishmash backlines in front of him all season long.
Once a settled defence found it's feet in front of him, Pickford made some of his best performances yet a mistake on the handful of mistakes on the final day of the season away at West Ham United took a bit of shine off of those performances.
Like his club, though, the shot-stopper has plenty of developing to do but the early signs are clear - Everton have finally filled their goalkeeping void of recent years.