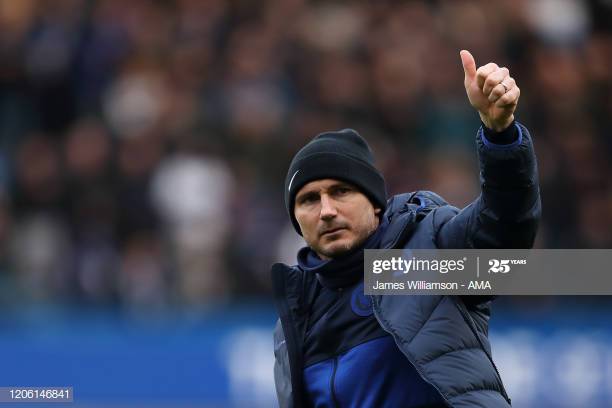 Chelsea boss Frank Lampard claims that bringing in players in key areas in the next transfer window is essential to bridging the gap between his side and title challengers Liverpool and Manchester City.
Chelsea have been linked to multiple players since the end of the January transfer window, with the likes of Alex Telles from Porto, Jadon Sancho from Borussia Dortmund and Philippe Coutinho from F.C Barcelona all reportedly on Lampard's radar.
Lampard was quick to dismiss claims he was going to begin copying what Man City and Liverpool have been doing to win trophies however.
"We can't copy that but we have to look"
"I don't want to jump the gun because I think what Liverpool and Man City have done in the last few seasons is very clear," Lampard told Sky Sports.
"Recruitment on top of great players, great coaches, working together and improving themselves and we have to be part of that process.
"That has to look in our way different. We can't copy that but we have to look at that. We have had young players, we have had experienced players who have helped us this year."
The former Chelsea number eight then went on to explain he'd be a fool to claim that the gap between his club and those above them in the table would close immediately.
"I think I would be a bit of a fool to make that claim that we will bridge the gap very quickly because there has been a lot of hard work at those two clubs.
"But we know there are little areas around the squad. Some of that is us, and some of that we might look to recruit going forward."
"We were moving in the right direction"
The Chelsea manager then opened up on the club's transfer plans going into this extended break due to the coronavirus pandemic.
With no confirmed date for the Summer transfer window, as well as the seemingly-indefinite postponement of the Premier League, there is much worry amongst clubs about bringing in and selling players.
However, Lampard was positive for the future of his side, and stayed content about the situation the club is in.
"This period now and what is going on in the world has made it very difficult to plan on that front," he said.
"Going into this break I certainly felt like we were moving in the right direction.
"We have to have different versions of plans of how it looks going forward.
"And with continued progress and working on the day to day, and the attitude of the club, myself and the players, and bringing in players in key areas to try and bridge that gap to Liverpool and City, then yeah I have a strong belief we can."