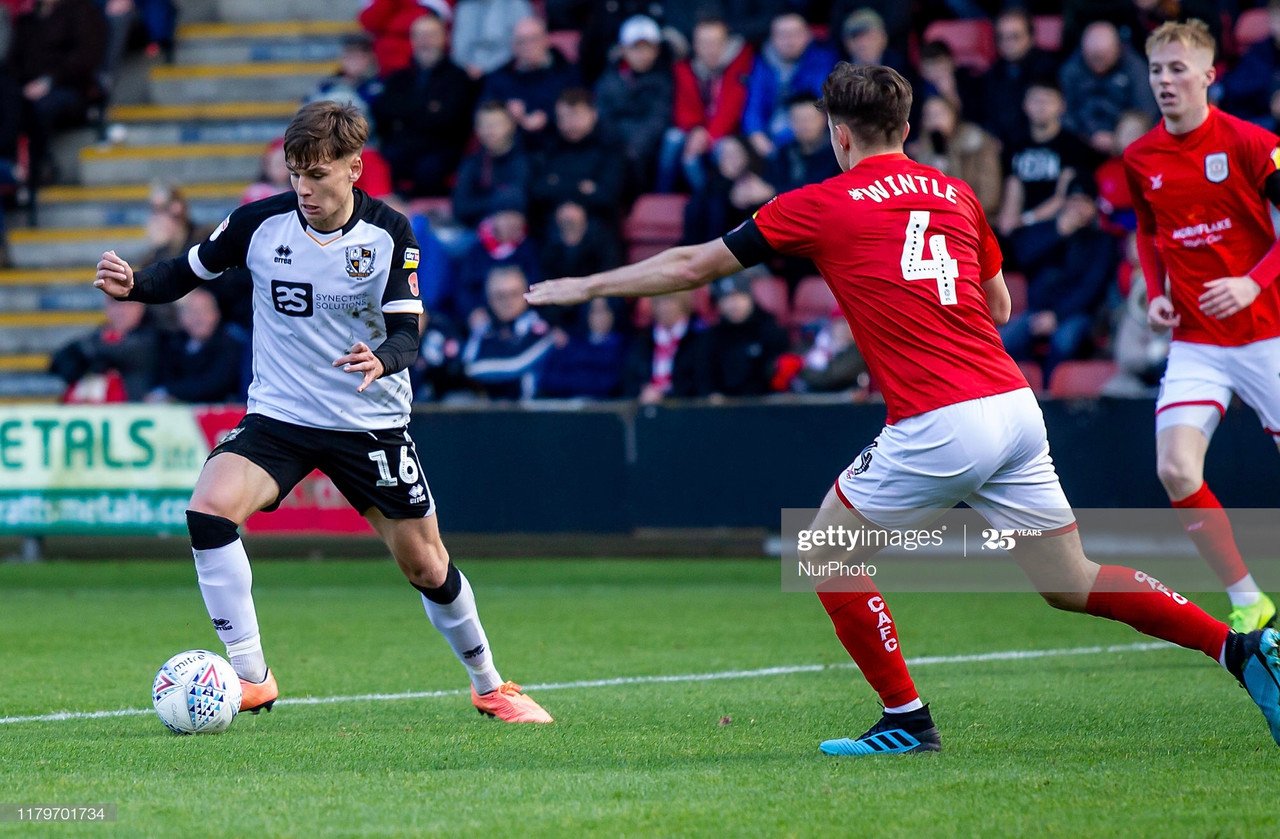 With it looking like the League Two season has come to an end due to the COVID-19 crisis, Port Vale loanees Jake Taylor and Mitchell Clark have consequently returned to their parent clubs.
Consequently, VAVEL take a look at how far these two youngsters can really go in their future careers, the effect that their return to their original club's will have on the Valiants, and whether there will be the potential for them to return to Vale Park at some stage
Taylor's impressive form at the Vale
Taylor joined on loan from Championship outfit Nottingham Forest on the 30th August 2019 and even though he has not featured for the Vale since the start of January, in the 25 games that he has played, it is fair to say that he has been an asset within John Askey's midfield.
His best position is in the centre of midfield alongside either Tom Conlon or Scott Burgess with defensive midfielder Luke Joyce sitting just behind him.
He is arguably a player that Vale have been missing over the last few seasons as he has the confidence to venture forward which creates room for wingers David Amoo and David Worrall to run in behind defences.
The 21 year old has also got himself among the goals, as he has netted on seven occasions.
Arguably his most significant of those goals came in the 1-0 derby day win over Crewe Alexandra and the 2-0 victory over top of the table at the time Swindon Town, as Taylor grabbed the second goal in that encounter.
Furthermore, he has got himself one assist for the Valiants which came in the 2-2 draw at home to Mansfield Town in the league on 22nd September 2019.
Although, despite playing a fair amount of times for the Vale, he has only featured twice in 2020 with his last game coming in the Emirates FA Cup Third Round tie against Manchester City, as a knee injury has prevented him from making an appereance in the last 13 games.
"I would be delighted to have him here"
When speaking in April about whether Vale would be interested in retaining Taylor when his loan comes to an end, co- owner Carol Shanahan said: "I would be delighted to have him here. It is up to Forest, if we have made him a far better player, maybe Forest would not want to let him go.
"He is a great character, I really like Jake. He is hard working, he is very talented, he does not complain and he gets on with it.
"He is a proper professional, so whatever club he ends up at will be lucky to have him".
The potential future for Taylor
In January, the midfielder signed a new contract with Forest until June 2021, indicating that he he is in the club's plans for the near future.
Therefore, this indicates that Forest believe that Taylor has the potential to become a key player within their midfield in the next couple of season's.
Although with the the central and attacking midfield spots already being filled by the likes of Ryan Yates, Tiago Silva and Joao Carvalho, it could potentially mean that regular first team appearances for Taylor will be restricted.
Therefore, his best option may be to go out on loan to a club that play at a higher level than Vale, so a League One club in order to show that he can produce good performances consistently in the Football League.
This arguably would prove that he could potentially deal with and make the step up to regular Championship or even possibly Premier League football.
Clark as a consistent full back
21 year old Clark, who can play both at left and right back has had two loan spells with the Valiants, the first coming in August 2018 after he joined from Aston Villa on a season long loan.
In a campaign that Vale struggled in, after finishing only seven points adrift of the relegation zone, Clark who tended to fit in at left back, was one of a few bright sparks. The reason for this was because due to his regular consistent performances, he was someone that the Valiants could rely on at full back.
Also when going forward he provided good support to the likes of wingers Luke Hannant and David Worrall.
Furthermore, Clark was a player that was liked by fans and by the time his loan had come to an end he had featured a decent 45 times.
Despite this impressive season, Clark was released in May 2019 by Villa and joined Leicester City on a three year deal, two months later after turning down interest from Vale and a number of League One and Championship clubs.
It did not take long though for Clark to rejoin the Vale on loan as he signed a deal until the end of the season at the end of January, with him being John Askey's only signing that transfer window.
However, his second spell on loan was not as successful as his first, which can largely put down him receiving a red card away to Forest Green meaning he was suspended for three games.
In addition, the fact that the COVID-19 crisis has cut the season short means that Clark has only been able to play for Vale on four occasions.
Nevertheless, when he did feature for the Vale, he did show to produce the similar good form that was illustrated in the 2018/19 campaign.
Can Clark break into the Leicester starting XI or will he move on?
With full backs such as England regular Ben Chilwell, Christian Fuchs, Ricardo Pereira and Justin James currently at the top of the ranks at the Foxes, similarly to Taylor, Clark will find it difficult to break into the first team on a consistent basis.
Therefore, he may want to go on another loan spell, preferably at a higher level that he has been playing first team football at, so a League One or a Championship club.
Like Taylor, this would be to show that he can produce regular good performances at a decent level because even though he has been playing well on a consistent basis for Vale, the level is not exactly the same as what would be expected at Leicester, which arguably is the level he eventually wants to rise to.
Alternatively, with it being clear that Clark will not be breaking into the Leicester first team any time soon, and by him proving to have a good impact on a Football League team through his loan spell at Vale, he may want to sign a permanent deal at a club outside of the Premier League.
This would be in order to give himself a better chance of ensuring regular first team action, and if he did impress at a lower league club, it could be a stepping stone to playing football consistently at a high level.
The option to move back to Vale
On the 18th January, Taylor's loan at the Vale had run out as he had only signed on a six month deal with the club. Therefore, after impressing for the Valiants, Askey tried to sign the midfielder on a permanent basis but Forest refused to sell him as they clearly saw the potential in him.
So Vale had to settle for an extension on his loan until the end of the season, but he has failed to appear for Vale since the extension was sealed due to his knee injury.
For this reason, it is evident that in the summer Vale would certainly be interested in him being a permanent member of the team, pushing them to maybe putting an offer in for him.
However this is something that seems unlikely as due to this loan spell being his first experience of first team football in the Football League, even if he he did move to another club permanently or on loan, he is likely to want to test his abilities out against a higher calibre of players than the ones on show in League Two.
Similarly, after his first spell with the club, Vale showed interest along with a number of clubs to sign Clark following his release from Villa.
Therefore this is an indication along with the fact that he returned for a second spell with the Valiants, that Vale would want him to be a part of their plans for next season.
However with him having over two years left on his Leicester contract, Vale may not have the funds to be able to afford the full back, meaning that the option to buy him may not be available.
The effect of their loss on the Valiants
Looking back at Taylor's short time at the Vale, he brought a positive energy in particular when the team were attacking, which is something that the side have considerably lacked in over the last couple of seasons.
He also appeared to be the creative force to give support to the striker and wide midfielders that Vale have been crying out for since Louis Dodds in his first spell at the club.
Therefore the fact that he will likely no longer feature for the team is a shame, as it means that Askey may have to find a replacement which will no doubt be difficult as funds at the club are limited.
Although, while Taylor has been unavailable due to injury, the Vale still have been able to be successful, as since he has been out of action, the Valiants have moved from 10th into eighth, only one point outside of the play- offs after earning 22 points in 12 games.
Arguably, this proves that Askey's side can cope without the future prospect, but he may want to get a replacement anyway in order to add depth to the side he has been in charge of for over 15 months.
On the other hand, without Clark, it means that Vale are now low on quality and reliable full backs. This is because the back up's to regular left back Cristian Montano is former Forest youngster Adam Crookes, who has struggled to hit form after impressing during the 2018/19 campaign.
In addition, the Valiants at the moment do not have a natural right back as back up to James Gibbons following Clark's return to Leicester.
Therefore, it is almost guaranteed that Askey will have to recruit at least one full back to ensure that his team will be fully equipped in time for next season, if they want to hope to push towards promotion. and Clark would have been a great option for them
Therefore, Vale will be gutted to most likely not eb able to retain Clark, as he would be a great option for the club.