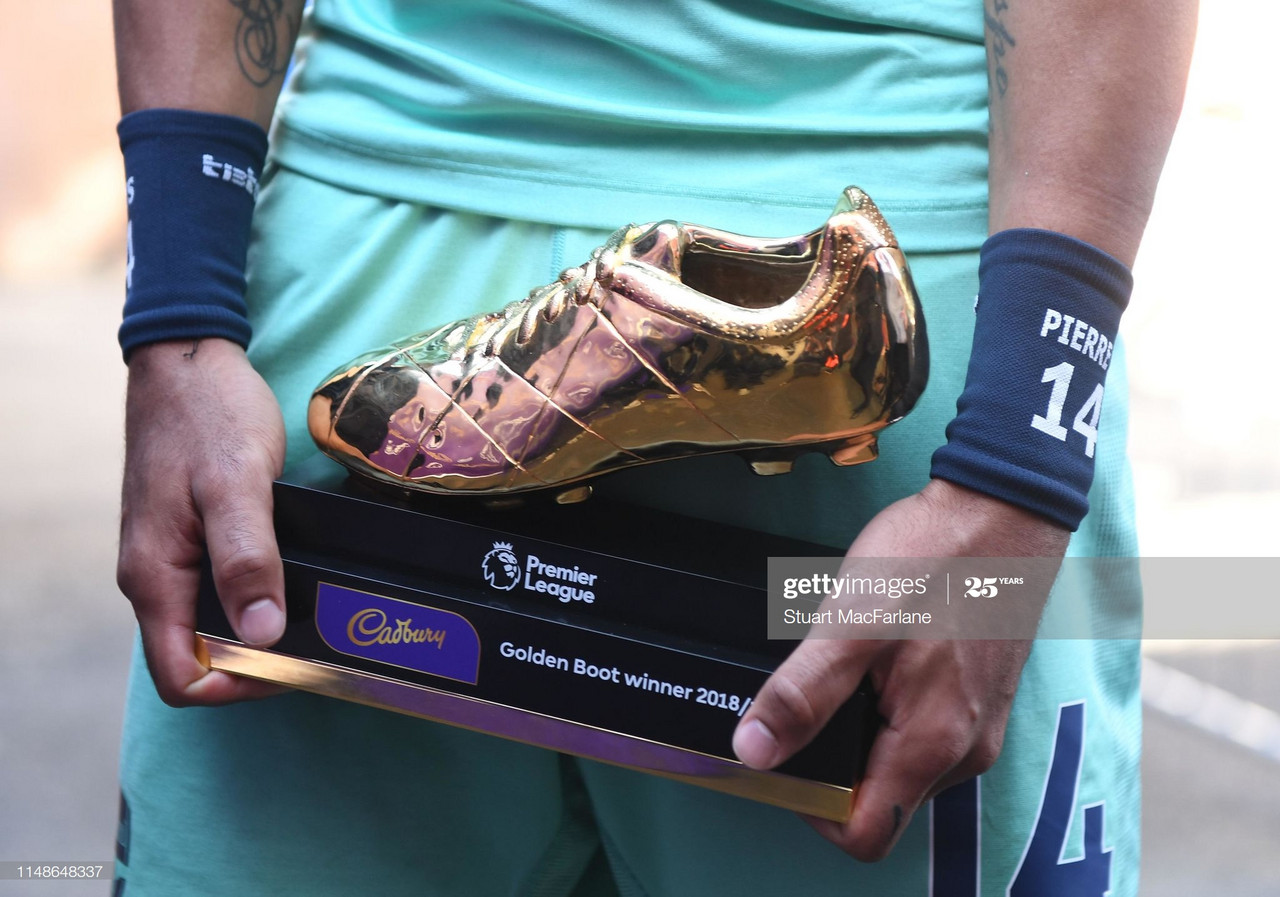 One of the most intriguing sub-plots when the Premier League returns will be the closely-contested battle for the title of top scorer.
Pierre-Emerick Aubameyang and Mohamed Salah are bidding to retain the honour they shared with Sadio Mane in 2019. The Arsenal striker has 17 goals to Salah's 16.
But leading the way is 33-year-old Jamie Vardy, two clear of the chasing pack after a rampant first half of the season.
Sergio Aguero, only once a Golden Boot winner since his 2011 move to England, completes the prolific quartet on 16.
Though we can't rule out a late charge from Danny Ings (15 goals), Mane or Marcus Rashford (both 14), this article focuses on the main contenders.
It assesses their consistency, the favourability of their fixtures, their reliance on home matches and their likely playing time in the new age of five substitutes.
Jamie Vardy (19 goals)
Vardy had matched his nearest rival's tally of 17 goals by the 18th match of the season: a 3-1 defeat at the Etihad in December in which he had put Leicester in front.
It seemed as if he could not stop scoring. And then, somewhat abruptly, he did. For 10 straight matches, he failed to find the net, until finally, in the last league match before the season was suspended, he burst into life off the bench against Aston Villa with a double.
Surely, then, this 100-day interlude came at the worst possible moment for Vardy's Golden Boot hopes, with his ambition to spark another streak thwarted?
Well, let's see what his run-in looks like. Given that goalscoring is an individual feat, we considered only how the notoriously fixture-proof Vardy, rather than the Leicester collective, tends to fare against the nine opponents that remain.
If you tot up his average goals per game against those teams, you wind up with a projected, eventual tally of 24 or 25 goals - an excellent benchmark.
Importantly, Vardy should not suffer from the virtual elimination of home advantage. He has scored the majority of his goals at the King Power Stadium, but the margin in favour is small - 5.2%.
On top of that, Vardy is close to a nailed-on starter for Leicester when fit, and has played 85% of the possible 2,610 minutes.
If he can pick up where he left off on that torrential March evening, it will be very difficult for his competitors to overhaul him.
Pierre-Emerick Aubameyang (17)
Aubameyang may not have been quite as explosive as Vardy, but he has been able to maintain goalscoring form throughout the season. On only one occasion, when fit, has he gone as many as three games without a goal.
Arsenal's remaining 10 games (Aubameyang and Aguero have the notable advantage of a match in hand) are very much a mixed bag. They face four of the top six as well as local rivals Tottenham, but can also look forward to kinder fixtures against the likes of Brighton, Norwich, Aston Villa and Watford.
We're admittedly working on a relatively small sample size in predicting Aubameyang's final tally, but it comes to somewhere between 23 and 24 goals, eclipsing last season's winning figure of 22.
Though that is fewer than Vardy, Aubameyang is unique among the four in that he has scored more goals on the road than he has at home. That suggests he will not overly suffer from the absence of the Gunners' support.
He can also boast more starts and more minutes than any of his competitors. With ninth-placed Arsenal looking to salvage their campaign with a late European push, he may benefit from Mikel Arteta's no-holds-barred approach.
Sergio Aguero (16)
On, then, to the man with the best minutes-per-goal ratio (88), by a distance. Aguero, unlike Aubameyang, has built his Golden Boot campaign on spectacular bursts rather than a sustained output.
He made a rapid start to the season with eight goals in his first six, but would bag only two more in the injury-disrupted 15 games which followed.
Six goals in three matches, including a record-breaking hat-trick against Aston Villa, reinvigorated his challenge, but he would fail to find the net in four games prior to the suspension.
Our metric, however, predicts as many as nine more goals before the season is out. City's games against Arsenal and Chelsea, split by the visit of Burnley, should not forestall his efforts: he netted trebles against both London outfits last season.
Thereafter, City's final six are all currently stationed 13th in the table or lower.
However, you fear that Pep Guardiola may inadvertently scupper Aguero's hopes. Part of the reason his minutes-per-goal tally is so impressive is that his time on the pitch is limited by Gabriel Jesus. In fact, he has only started 61% of City's matches and played 56% of Premier League minutes.
The Argentine, who has thus far perfectly balanced home and away strikes, would be favourite if he enjoyed as much action as his three rivals.
Mohamed Salah (16)
And finally, we examine Salah, bidding to become only the third player in Premier League history to win three consecutive Golden Boots, alongside Alan Shearer and Thierry Henry. That is quite some company.
His goalscoring record is similar to that of Aubameyang. When fit, he only has one three-game barren spell against his name.
And in 2020, his strike rate has picked up, with seven in nine before the break.
Of Liverpool's remaining opponents, Salah tends to enjoy himself against Crystal Palace, Brighton, Arsenal and Newcastle, but meetings with Everton, Manchester City and Arsenal have proven more difficult.
His extrapolated goals-per-game puts him on 20 or 21 for the campaign, though a player of his stature could easily go beyond that.
Salah starts 90% of the time and has been on the field for 86% of Liverpool's golden campaign, but the statistic that truly stands out is his home/away output: he has struck 14 of his 16 on home soil.
Perhaps his performances on the road will be lifted in a less hostile atmosphere, but equally his superb Anfield output could well dip with supporters shut out.
If Liverpool go flat-out for a Premier League points record after tying up the title, Salah's role will be central. But if Klopp opts for extensive rotation, he may find himself in a similar position to Aguero.
Writer's prediction
Of the four teams represented, three may wind up coasting over the line. Liverpool are potentially two games glory and City find themselves marooned between the Reds and the top-four race, shrouded in uncertainty over their European future. Leicester, meanwhile, could be forgiven for cruising if they manage to confirm a magnificent third place.
Arsenal are the exception. And Aubameyang is their talisman. He almost always delivers, and almost always features.
He carries a far greater responsibility than his rivals, and is good enough to thrive under that pressure. That is why I am backing him to edge out Vardy and earn the title of leading top-flight marksman for the third time in his career.