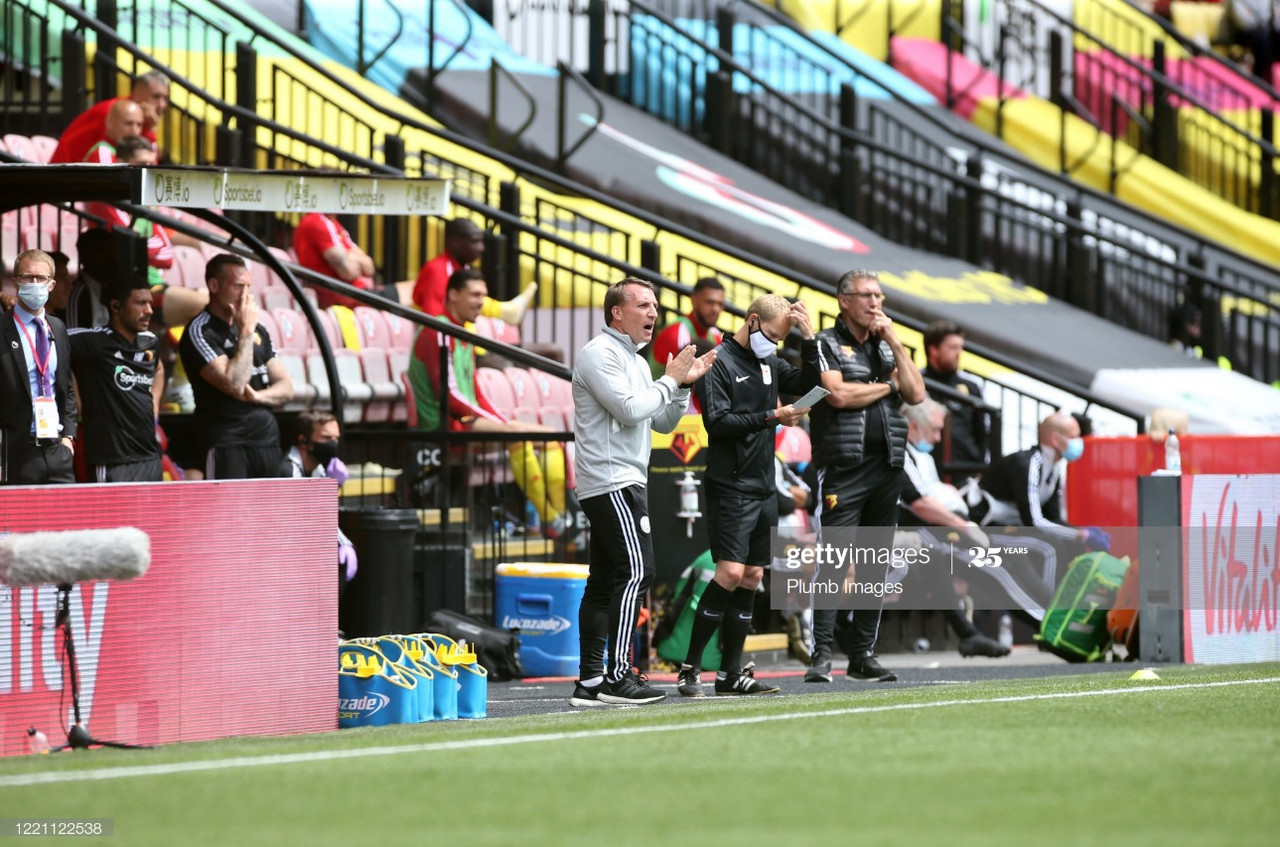 Leicester City manager Brendan Rodgers has claimed that his side will give everything to secure Champions League football this season.
The Foxes return to action four days after being held at Watford, as Brighton & Hove Albion are welcomed after their surprise 2-1 victory over Arsenal on the same day.
A victory will extend their advantage over Manchester United in fifth, who dropped points on Friday evening at Tottenham Hotspur.
"We're working on getting better"
Despite not losing at Vicarage Road on their opening game of 'project restart', City will be disappointed about throwing away the lead after Ben Chilwell's thunderstrike broke the deadlock in the 90th minute.
Rodgers is assured that his team know what they need to do to secure European football next season, whenever that may be.
Talking to Leicestershire Live, he said: "It's one where we know what our objective is. We're going to give everything we can to finish there.
"We've proven that when we play, in the main, we will win games. You always look ahead of you. We're working on getting better."
After James Justin made his fifth Premier League appearance, Rodgers praised the full-back for his performance after filling in for Ricardo Pereira.
"They're both athletically very good. James is a very good defender, positionally very good. Ricky has played as a winger and he carries it so well.
"He's one of the top full-backs at this level. James has got a lot of development at this level. He's got a wonderful attitude. They are different."
"We're not looking to move anyone"
The former-Celtic man also explained how the club are relaxed after the rumours of Ben Chilwell leaving King Power Stadium for Chelsea once the transfer window reopens.
He said: "At the club, we're pretty relaxed on that side. We're aware that while there are good players, that will be of interest to teams who have more money than ourselves.
"We're not naive, but we don't lose sleep over it. We have to continue with our work. We're not looking to move anyone, we want to keep everyone together."
With the rumours of the 'big-clubs' wanting a number of Leicester's key players, Rodgers believes the club are close to challenging the hierarchy.
"It's the reality of where we're at. We're looking to get ourselves into that bracket and we need to perform well and keep developing year on year. It's based around fanbases and their history and what that brings to those clubs.
"We're trying to challenge the hierarchy that has been there for years. You can never worry yourself about that. And if they're not going to be here, the club will get the best price for the player. We want to take the club forward."
Five substitutions
Premier League clubs are now permitted to make five substitutes, instead of three in the new guidelines.
However, only Kelechi Iheanacho, Demarai Gray and Hamza Choudhury were utilised from the bench and Rodgers is reluctant to make five just because he can.
He said: "I didn't feel in the game. If I could have, I would have used another sub, but because of the dynamics, I couldn't. But you also have to be careful. The players have shown the fitness. If we need to make the subs, we can, so that's great, but I'm not going to make five just because I've got five."
"We have an idea as a staff and we sit down and analyse throughout the week. But it's never 100 per cent, you have to analyse how the game and the flow of it. You can pick the wrong team, so you have to read situations in-game. We try to anticipate what might happen in different scenarios, and then it's about reading the game as it happens in front of you. It's about the 11 players that finish the game."
After missing Saturday's game, Dennis Praet has been confirmed fit to play against the Seagulls. The Belgium international was ruled out due to a calf injury but is now available for selection if needed.
With the Watford game being the squad's first competitive action since March, Rodgers has a clean bill ahead of Tuesday's contest.
"There's only an inclusion, Dennis Praet is back and available for the squad, so that's really good.
When asked about the rotation required with the possibility of 12 games in 43 days, he added: "It's just about managing it. You never want to make too many changes, but of course, we played Saturday and Tuesday is a quick turnaround, so we just need to assess the freshness of the team, to ensure we have that energy in the game."