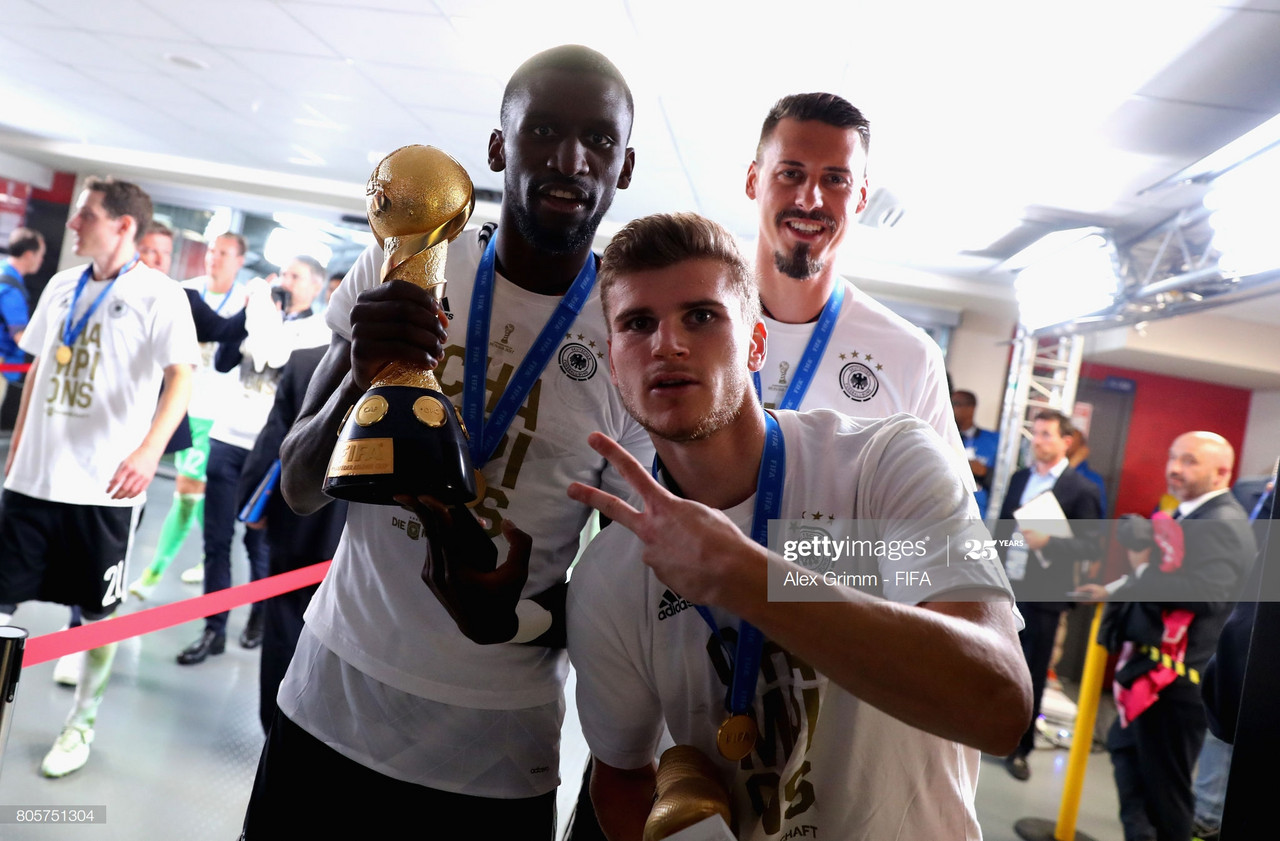 It was August 2013 when Antonio Rudiger and one Timo Werner shared the football field for the first time in a Europa League qualifier for Stuttgart.
Their friendship has blossomed since then as both men have gone on to represent Germany at a senior level.
Now, both players are to be reunited at club level as Werner is set to join Chelsea on July 1 after the Blues reached an agreement with RB Leipzig for a £47.5 million deal.
Speaking to Chelsea's official website, Rudiger tells of his excitement at getting the chance to play with his friend again.
"I'm very exicted he has chosen Chelsea"
Timo Werner's arrival at Chelsea for what is largely perceived to be a bargain considering he is one of the most talked about strikers in Europe, has got many Chelsea fans excited about the future.
His arrival, and that of Hakim Ziyech, have occurred before the transfer window has even opened for next season and there is real belief that, if Chelsea can acquire the services of a few more players in the summer, they can challenge for the title next season.
Having shared the pitch with him for almost seven years now, no one is more excited than Antonio Rudiger:
"Like everyone, I'm very excited that he's chosen Chelsea and I'm looking forward to working with him," said the defender.
"I've known him since he was 17 and he did very good in the past few years. He can be very important for us.
"His development was just 'wow'. In his first season everything was new for him in men's football but then he started scoring more goals and of course with that comes confidence. He had very good coaches who believed in him and worked with him."
Werner has been on the watchlist of lots of big clubs for some time now.
His stats in the Bundesliga speak for themselves and having notched up 26 goals this season alone, Chelsea decided now would be a good time to take a gamble on him.
But with so much interest in him from around the world, Werner had the choice of many clubs, including European Champions Liverpool.
Rudiger says that he played a part in Werner's decision to choose Chelsea over other clubs, acting as an agent on the club's behalf:
"I did speak to him before because we have known each other for a long time," said Rudiger.
"We spoke a lot during the lockdown and he told me he was interested in coming to England. Of course then I did my bit, what I had to do.
"I would say he's a quiet, humble guy, always ready to do better," Rudiger added of Werner's personality off the pitch.
"I hope he adapts very quickly when he comes because as we all know this competition is different than others."
On his skills as a striker, Rudiger says he reminds him of a popular English striker:
"He's a really big threat to defenders.
"RB Leipzig is a more counter-attacking team but in terms of attacking the defensive line, he's similar to Vardy.
"He has a lot of pace and if the defender makes a mistake and loses the ball, then he goes!"