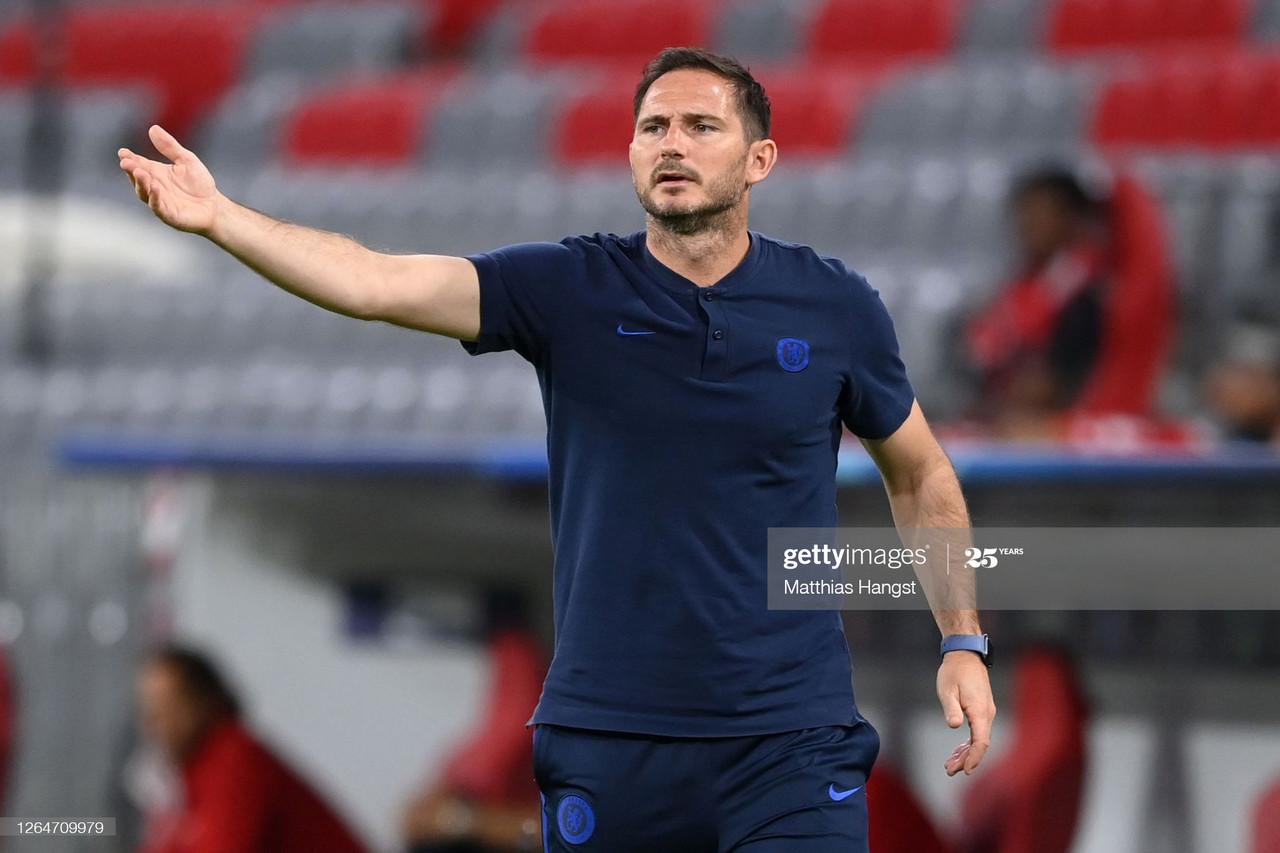 Frank Lampard is pleased with his young Chelsea team's character in their 4-1 Champions League Round of 16 defeat to Bayern Munich.
The blues went into the match 3-0 down from the first leg, knowing they would need to produce something special to turn the tie around and in the end were comprehensibly beaten by the German champions.
However, Lampard was happy with the way his players fought their way back into the match and believes that with a bit more luck they could have got the equaliser before Bayern pulled away.
"Reece James went toe to toe with top players"
"We were caught cold early on with the two goals in the first part of the game, which is disappointing," he told the Chelsea website.
"But I want to focus on the resilience and performance levels of a lot of players in the team.
"It is a good exercise for us, to look at a team like Bayern and the Champions League experience they have in their ranks, hundreds of appearances through their team, and we had young players in their debut seasons.
"Reece James went toe to toe with top players and put in an incredible individual performance.
"I could see where I want us to go, for the good and the bad.
"We competed well in the game, we got to 2-1, and we then didn't make the most of a couple of half-chances.
"Then we concede disappointing goals which were individual errors on the pitch.
"It was an interesting game, there was a lot of good, we are disappointed to lose, but we will be back."
"What I saw is young players staying in a game"
The tie offered many young Chelsea players a first taste of the knockout stages in Europe's elite competition, against a footballing giant in Bayern.
While their inexperience may have shown at times, Lampard could not be more impressed by their application and effort.
"A game with this high-level opponent is going to stretch you and strain you, and it will be an experience for Reece and Callum [Hudson-Odoi] and Tammy [Abraham] and Mason [Mount]," he continued.
"What I saw is young players staying in a game, showing their quality and fighting until the end.
"N'Golo Kante has played 50 per cent of our games this year, we've missed him badly, and he's shown why he is the player he is with his level of performance, particularly during the second half.
"The result isn't nice.
"Probably most expected us to lose anyway, but we went in with the right intentions and we competed.
"I will never be happy with a defeat, but when you match up the two teams, and think about where we want to get to, it will take time.
"It's not overnight.
"Now we take a rest, which the players richly deserve, we look forward and we want to improve."
"We want more than fourth next year"
Despite starting being appointed off the back of a year managing Derby County in the Championship, inheriting a team that had lost its best player in Eden Hazard and being unable to sign any new players, Lampard has guided a young and largely inexperienced Chelsea side top four finish and an FA Cup final.
Despite not many expecting much from them this campaign, the blues record goalscorer is hoping for even better next term.
"It's difficult to gauge expectations from within.
"I will leave that to people on the outside.
"There were many unknowns at the start of the season - players returning from loans, mostly in the Championship, and we lost the best player in the Premier League in my opinion - and for us to have come fourth, which secures Champions League football for next year, and to have seen the development of some of these young players, there are a lots of signs we can work on.
"We know where we're at.
"We want more than fourth next year.
"We have to be humble, work hard and understand it will take time, but what I've seen from within is a really good bunch of players that have worked really hard this year, and will continue to do so next."