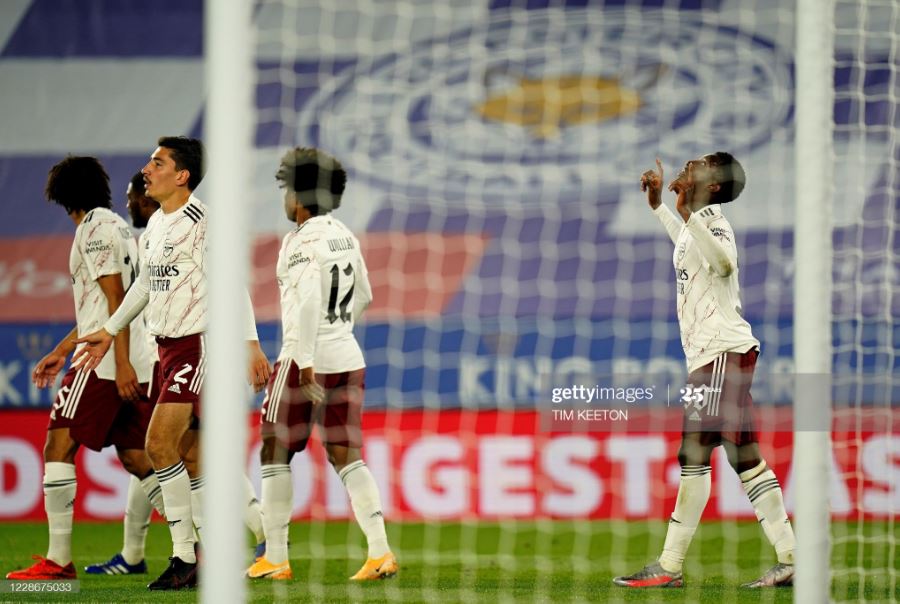 Leicester City boss Brendan Rodgers' claims that his squad lack the required depth to compete in four competitions were very apparent as his much changed Leicester side lost out in the Carabao Cup third round to an Arsenal side who too made a number of changes to their starting 11.
The entire starting 11 that beat Burnley 4-2 were swapped out as the Foxes looked to save the legs of their star players, but the lack of depth came to light as they struggled to get a foot hold into the game.
Arsenal were fortunate in the way that they took the lead as a Nicolas Pepe pass deflected first off the post and then into a helpless Christian Fuchs who inadvertently put the ball into his own net.
Eddie Nketiah's chipped effort was denied by a superb goalline clearance by Wes Morgan, who headed it clear from under his own crossbar, but the England U21's striker got his goal eventually as he jabbed the ball past Ward to seal the victory for his side, setting up a a fourth round tie against either Lincoln City or Liverpool.
Exiting cup could be a blessing for the Foxes
In what is an incredibly packed season already, Leicester also have to compete in Europe, meaning that Rodgers' side will complete one of their most congested season of fixtures ever.
Due to this, and the potential of a trip to Anfield should they have beaten Arsenal, it would be difficult for anyone to see the East Midlands side reaching the fifth round in such a game, meaning that losing out to the Gunners saved Leicester an extra 90 minutes against the current Premier League champions.
The Carabao Cup could also be seen as one of the least important competitions in Leicester's eyes as they turn their attentions to another hopeful European placed finish in the league, a successful maiden Europa League campaign and the lifting of the FA Cup, something that no Leicester side has ever accomplished in the past.
Leicester need depth like Arsenal's
While it could be argued that it was always going to be difficult for Leicester having changed their entire 11, Arsenal themselves made seven changes to their last side and, as the second half showed, still looked fitter, sharper and more dangerous than their counterparts.
The difference in quality was perfectly displayed when comparing Arsenal's attack to Leicester's defence, consisting of Amartey, who started his first game since his serious injury 23 months ago, and Morgan and Fuchs who are in the twilight of their careers.
The likes of Nketiah, Nelson, Saka and Pepe found plenty of success against the make shift back three of Leicester and in the end, looked good value for their victory. They achieved this with an attack that would be ousted by the likes of Pierre Emerick Aubameyang, Alexandre Lacazette and Willian, showing that they have the numbers to successfully compete against sides in whatever competition they appear in, something that Rodgers has highlighted is a need for his side.
Wilfred Ndidi faces lengthy spell out with injury
Running with the theme of lacking depth, Leicester have started the season with their best defensive midfielder playing in centre back as they had a lack of numbers in that position.
After the match, Rodgers broke the news that Wilfred Ndidi could face up to 12 weeks away with an abductor injury, sustained in the win against Burnley.
Whilst Nampalys Mendy has enjoyed an excellent start to the season and Jonny Evans returns from his suspension, there is no denying that losing Ndidi for that long is a huge blow for the Foxes, who saw how big of a miss the Nigerian is last season as their drop in form coincided with Ndidi's knee injury last season, something that Leicester could not recover from as they dropped out of the top four on the final day of the season.
With time left in the window, Leicester have the opportunity to bring in reinforcements, but with the limited resources that the club have at the moment, those new players may only be a temporary solution to a problem that needs solving.