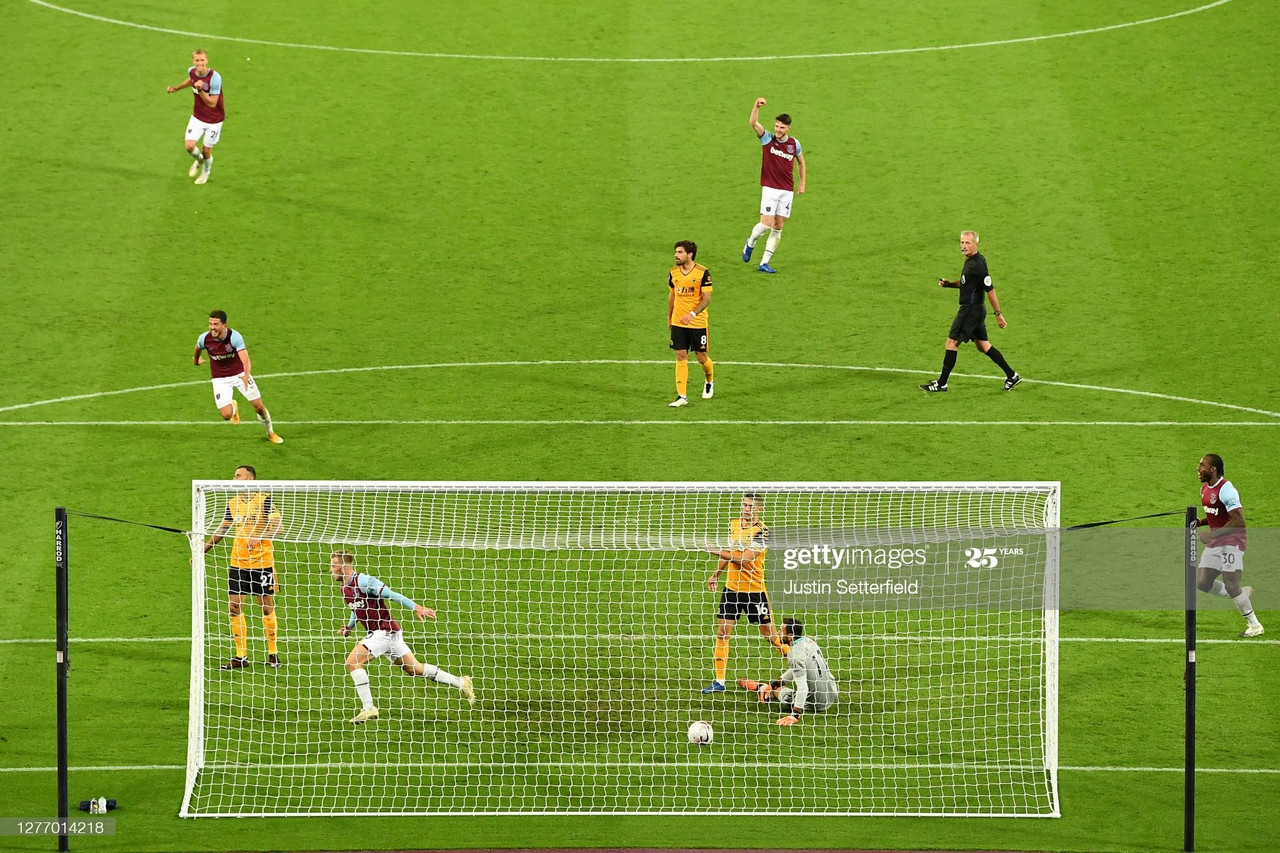 Wolverhampton Wanderers are now on a losing streak, with three losses in all competitions following an impressive opening game, and they have conceded eight goals in the process.
They were thoroughly and deservedly beaten in their third game of the Premier League season by an efficient and organised West Ham United side who quickly identified Wolves' strengths and weaknesses, dominated the midfield, tore through the Wolves defence, cut off the supply to Raul Jimenez and took advantage of Wolves' problems out wide.
West Ham played brilliantly and hardly put a foot wrong but were helped by a dire overall performance from Nuno Espirito Santo's men.
Pedro Neto did himself proud, running his legs off as he slotted into the inside-left role vacated by the sale of Diogo Jota and a minor injury to Daniel Podence which ruled him out of the match with little warning. Despite the scoreline, Rui Patricio performed admirably. If Patricio had been off his game, West Ham could have scored twice as many as they did, and it is hard to argue that he was especially at fault for any of the goals.
Before examining the lessons Wolves learned, it is worth briefly looking at the attack which opened the scoring.
Opening goal controversy
In the 17th minute, Jarrod Bowen scored his first of the night with a beautiful left-footed effort curling past Romain Saiss and Rui Patricio from just inside the box after a quick burst forward down the right-hand side following a free kick.
Willy Boly cynically hacked Michail Antonio down inside the West Ham half to prevent a counterattack from the rapid Hammers front man, and referee Martin Atkinson allowed the resultant free kick to be taken quickly by Pablo Fornals.
However, the ball had moved at least five yards from the spot of the foul to the point from where it was played - when Fornals took the free kick, the ball was just over the line into the Wolves half.
The speed at which the kick was taken and the distance the ball had moved left some viewers at home wondering if West Ham had actually stopped for the free kick when Atkinson blew his whistle - closer inspection of the footage reveals that the ball was still rolling when the kick was taken, and as a result it should have been retaken.
This takes nothing away from Bowen - he noticed that Wolves' left wing-back Ruben Vinagre had momentarily zoned out and he reacted perfectly, dribbling at pace, leaving Vinagre in his dust, and scoring with a shot that no 'keeper could realistically be expected to save.
After the opening goal went in, a match which had been fairly even up to that point suddenly turned. Wolves appeared deflated and sapped of energy, perhaps due to a feeling of injustice over the free kick. West Ham on the other hand seemed full of confidence and drive, dominating the rest of the match.
Overrun in midfield
The midfield partnership of Ruben Neves and Joao Moutinho is no longer working as it should. Both are essentially the same player at different ages - their main technical strengths and physical weaknesses are very similar.
Both are adept passers of the ball, but neither seems to have the pace to play as a box-to-box midfielder (ideally at least one is needed in a two-man midfield), and Moutinho, understandably given his age, does not have the stamina for that role.
The constant, tireless running of Leander Dendoncker was sorely missed, as was the physicality and aggression that he brings to the midfield - on the surface, Neves seems to mirror some of the qualities of his midfield partner. When he plays alongside Moutinho, he does not appear to carry the same extra level of physical intensity as he does when partnered with Dendoncker.
Against the pairing of Declan Rice and Tomas Soucek, Neves and Moutinho were underwhelming physically and often did not have enough time on the ball to go for the incisive long passes which characterise their style of play.
Effective defensive work from a combination of the West Ham back five and central midfielders cut off many of the passing lanes to the forwards for Neves and Moutinho, forcing them into attempting risky passes which were easily collected, or long shots which rarely troubled Lukasz Fabianski in the West Ham goal.
Given that the 34-year-old Moutinho's physical powers will only decline with age, Neves and Dendoncker have to be the first-choice midfield pairing in a 3-4-3 going forward. Moutinho would be available as an option off the bench in that formation, meaning that he would not have to save his energy to be able to run for the full match, so he would be able to run harder.
Alternatively, Moutinho could be utilised as the third central midfielder in a 3-5-2, with the shape of that formation covering over his physical limitations and allowing him to focus on what he does best, moving the team forwards with just the right pass at just the right moment.
Vitinha made a substitute appearance, replacing Moutinho in the 73rd minute, but with the scoreline already 3-0, West Ham fully in control and his team-mates struggling for ideas, he cannot be blamed for the loss. He did, however, show moments of promise, controlling the ball close to his body and not giving it away under pressure. He is one to watch this season.
Exposed at the back
Nuno has been experimenting with his tactics recently, in an attempt to move away from the style of his first three seasons in charge - characterised by a solid, deep defensive shape and fast counterattacks - towards a more dominant, possession-based style characterised defensively by a high line.
In Boly, Conor Coady and Romain Saiss, Nuno has three players who are solid, reliable and consistently excellent when defending in moments of slow tempo, which they have created in recent seasons by sitting back in a compact shape with no real space for the opposition forwards to run into. However, the new style which Nuno is moving towards exposes the flaws of his defenders.
As solid as they are while playing deep, they are at times sloppy and far more inconsistent when defending against a counterattack. They are not especially fast and were easily dragged out of position by the intelligent runs of Antonio.
Again alert to moments of slipped focus from Wolves, Aaron Cresswell saw Atkinson waving to play on after Jimenez was brought down near the penalty area, spotted Boly far out of position on the right of the Wolves defence and bypassed him as well as Neves and debutant Nelson Semedo with a lobbed ball to Antonio.
Coady was then dragged wide to cover the space in behind and easily bypassed, giving Antonio the opportunity to pick out the aerial pass to Fornals while the Wolves defence reset themselves. Fornals hit the post from range, but Bowen was on hand just out of sight of Coady to score the tap-in while unmarked.
As Wolves have had to deal with counterattacks so infrequently in recent seasons, the back three are not used to stopping them and will be lacking in confidence pushing high up the pitch as a result. This will surely factor into Nuno's tactical brainstorming for upcoming matches.
The third goal was a fluke, with a strong header from Soucek taking an audible and heavy deflection off the shoulder of Jimenez then beating Patricio who had little chance of stopping it. There is not much to analyse there from a tactical standpoint, only that Wolves cannot afford to let opposition players lose their markers to take free headers.
Adding insult to injury, Saiss misjudged the flight of a cross in second-half stoppage time, allowing Sebastien Haller to mark his cameo appearance with a goal from a free header.
The wing-back drama
Due to injuries to Jonny Castro Otto (ACL damage; expected to miss the majority of the season) and Fernando Marcal (calf issue; could be fit for the next match against Fulham), Nuno had to resort to using Vinagre, his third-choice left wing-back.
While Vinagre appeared promising in the Championship in 2017/18, his progress seems to have stalled since then. His tendency to overlap on the left flank, often pushing higher than the left forward, leaves a major defensive gap, which was exploited by Bowen for the first goal.
It also means that Moutinho has to sit a little deeper and be ready to defend a counterattack at all times in case the ball is lost on his side of the pitch and fed out wide. This deeper position impacts Moutinho's effectiveness as he is less able to pick out key attacking passes from there. In addition, Saiss has to play wider, leaving Coady more exposed against fast and physical strikers.
Vinagre offered very little against West Ham, hurting the team's chances at times with a good amount of slow and uninspired passing killing off Wolves' counterattacking threat down the left wing, and it would not be surprising to see him dropped against Fulham in favour of Marcal, even if Marcal is not yet fully fit.
Semedo's debut came on the night of the most appalling overall performance of Nuno's tenure at Wolves, and as a result should not be used for a full assessment of his abilities.
Despite the undesirable circumstances he found himself in, individually he did alright - his positioning was good, and he attempted some positive forward moves, though his attacking threat was nullified by a solid West Ham defence and by breakdowns in communication with his right-flank partner Adama Traore.
Both were taken off with just under 20 minutes to go, Semedo replaced by fellow new arrival, 18-year-old Dutchman Ki-Jana Hoever. Hoever did not have much to do for most of his debut, the standout moment for him being in the 80th minute with a nice bit of combination play with Neto leading to a cross.
Defensively he was at fault for the cross leading to the fourth goal, stepping backwards when he could have intercepted a ground pass by stepping forwards, but this decision making will only improve as he matures, and in the grand scheme of things it had no impact on the overall result.
Ineffective front line
The Wolves forwards were not ineffective because of inability, but because of circumstance, tactics and an exemplary defensive performance from West Ham.
Defensively, West Ham were compact and utilised a low block, pulling the midfield back to isolate Jimenez and prevent passes from reaching him, and to suffocate threats from the three forwards when they materialised simply by crowding bodies around whoever had the ball and by cutting off passing lanes that would have relieved the pressure.
West Ham played the game of defensive numerical overloads perfectly. On more than one occasion Jimenez found himself surrounded, four or five against one, and the threat from Traore was negated by Cresswell and Arthur Masuaku doubling up on him when he carried the ball into dangerous positions.
Traore struggled to combine well with Semedo, often looking to dribble on his own when the better option would have been to play short one-twos between them, becoming frustrating to watch after a while.
This is more a consequence of habit than of selfishness, with Traore used to playing in front of Matt Doherty who would either stay back in a more defensive position or cut infield slightly to provide support when Traore went on his electric runs up the pitch.
There should be no cause for concern with that - Semedo has only very recently arrived, and more time spent on the training ground together should strengthen their understanding of each other's playing style, leading to a profitable partnership going forwards.
Neto was the most potent counterattacking threat Wolves had, his incessant running giving Angelo Ogbonna and Fabian Balbuena arguably their biggest challenge of the night. However, he was often forced to drop deeper to pick up the ball, giving the West Ham players more opportunities to win the ball from him before he could attack the box. Out of frustration towards the end of the game, Neto fired a powerful shot from distance which flew only just high of the bar - given his performance through the evening, he was unlucky not to score.18-year-old Fabio Silva needs time to get used to the team and the intensity of the Premier League, and time to develop before his impact will be felt. He has been given a total of about 45 minutes across the last two matches, so that experience is slowly building up, but it is unlikely that he was expected to come on and make a huge impact with half an hour to go and a two-goal lead to overcome. His calmness under pressure was impressive, but he had very few opportunities to threaten Fabianski.
There is a lot of information for Nuno and the behind-the-scenes team at Compton to fully take in and analyse after their humiliation by West Ham, and crucially there is time to implement minor changes before they face Fulham at Molineux on Sunday.
Though he is not known for knee-jerk reactions, such an embarrassing performance and scoreline could see Nuno making changes to both the formation and the starting XI, and it would not be surprising if he made a phone call to Jorge Mendes this week asking about the availability of elite-level centre-backs.