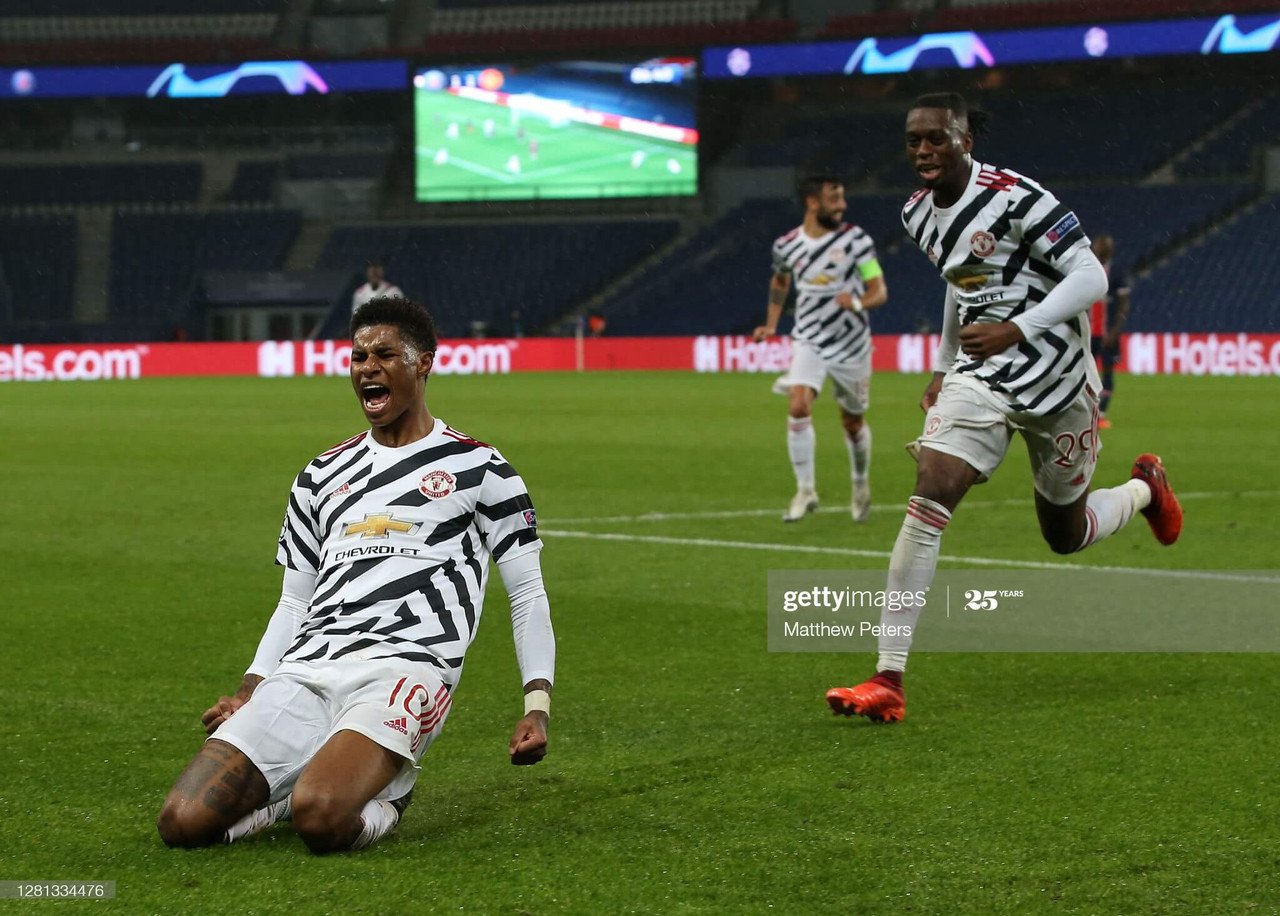 "Mountains are there to be climbed." - Ole Gunnar Solskjaer
An iconic quote from the Manchester United manager after their first-leg defeat to Paris Saint Germain in the Champions League in 2019. They turned it around back then in the second-leg in Paris. And, they put the Parisians to the sword yet again in their most recent away performance - a 2-1 win at the Parc des Princes in the group stage of 2020/21 Champions League.
A newly found solidity in defence, an energetic midfield and a clinical attack - That's the summary of Man United's last two performances. A much needed 4-1 win v Newcastle United at St. James' Park followed by a hugely impressive performance v PSG at the Parc des Princes. With the new summer signings settling in and existing talent finding its feet, it seems as if the Red Devils are slowly but surely regaining form just at the nick of time.
With six goals conceded v Tottenham Hotspur and the team morale at its nadir, the concession of an own goal at the start of the game v Newcastle was far from ideal. However, that goal simply transformed the way United played for the rest of the game.
A display of defensive steel never seen before this season. Harry Maguire and Victor Lindelof looked very solid at the back and David de Gea looked back to his best. Maguire's well-taken goal should certainly be a much-needed confidence boost for the United skipper.
If that was the start of some positivity at the back, then the performance v PSG in their own backyard was even more encouraging. A modified three at the back with Axel Tuanzebe, Lindelof and Luke Shaw acting as the centre-backs and Aaron Wan Bissaka and Alex Telles playing as wing-backs.
Tuanzebe was thrust into the fray after a ten-month injury layoff to face one of his sternest tests ever, coming up against PSG's formidable attacking duo of Kylian Mbappe and Neymar. The Englishman exceeded all expectations by putting in a real shift for 90 minutes keeping the Parisians' potent attack quiet for large parts of the game. He was ably supported in defence by Lindelof whose positional play during the game was exceptional and Shaw, who played a key role in transitioning the ball from defence to attack. Wan Bissaka was at his defensive best thwarting Neymar and Mbappe and last but not the least De Gea was back to his supreme best, sparing United's blushes on more than one occasion.
As for Alex Telles on his debut, his crossing ability is probably second to none. With United's significant aerial ability in the box, especially during set-pieces now bolstered with the addition of Edinson Cavani, Telles is set to play a key role in spearheading the supply line on set-pieces.
Although there's still a long way to go this season and Tuanzebe needs to be eased into action, these two games are a really strong cause for optimism in a department that has been a problem area for United for a really long time.
A tenacious and effective midfield
Large parts of United's impressive performances over the last two games can be attributed to two tenacious midfielders at the heart of United's midfield - Scott McTominay and Fred.
When Solskjaer made the decision to leave out Paul Pogba for the game v Newcastle and start both McTominay and Fred, there were quite a lot of eyebrows raised over United's cautious approach to a must-win game. However, the performance from the duo at the centre of the park was nothing short of outstanding. Tenaciousness and effective transition of the ball from defence to attack. Their impact was even more pronounced v PSG at the Parc des Princes. United simply dominated the midfield battle - winning the ball back and stopping most PSG attacks even before the ball reached their famous front three of Mbappe, Neymar and Angel di Maria. In addition to the defensive side of things, Fred and McTominay also played a key role in transitioning the ball to United's forward players such as Bruno Fernandes and Marcus Rashford to create enough opportunities at the other end of the pitch.
With Paul Pogba producing a wonderful cameo v PSG and Donny Van de Beek doing the same on more than one occasion during the course of the season, both Fred and McTominay are not expected to feature together regularly for United. However, in these two games, both the players have done more than enough to stake a strong claim to a spot in United's starting XI.
An attack starting to ignite
The closing minutes of a Champions League game in Paris certainly seem to bring the best out of Marcus Rashford. A calm and composed penalty in the dying minutes of the game v PSG last season and a well - taken to finish to seal United's recent win over the Parisians. Rashford, alongside United's talisman in Bruno Fernandes, is key to the attacking aspect of the Red Devils. Fearlessness, swagger and a spark on the pitch both on and off the ball, Fernandes has spearheaded United's attack ever since he arrived at the club in January with a stunning display of leadership and talent.
With games coming up thick and fast, Mason Greenwood and Edinson Cavani also look set to play key roles in bolstering the attack with Anthony Martial set to miss the next two Premier League games as he serves his suspension.
United head into a very crucial run of games with Chelsea, RB Leipzig and Arsenal set to visit The Theatre of Dreams over the next three games. The Red Devils face a stern test of their credentials but with their form on the rise and performances improving game after game, one needs to believe that, "Mountains are there to be climbed."