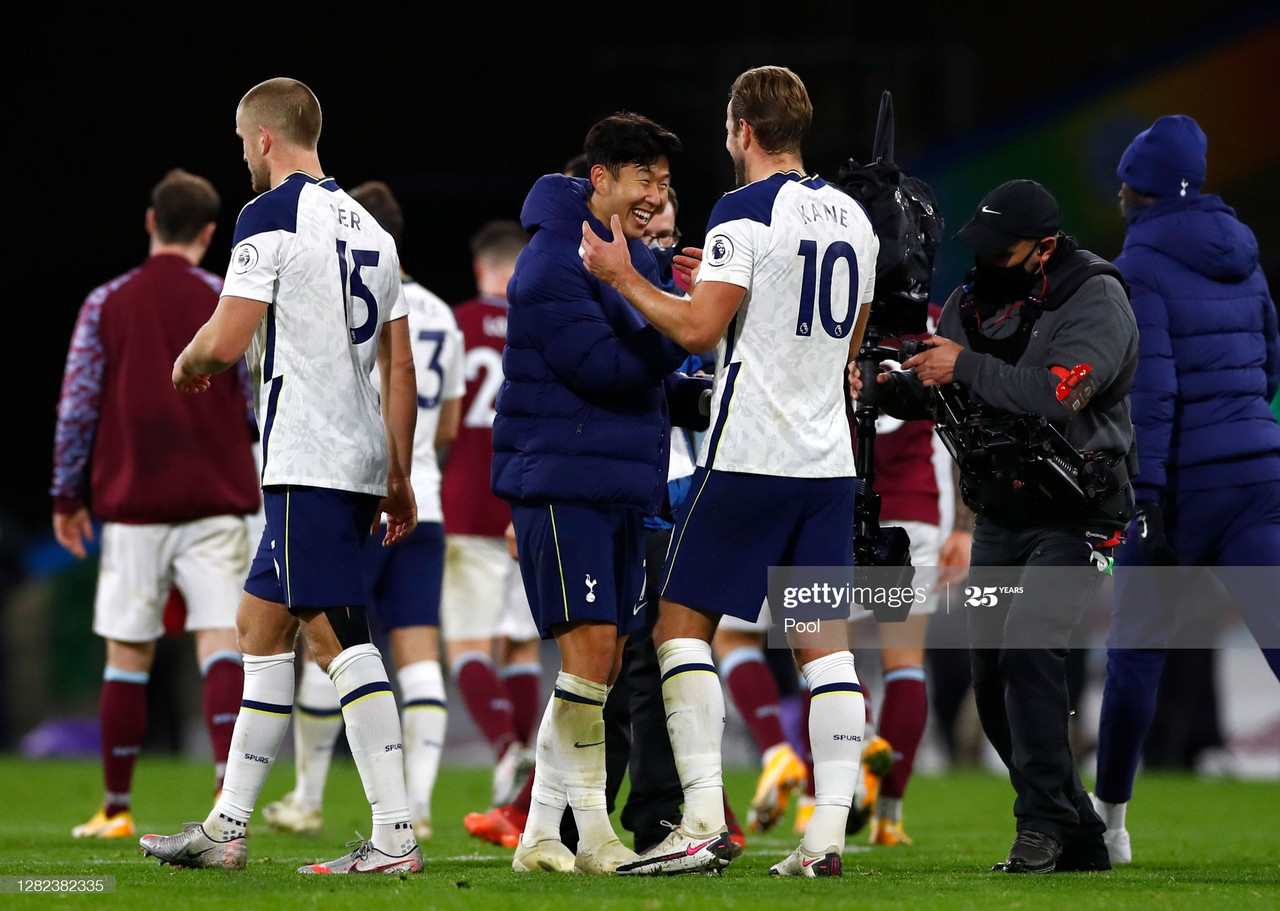 Burnley away is always a fixture that is always looked at with massive banana slip potential; Sean Dyche's particular style well renowned for being a massive unwanted headache.
There was a feeling this was going to become reality until destiny arrived.
Harry Kane and Heung Min-Son combined yet again to score the only goal of the game after there were big fears that Spurs would drop points.
Burnley frustrated, thwarted, and strangled any rhythm Spurs tried to cook up. Son's goal in the 76th minute was the Lilywhites' first shot on target.
This was a tough game for Jose Mourinho, and it's not a performance that warrants enormous praise – but grinding out results is a positive that deserves its own kind of plaudits.
Winning ugly

Despite the win, it would be ignorant to ignore Spurs' struggles throughout the match.

Burnley, as expected, deployed a low block and restricted Tottenham's space within the lines.
This forced Spurs into an unwanted pattern of pointless possession between the defenders, Pierre-Emile Hojbjerg and Moussa Sissoko.

This usually led to a hopeful long ball in search of Lucas Moura or Son, but that had next to no success.

When the ball fell to Tanguy Ndombele or Kane in the eight role, a good progressive pass would usually come next, but there was not enough sharpness in the final third to cause Burnley's defence any issues.

Spues did not conjure up any good opportunities to score in the first half. It was worryingly different from past matches where scoring felt like a formality.

Spurs' XG in the first half was 0.13.

The tempo needed to be upped. Much to Mourinho's dismay, little seemed to change.
In possession, Spurs were still not progressive or dangerous enough, and Burnley's game plan seemed to be working an absolute treat.

It even had promise to be the ultimate smash and grab. Shortly before Spurs' opener, Kane was forced into defensive action – clearing off the line brilliantly after James Tarkowski's powerful header from a corner.

The 76th minute was the moment when everything above becomes pointless. Yes, Spurs were average at best. But it simply doesn't matter when you find that moment and get three points.

Winning ugly is a great trait to have. A mass of goals can't be expected every week. When facing rigid and firm defences, you have to find a way to break the deadlock.

This is exactly what Spurs did.

It'd be harsh not to mention the defence - who's main course of action was in possession, but they did well in dealing with Chris Wood and Ashley Barnes' psychical overhaul.

Spurs achieved three points, and ultimately – that is all that matters.
"Did you get the assist?"
These were the words Son screamed out as he was wheeling off in celebration, and Kane nodded with a huge smile on his face while embracing the Korean international.
Yes Son, no one can quite believe that he has assisted you yet again.
It wasn't in the usual romantic style of the England captain unlocking a defence with a brilliant searching ball, but it was special in its own right.
14 minutes to go, and hope was fading that Spurs were going to nick the game away from Burnley's tight grip.
Erik Lamela whipped the ball in from the corner, and just when it appeared to be destined for a clearance – Kane rushed back, and from the most awkward angle, put a ball across the box with a fantastic diving header.
Right on que, Son read the situation brilliantly and made a darting run which he met with another good header into the back of the net.
The only time Burnley's defence had a lapse in concentration resulted in the dynamic duo capitalising to make Dyche's men pay the heavy price.
This season has seen the remarkable pair evolve from great individuals into a world-class partnership.
Statistics often get a bit dull, but they're impossible to ignore when talking about these two.
They now have 29 combined Premier League goals, and only have Didier Drogba and Frank Lampard in their way for the top spot with 36 goals.
Out of Son's eight goals so far this season, seven of them have been assisted by Kane.
It's hard to rank what's more impressive: Kane's service or Son's clinical finishing.
The England captain's game has gone to new heights this season, already getting more total assists than any of his previous campaigns. Eight assists in six games - not bad is it?
The Englishmen's excellent vision mixed with the South Korean's brilliant finishing is the perfect concoction. Everything the club does well this season will involve these two.
Long may the Kane and Son show continue.
Ndombele's perfect arc
There was something very satisfying about Ndombele's full circle redemption.
In March this year, Spurs were in a midst of inconsistent form and travelled up to Turf Moor. Ndombele started the game, and it was a performance that summed up his first year in English football.
He was a passenger in the first 45 minutes and didn't impose himself on the game enough. Mourinho axed him at the break, and it wasn't a great look that Giovani Lo Celso, his replacement, had a great impact on the affair.
This wasn't where the embarrassment ended. Mourinho publicly called out the 23-year-old midfielder for his performance.
"In the first half, we didn't a midfield.
"Of course, I'm not speaking of Skipp, because he's a kid of 19 who's played two hours in the last few days. I don't criticise him at all.
"But I'm not going to run away, and I have to say he [Ndombele] has had enough time to come to a different level."
This was met with immense disappointment that the club record £54 million spent on the midfielder is seemingly going down on the list of transfer flops.
Mourinho and Ndombele's relationship was at an all-time low, and the Frenchman was destined for a transfer away in the summer.
That move never happened, and here we are again. Burnley away, but this time it's was a very different situation for the 23-year-old. He was picked in the starting line-up for the third time in a row, and the talent we all know was there is starting to show.
He was one of the best players on the pitch. The Frenchman was the bright spark in a bleak showing for Spurs going forward - always wanting the ball and looking to progress it into dangerous areas.
Within the first minute, he had already done more than in March - weaving past a couple of Burnley players before getting fouled after a nutmeg.
Ndombele completed more dribbles than every other Spurs player combined.
He didn't get the reward of a goal or an assist, but he perhaps should've. In the second half, he set Son away, but the Korean took too long and let Tarkowski recover and block the shot.
Just seven months later, in the exact same arena, Ndombele made a statement that he has now embedded himself into Mourinho's plans.
The demon of Turf Moor has been banished.