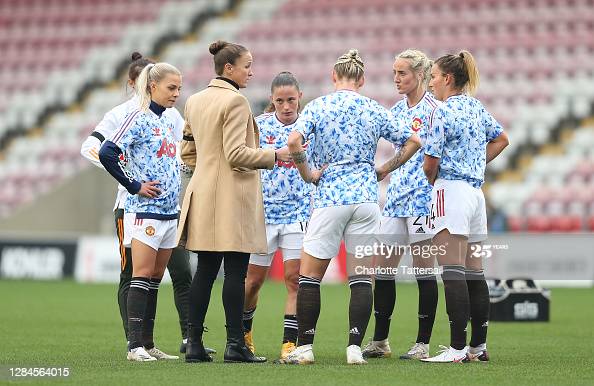 Women's Football Weekend opens with the spicy Manchester Derby at Leigh Sports Village for just the second occasion the two sides clash in the Barclay's FA Women's Super League.
Casey Stoney's side is coming into today after a significant win over Arsenal that shot Manchester United straight to the top of the WSL table for the first time in their history.
Manchester City are coming into this fixture after an 8-1 win over Bristol City. The Citizens have just one more goal United this season, and also lead in attempts on goal in the entire league, though with a minimal margin of two over United.
Gareth Taylor's side are confident coming into the fixture and have accepted that everyone will be rooting and have accepted United as the underdog. With a few new players in the squad, is everyone feeling the pressure of playing in a Manchester Derby?
"As Manchester United players, and anybody coming into the club knows its values and traditions. They'll be very aware it's a derby, but we try not to get caught up too much on the occasion," said Stoney.
"It's a game of football and we'll be prepared to play against the eleven players Man City put out. We want to go and win the game. We always want to represent this football club by giving everything and I don't think you can question that about any player in my squad."
Manchester City are the only team of the "big three" that Stoney has yet to steal points off. Last time out, Caroline Weir netted a lone goal to edge off the Red Devils. Stoney looks back on that game and focuses on the loss, despite the significant occasion where her team played their first Super League match at the Etihad Stadium.
"We lost so my reflections aren't really that great, obviously it's momentous, but for me it was the result that I focused on. Having said that, it was our first ever game in the Women's Super League and we were put at the Etihad in front of 32,000 and I thought my team did amazingly well," Stoney said.
"I was very proud of first half performance, slightly disappointed in our second half performance, but I knew from that moment that we can compete in the Super League so it was a really good gauge at where we're at."
Can't get carried away after Arsenal win
United remain undefeated in their six WSL matches played and only dropped points against Chelsea in the opening match of the season where the Red Devils held the reigning WSL champions to a 1-1 draw at Leigh Sports Village.
Stoney remains focused at the task at hand and won't get carried away over just one win in the WSL. Whenever media tried to ask her about the significant moment in her managing career, being at the top of the WSL after just two seasons playing in top tier, she insists that 'it's just one game.'
"This is not going to define our season, it is one game and it matters little if we don't then go on and potentially try to win the next one and the next one, but we also recognize there's going to be set backs throughout the season, but it was a good win."
"I said to them they worked for it, they outworked Arsenal, they really committed themselves well to the game plan, they executed. It took everybody, the players that came on made a tremendous impact too. It's about levelling them, yes enjoy the moment but levelling them to make sure we go back out on Saturday with a performance to win."
Stoney appreciates having her strength in depth back after a rocky month of battling against injuries, but at the end of last week she had a nearly fully fit squad. Though Alessia Russo has been ruled out long-term after undergoing surgery on her hamstring, Stoney has players like Ona Batlle, Jess Sigsworth and Lauren James back and fully fit.
Abbie McManus is managing a knock, so it is unclear whether the centre back will feature in the squad for this fixture. It's expected to see Amy Turner in the position again to cover for McManus, which Stoney isn't necessarily worried about.
"She was outstanding, it really was one of her best performances in a United shirt and you know what she did? She did the basis really really well, she won first contact she got tight to the strikers and didn't let them turn. I thought our entire back four did really really well.
"Yes we won because we pressed really well, we minimized the spaces they had to play in, but we did the basics really well, we defended brilliantly, we picked up second balls better than they did and ultimately we got the goal that won the game."
Against Arsenal, Stoney had players like Lucy Staniforth, Lauren James, Jess Sigsworth, Katie Zelem, Jane Ross and Lotta Ökvist on the bench. Once James came into the match, she managed to give the ball into space for Sigsworth to carry down the pitch to assist Ella Toone for the lone goal against Arsenal. For Stoney, this just proved how important a strong bench is, perhaps something she lacked last season after conceding late goals in big matches.
"It just means that we have strength in depth, we can bring players off the pitch that can make a big difference. I'm a manager that makes changes at half-time, a manager that changes after 60-70-80 minutes and now we have the five sub rule. Being able to have that depth gives the opportunity to make changes so that we can impact the game in a really positive way.
"Whether you're on the bench or starting, you've got a vital role in the team, it's just a different role if you're starting or if you're on the bench. Obviously all players want to play so that's the hardest thing about management is trying to make sure that those players that aren't started week in and week out stay valued and stay part of the group, stay appreciated and stay wanting to be part of it and still hungry for the success of the team.
"I always say if you've got a recipe for that then you've got gold, it's not easy because players want to play. You know the starting eleven are gonna be okay because and you try to concentrate more energy, more value into those that aren't."