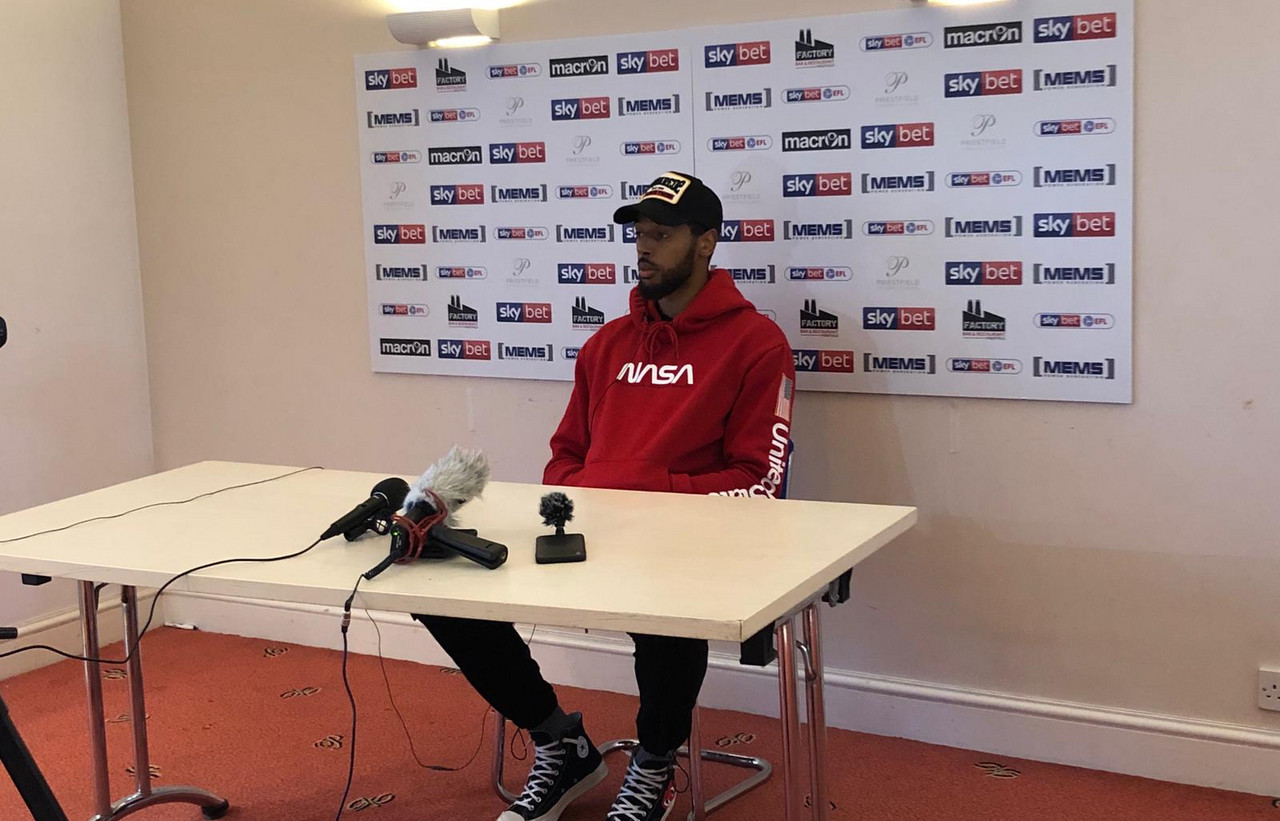 Gillingham will host Charlton Athletic on Saturday in League One action.
Ahead of the game, Gills forward Vadaine Oliver tackled the press. Here are five of his key quotes.
On the break
"We had days off at the weekend, but we have had some hard training days. It is different going into a weekend and not mentally preparing for a game, but it has been a good time to knuckle down and work on a few things."
Gillingham haven't had a game for 11 days, something that is unusual for players but may be beneficial ahead of a jam-packed schedule.
Oliver – and the rest of the Gillingham team – will be hoping they are back refreshed and raring to go again.
On fans returning to stadiums
"It would be a massive boost. It is almost like an extra man on the pitch. A lot of the time when things are not going right the fans can give you that extra lift, and it would be great for them – it has been hard up and down the country what we are going through, so to give fans that extra boost of being back watching the team they support would be good.
"I have not had that full-on taste of playing for the club, but I am looking forward to it. When I have played here as an opposition player, they are a loud bunch – it can be intimidating and put you on the back foot so having the fans back would be a massive plus for us."
Oliver only signed for Gillingham so hasn't actually played in front of their fans yet as a Blue, but he is well aware of the noisy bunch the Priestfield faithful can be.
Having fans back in stadiums will help any side – Oliver wants them in soon.
On the Gillingham attack
"We have got a good mix attacking wise. We have the likes of Trae [Coyle] who can cut in and has lively feet and can get in behind. Jordan [Graham] also has great feet and probably the best delivery in the league. Dom [Samuel] can play off the shoulder, he is a bit of a fox in the box, and then you have got me and John [Akinde] who can occupy a defence. All of us have our ways of impacting a game and it is vital to have that in a team.
"For me, my relationship with Jordan is perfect. When I signed, he signed not long after and I had known him previously because he came in at Northampton. We developed a little friendship and partnership there and I told the gaffer we needed him, but fortunately for you guys he signed here on loan! So, when I came, and he signed, I was buzzing because I knew his deliveries are what I thrive off. It is working out and it is the perfect partnership."
Gillingham have struggled for goals at times this season but they are starting to find their form again with Dominic Samuel, Trae Coyle, John Akinde and Oliver himself all finding the net at one point or another in the last three games.
Oliver has formed a partnership with Jordan Graham on and off the pitch, and that has been key to Gillingham's play this year.
On his confidence aerially
"I have a massive amount. I know for a fact when I am on the pitch that aerially, I do not think I would lose. You must half that self-belief because if you do not you will be a shell of yourself. But I know that unless you put three players around me I am going to get the better of my opposition that day and I think that helps the team and gives them that out ball.
"I eye up opposition centre halves. When we are warming up defenders will have the ball kicked to them and I will look at the back four and eye up who the weakest it and who I will target. I will always target who I think I will bully and if I do that to him, I will mix it up, but you must have an eye on your opposition."
Oliver has won the most aerial duels in the league this season, and that doesn't look like changing any time soon.
Charlton defenders, beware.
On Charlton
"We know what they are capable of, they are a big side. We know they have done well recently but if we are at it, we know what we are capable of.
"We have done well at home, and we are confident going into it. I do not know about everyone else, but I thrive off the underdog mentality. No one expect you to do anything or do well and it makes me want to show people what we are about. Against the big teams we have not had the results, but overall, we have done alright.
"In training everyone is lively. Trae is on fire, Dom has scored a couple of goals, Jord assisted. The backline looks strong – Mags [Christian Maghoma], Jack Tucker, Jacko [Ryan Jackson] – everyone is performing and on form and looks bright and sharp. We are ready for this."
Charlton will be a tough game for the Gills but, at home, if they are on song, they will fancy it.
Only will tell how beneficial time off was and how they get on against one of the biggest teams in the league.