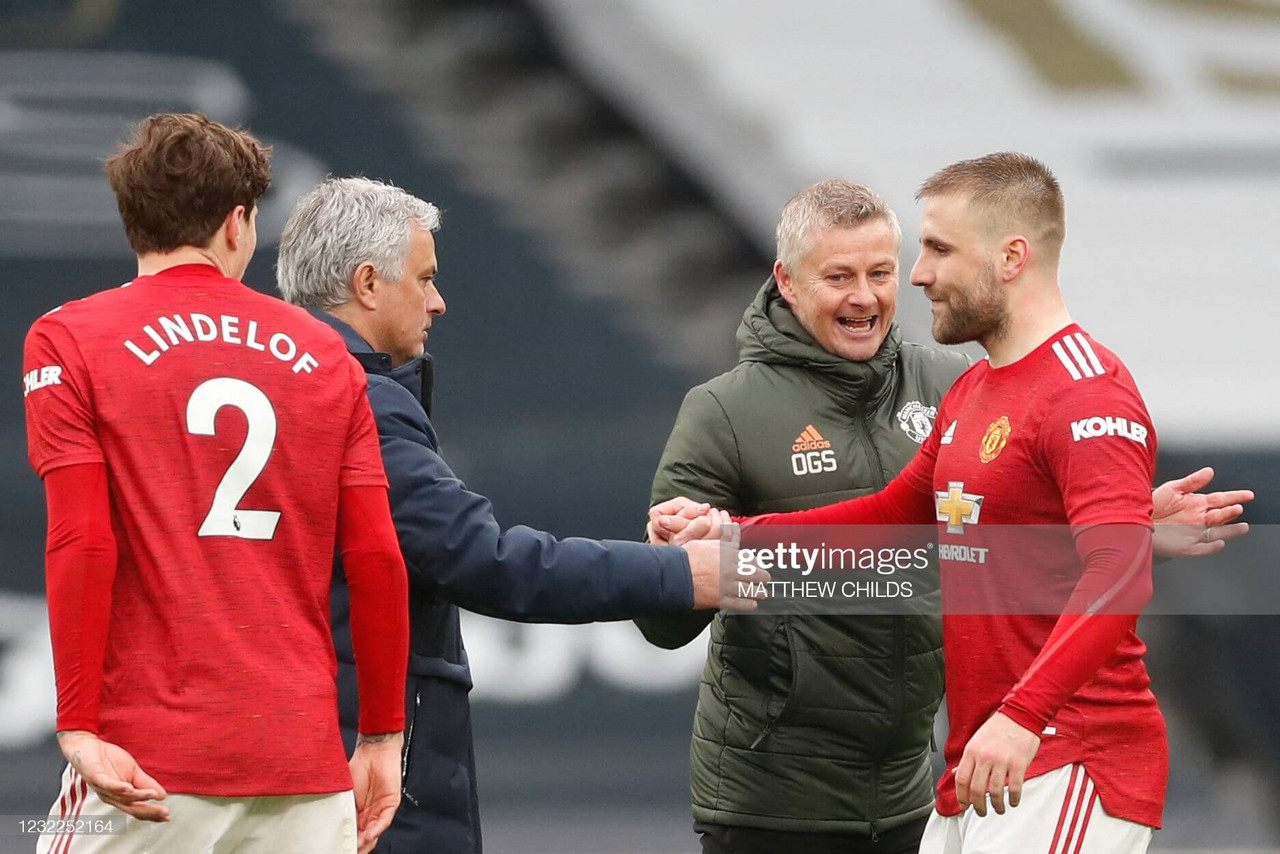 Perhaps it is harsh to say that Tottenham Hotspur are a conservative football team at the moment considering they smashed six past Manchester United when the teams last met in October. Nevertheless, on this display Jose Mourinho is clearly working his magic and making Spurs become a shadow of their former selves.
From the high-point of then to the low-point of going out of the Europa League to Dinamo Zagreb, drawing with lowly Newcastle United and being completely second-best to United throughout a game in which failed to hold on to a one-goal lead.
When Spurs once tried to entertain and express themselves freely, now they exist solely to exist. In the second half against United, they were invisible. Despite having gone ahead in the first half through Son Heung-Min, they threw away the lead by conceding three goals and another should have been awarded.
It is almost 18 months since Mourinho became Spurs manager and despite some signs of a marriage of convenience actually bearing fruit, it is now apparent that a strained relationship is starting to envelop amidst the thorns. There had existed a chance, way back in November 2019, that Mourinho might actually have slightly changed tact and taking the Spurs job could see a more adventurous coach emerge.
That hasn't happened. Spurs are starting to look as insipid as United did just before Mourinho was sacked as their manager in December 2018. In those final few months at Old Trafford, United played as if in a straitjacket, nervous of making mistakes and failing to imprint any sense of personality on games.
Having the ball seemed a chore, it was much easier to just sit back and try to keep the opposition at bay. Furthermore, Mourinho started to pick fights, with Paul Pogba, and place a few players under his bus, Luke Shaw included.
Transient symmetry for Spurs
In some transient sense of symmetry, that is now happening at Spurs too. Mourinho has called out certain players for not doing enough, he has placed Dele Alli, Harry Winks and now Toby Alderweireld on the periphery, while also further limiting the inventiveness of this Spurs team. It was not so much the 3-1 defeat that Spurs suffered here, on the back of a disappointing 2-2 draw with Newcastle, but it was the way they fell to it that will have irked the supporters.
In fact, it would have been of little surprise if the Spurs fans had left their television screens prematurely to enjoy an early Sunday roast; they would have found more life in the stuffed bird on their plate than in the Spurs performance in the second half.
The contrast to United was clear here. It is striking how different the mood around Old Trafford is now to how it was in Mourinho's final season. There is no doubt that Ole Gunnar Solskjaer has become a better man-manager than his Spurs counterpart. He has brought a smile back to United, there is evident promise and the work ethic and high-level displays of Pogba and Shaw demonstrate what an arm around the shoulder, rather than a cold one, can achieve.
Whereas Mourinho still opts for a low-block (in a massive game at home to a 'top four' rival), Solskjaer attempts to field a lineup that can assert itself and take the game to the opposition. Harry Kane and Son carry this Spurs team in an attacking sense but there must become a time when either one of them looks around and thinks they can progress their careers more away from the shining glint of Spurs's new stadium. Gareth Bale has already hinted that he preferred being on the sidelines at Real Madrid than trying to guess what Mourinho wants from him in north London.
Son's goal in the 40th minute may have given the home side the lead but United had scored earlier only for VAR to ridiculously rule it out due to a supposed flailing arm from Scott McTominay. Yet, Spurs's performance as a whole was a further indictment of Mourinho's conservative tactics. This was the first time he had lost a home league match to United in his career. Spurs are now six points outside the top four and the Champions League places.
Is this worth a trophy?
In the barbs thrown prior to the game, Mourinho rubbished Solskjaer's claims that trophies simply inflate egos, the Spurs manager said that he has other priorities. Well Mourinho and Spurs have a chance of winning their first piece of silverware together when they take on Manchester City in the League Cup in two weeks. Trophies were what Mourinho was brought in for, after all.
However, if Spurs beat Pep Guardiola's team, which is possible but hardly plausible given City's winning record of late, then Mourinho will have achieved the headline aim of his tenure. Yet, if they fail, then is it really likely that this uneasy marriage will continue for another season?
Spurs may look at United and see the green grass of the other side. Since Solskjaer replaced Mourinho as manager, United have reached four semi finals, which could become five if they advance past Granada in the Europa League as expected next week.
Also United have established themselves as the outright No 2 team of the Premier League for the past 18 months, behind City, consistency is starting to arrive as evidenced by their current away record of 23 league games without loss.
It doesn't do to think of where United would be now had Mourinho stayed in position, the aggressive and attacking attractiveness of the performances Solskjaer is managing would be non-existent. Likewise, the ability and belief to come from behind may also have been lacking. Would Bruno Fernandes and Edinson Cavani, who scored in this victory, have come to the club had Mourinho been manager? Would Pogba have stayed?
Whereas Mourinho brings a grey cloud, Solskjaer instigates a rainbow. That was clear during this match. There is no doubt which direction United are heading and Spurs seem to be moving the opposite. It's a case of same manager, similar players and same result for Mourinho and his stale style at Spurs.