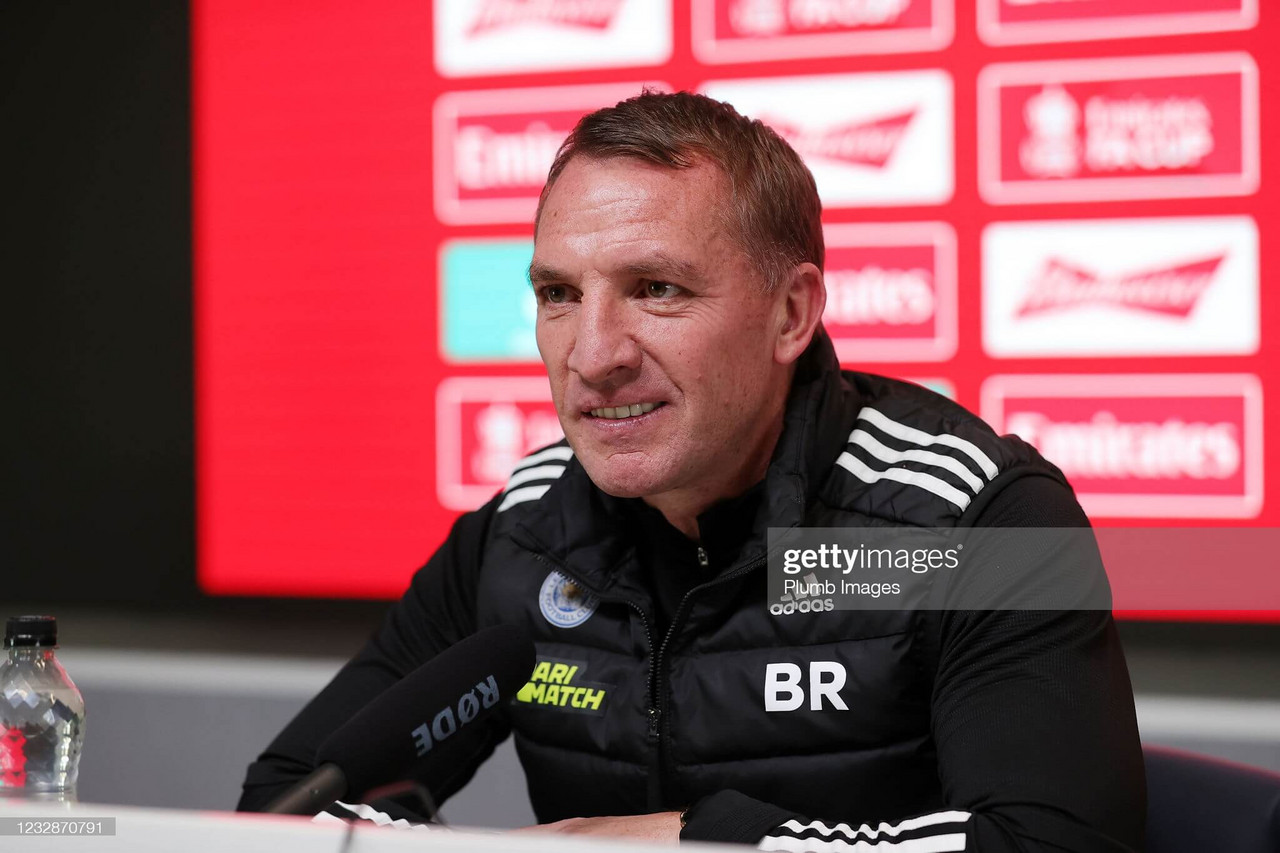 Leicester City boss Brendan Rodgers spoke to the media ahead of his side's seismic upcoming fixture; an opportunity to infuse their name into the history of English football and win their first-ever FA Cup trophy.
The magnitude of the occasion could not be greater as the club prepares for a revitalised Chelsea side who have undergone a stark transformation since Thomas Tuchel's appointment in January.
Rodgers said, "It's a special game to look forward to. We've all grown up with it. To be able to lead Leicester City out for the first time in over 50 years, it's a privilege. You've got to stay calm. The preparation is huge.
"This is a game where you can create an incredible legacy. You create your own stories in these games."
Of the 24 respective champions of the English top-flight, Leicester stand solitary in having never achieved FA Cup success and will now look to brilliantly win their first trophy under Rodgers.
Leicester sustaining their success?
For a second successive season Leicester have excelled in the Premier League, challenging Champions League football on both occasions.
The club agonisingly dropped from the esteemed top-four places with two games to play last campaign and face a similarly pivotal closing stage one term later.
The stability instilled into a team that has laid a worthy claim to usurp the established 'big-six' sides has been maintained this season, surpassing the feat in the sense that the Foxes can now add to their previous piece of silverware when they miraculously won the Premier League in 2015/16.
Rodgers was quick to praise Leicester's commendable performances under his tenure at the club and shed some light on just how he intends to prepare for the fixture.
"It's been consistent. They've been playing well over a period of time. I've always tried to ensure every game is a big game. The consequence of the game is greater than some of the other games, but you don't need to magnify an FA Cup final. It's a big game.
"We don't want to have to increase our levels for a cup final. It's important to stay calm. We put our final plans in place later today and tomorrow. We'll travel and relax."
A return to stadiums awaits
Stadiums have been devoid of fan support since March last year due to the coronavirus pandemic and all around the globe have suffered as a consequence.
As restrictions are loosened, certain events across the country are permitting trial events as a sense of normality begins to resume.
The FA Cup final is the venue hosting one such pilot occasion and both sides will undoubtedly relish the opportunity to welcome back fans and thrive upon the aid of an endearing live fanbase.
"It's going to be huge. To know that such a special occasion is going to have people there looking after us. For supporters themselves, Wembley is iconic so to get to watch their team there it will be special."
Rodgers pays tribute
The Foxes are a single game away from basking in the success of a second major trophy in five years, coming on leaps and bounds from a football club languishing in the mediocrity of the second division only seven years ago.
Recently emerging as one of the division's standout teams, Leicester can now command the respect of their rivals as a club capable of maintaining their position at the top.
Rodgers gave his thoughts on the final challenge of an excellent tournament, as well as paying heed to the club's late chairman Vichai Srivaddhanaprabha, and displayed his longing to prevail and bring further success to a proud and laudable football club.
"We know we have to play really well against an outstanding team. We've come so far, and for us, it's not just enough to arrive there. Our ambition is to win it. We have to do everything we can in order to do that. We need to give our all and that's all we can do."
"I'd love to win it for Khun Vichai and his family. His spirit will be there with us on the day. One of the reasons I came was because of them and the cause the club has. I would love to do it for the supporters and the players, but if I had to pick one, I'd say Top and his family."