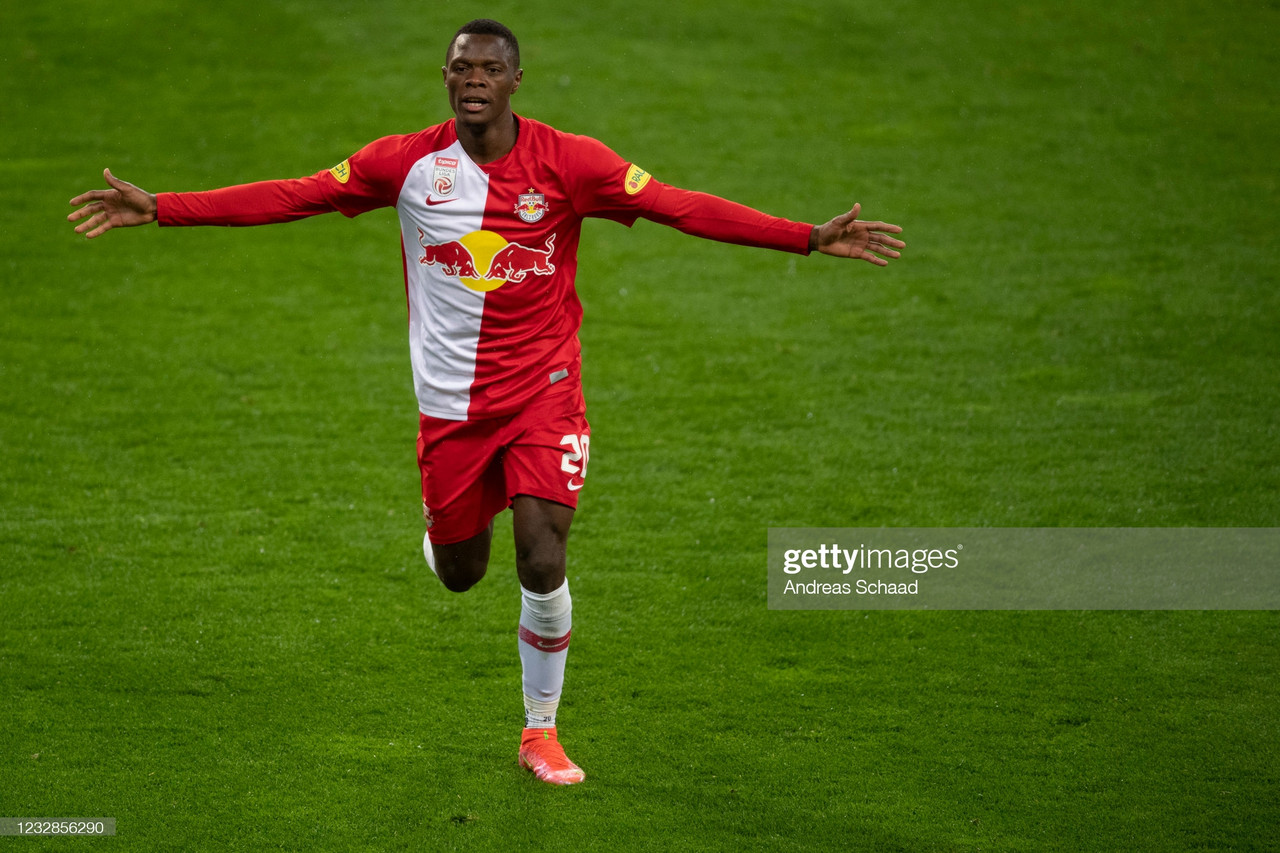 After intense transfer speculation from a multitude of teams, Leicester City look set to wrap up a colossal deal for Patson Daka, and the heir to Jamie Vardy's talismanic throne might just have been realised.
According to reports, Leicester's official proposal to Austrian champions RB Salzburg has been accepted - worth an estimated £30m – and the signing will be announced in the coming week after the Foxes clinched the player's services over the likes of top clubs such as Liverpool, Chelsea, and RB Leipzig.
At just 22 years of age, Daka finished the 20/21 campaign with an exemplary total of 34 goals in 42 appearances across all competitions. With 27 goals across 28 league games – including just 21 starts – the Zambian forward could dominate Leicester's frontline for years to come.
Such performances earned him the achievement of Austrian Bundesliga: Player of the Season and after dominating the league he will hope to carry his fantastic form over to the Premier League and announce himself to the world stage.
On Thursday, prominent football journalist Fabrizio Romano confirmed the news, stating that Leicester had indeed secured the player's signature and the deal should become official imminently.
What will he bring?
Vardy is now 34 years old, and with the players turning 35 in January the ominous task of replacing one of the club's greatest ever players has undoubtedly left a feeling of unease for supporters as they ponder who might fill the eventual void.
In Daka, Leicester will gain an offensive focal point that could just be a worthy successor.
The striker will bring destructive pace and clinical prowess to the side, similar to the skillset that Vardy has utilised to great effect during his time in the midlands. He possesses an adept footballing brain and understands when best to make darting dashes - splitting defences apart - and when to use his seamless movement to create space for a piercing shot inside the box.
His innate knack for finding the net is something that will serve him tremendously throughout his career at Leicester, and whilst a step up in competition breeds challenges more taxing for any player, Daka will take comfort in the wealth of high-calibre teammates to aid his development.
Daka shows the promise of being a player that can make it to the top of the football chain and at Leicester he will be able to nurture his talents at a club paving their way to the top of English football.
It is likely that Daka will play a peripheral role at Leicester initially, with Vardy still very much capable of leading the line, but this is something that will play in the prodigy's favour as he should aim to adapt to the ferocious pace of the Premier League and become acclimatised to a new environment.
Another star from Austria?
Salzburg have one of the best youth academies in the business and have produced some sterling names across the past few years: Liverpool players Takumi Minamino, Naby Keita, and Sadio Mane all developed their skillsets over by the Eastern Alps.
Additionally, the surging Erling Haaland captivated the world at Salzburg before earning a move to Borussia Dortmund, where he has devastated opposition defences.
Daka may just look to emulate the successes of such players and is certainly capable of doing so after being touted as one of Europe's most promising young stars.
According to leading football information site Transfermarkt, Daka has scored 68 goals and assisted a further 27 for Salzburg, totalling at 95 contributions across 125 fixtures; for a young and budding player this is simply astounding and leaves him in good stead for a prosperous career.