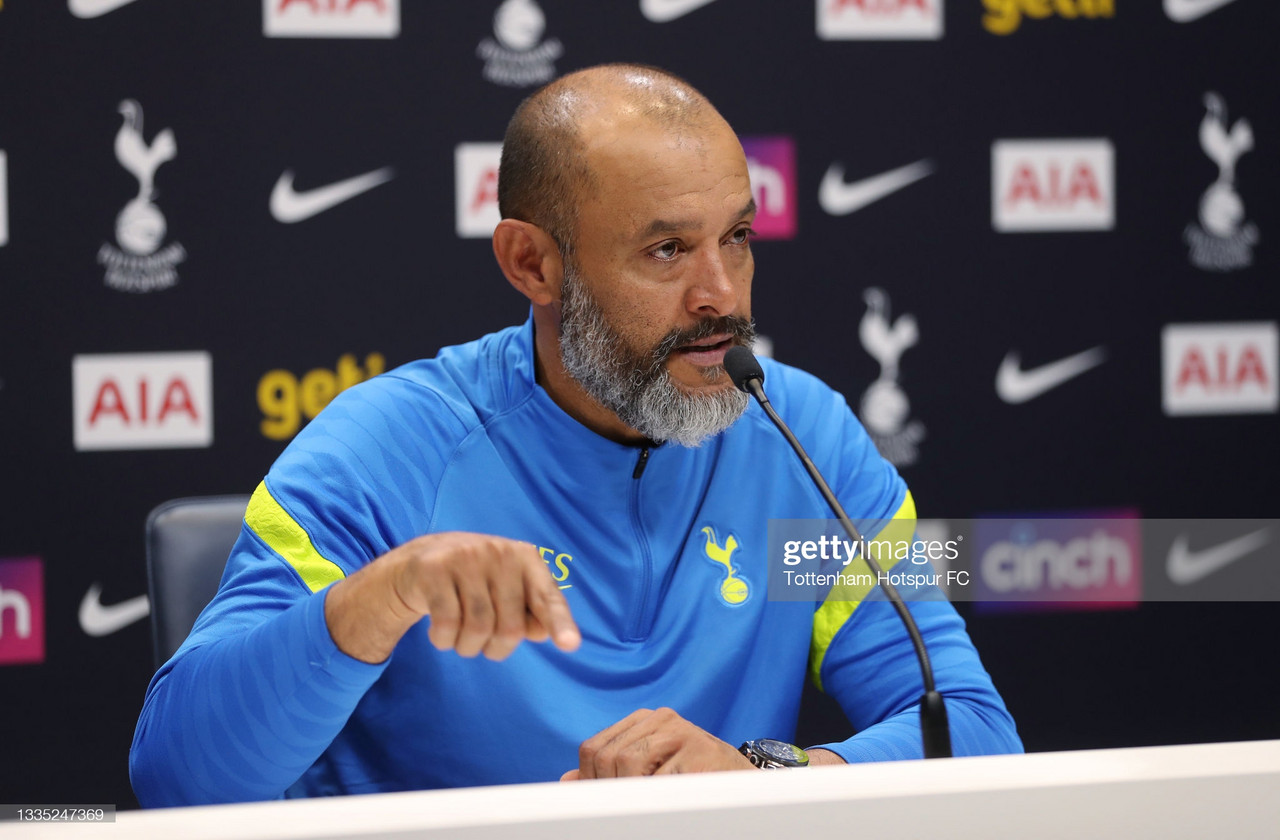 Nuno Espirito Santo spoke to the media ahead of Tottenham Hotspur's match against Manchester United tomorrow evening.
It promises to be a very telling game with Nuno and his counterpart Ole Gunnar Solskjaer desperate to return to winning ways in the Premier League.
The Red Devils lost 5-0 to rivals Liverpool while Spurs also lost 1-0 to West Ham United.
Here are the key quotes from Nuno's pre-match conference:
Bryan Gil came off injured against Burnley on Wednesday in the Carabao Cup.
Nuno was asked about his fitness going into the game and if there are any other issues.
"Bryan is a problem. He came out in the game but we are assessing. Sessegnon is not involved, he's still not with the group.
"We still have the training session this afternoon and then we will see what we've got."
Harry Winks and Dele Alli, two players that have represented England on multiple occasions, were left out of the squad mid-week against Burnley.
Nuno was asked whether these two will feature tomorrow.
"We are working with all the players; we still have the training session and then we will decide the squad for the game of tomorrow."
On Solskjaer and pressure
Solskjaer is under tidal waves of pressure after a disjointed start to the season which culminated in a 5-0 defeat against rivals Liverpool last weekend.
Nuno very quickly touched on his situation but then discussed how he deals with the pressure that surrounds being a manager:
"There is no manager in the world that is not under pressure. It's part of our job.
"Me, myself I take my own routine. I focus on what I have to focus on and my focus is on what I can control and what I can impact - it's on the players, it's on the squad, it's on the work that we do.
"It's on the players when we are together, the hours that we spend here on the training ground.
"This is where we have to focus, and if you focus on that - that will go to your home also because you keep thinking about what I should do the next day.
"And then you keep the focus on what you have to think about - ignore the noise."
On what has improved and what needs improving
A lot of the talk surrounding the game is around United but Spurs are not in the best shape themselves.
Nuno was asked what he thinks his side have improved on and what needs improving.
"[We need to improve] the possession. We need to increase our moments with the ball; we need to improve when we have the ball in the final third to create better lines, better combinations that will finish in goals, chances, shots and crosses.
"But we are improving on being more compact and playing balls to each other so the possession has been good in terms of defensive aspect.
"Also, we've been solid. We had to improve the set-pieces that really caused us a problem against West Ham in the Premier League and we improve that against Burnley.
"We didn't concede many chances and defensively we were spot on, so this is our work. Sometimes we improve some things, sometimes things don't work as well. But we go again, we go again."
Two summer signings from South America, Cristian Romero and Emerson Royal, have emerged as starters for Spurs in recent weeks.
Nuno spoke about them two adapting to the league and getting their place in the team.
"I think he's [Romero] improving, Cristian is improving. Two cases clear that with the games are stepping up and improving in a very, very good way are Emerson and Cuti Romero.
"Premier League is very demanding and at the beginning, they felt the impact of the competition but they are now settling down and that's what we need.
"Players that arrive, as soon as they get the right adaptation, the talent is there so it will be good."