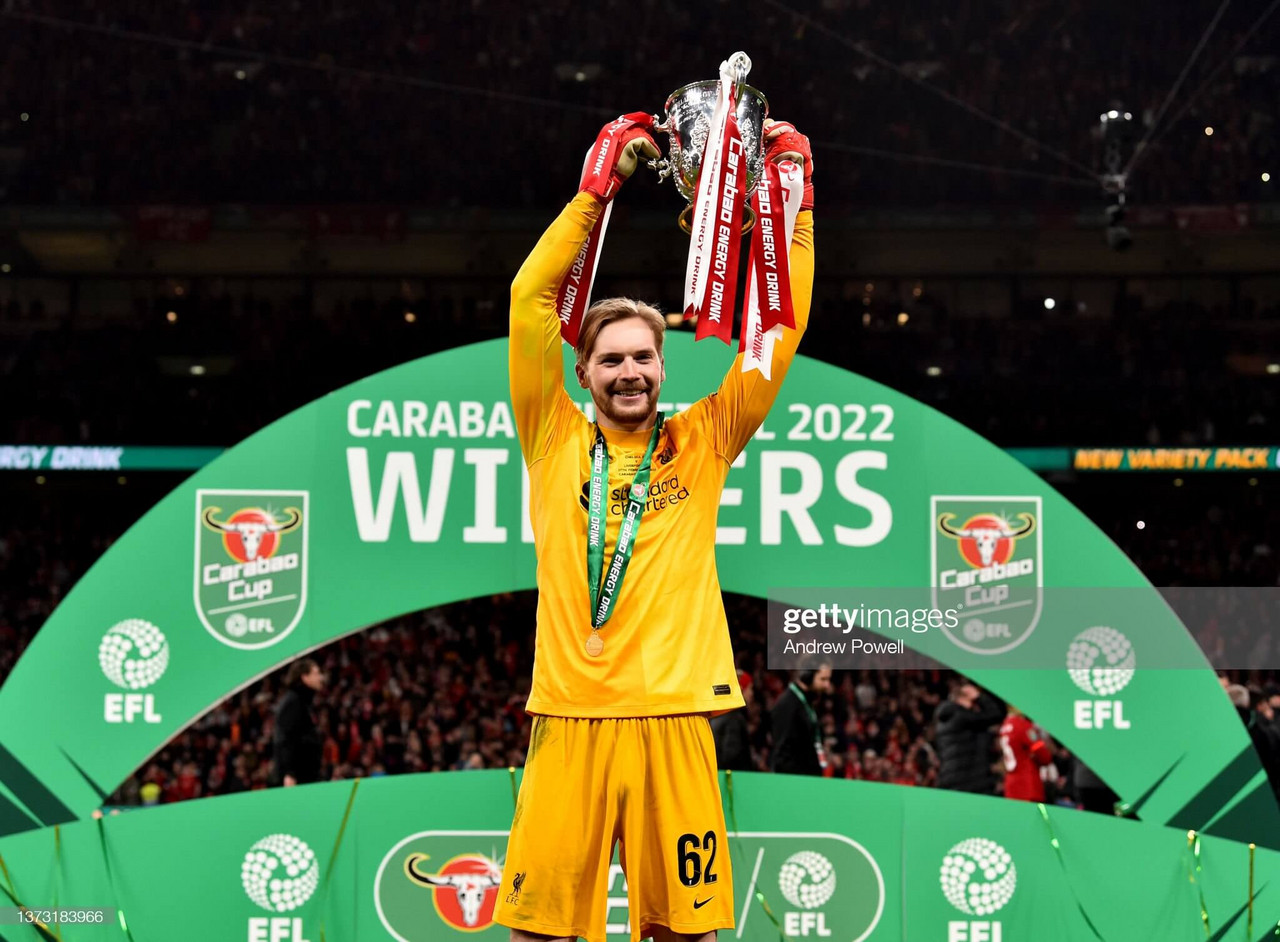 When Jurgen Klopp said in the build-up to this League Cup final that "if it works out, then it's all about Caoimhin [Kelleher]," he probably didn't quite have this in mind. For it was the 23-year-old reserve goalkeeper who scored the winning the penalty that gave Liverpool their first domestic cup in a decade.
Klopp had announced his decision to stick with Kelleher, rather than No.1 Alisson, for the showpiece final against Chelsea after he had been heavily involved in Liverpool reaching their first Wembley final since 2016.
Kelleher produced a number of good saves in the goalless 120 minutes before stepping forward to score the decisive penalty in a shoot-out which ended 11-10 as the only player to unable to convert was his opposite number Kepa Arrizabalaga, who was sent on from the substitutes bench specifically for the penalty shoot-out.
"He had an incredible game. People asked me rightly two weeks ago if we will give Caoimhin another game to get some rhythm or whatever," said Klopp of a goalkeeper who had not played for three weeks and was making only his eighth appearance of the season. "But that's life of a number two, especially for a young number two, that you just have to be ready when you are called.
"The game he played tonight was absolutely incredible. I'm not 100 per cent sure I have the full story of the whole game but I can remember at least two incredible saves – probably there were more. So he proved that the decision to line him up was absolutely right."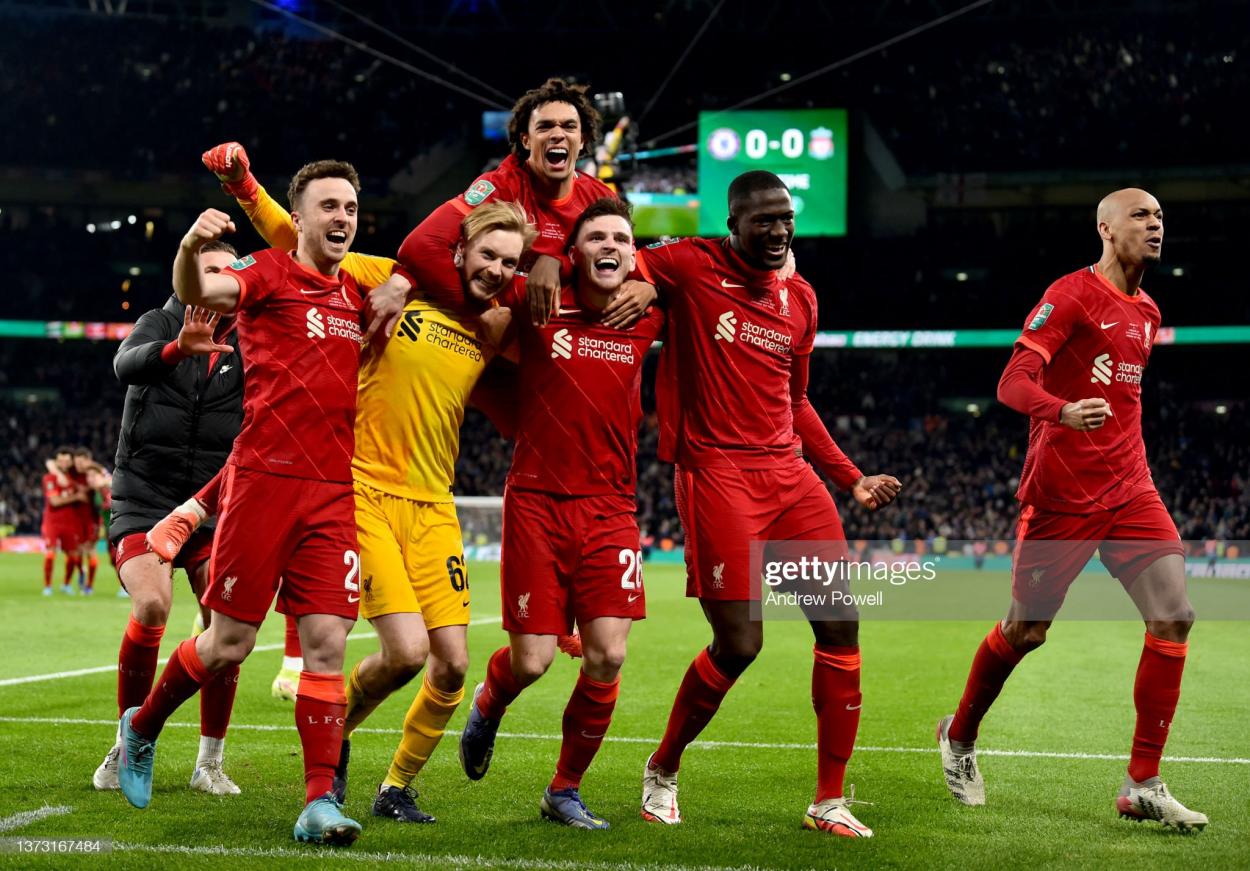 The Irishman had already been the saviour during Liverpool's quarter-final penalty victory over Leicester City but was unable to get close to the spot-kicks dispatched by Chelsea. It came to his turn to take one and he demonstrated the technique he had honed as a striker during his childhood.
"In a very spectacular penalty shoot-out he showed the whole range of his skill set," added Klopp. "First and foremost, he's a goalkeeper but he finished one off with his really skilled feet. Top class. Alisson Becker is the best goalie in the world for me. There are [other] goalies out there but this goalie is absolutely insane.
"But to be 100 per cent honest, for me Caoimhin Kelleher is the best number two in the world as well, especially for the way we play."
'It's a big one for us'
This triumph ensured Liverpool are still able to achieve a highly improbable quadruple this season and was third time lucky for Klopp at the home of English football. The German manager had lost the 2013 Champions League final at Wembley with Borussia Dortmund and the 2016 League Cup final during his first season in charge at Liverpool.
"We were here and lost a final in a penalty shoot-out like six years ago. Afterwards, nobody talks about it, it's like, 'You were twice at Wembley and you lost both finals'," Klopp said. "In 10 years' time nobody will ask 'How did you win exactly against Chelsea?' You just have to win it.
"Were we better tonight than that time against City? I'm not 100 per cent sure to be honest but we are more experienced, that's a massive difference. We don't get nervous when things don't go well. We keep really our nerve and stuff like this. Over 120 minutes you cannot hold them (Chelsea) back from your goal, so they had their chances and obviously they scored 'goals' more than us, but they all were offside.
"That's pretty harsh to take for them, I can imagine, but I'm really happy about the effort and all these kind of things. Yes it's a big one for us because it's the first time for this group but the ninth time for the club, which is very important as well."