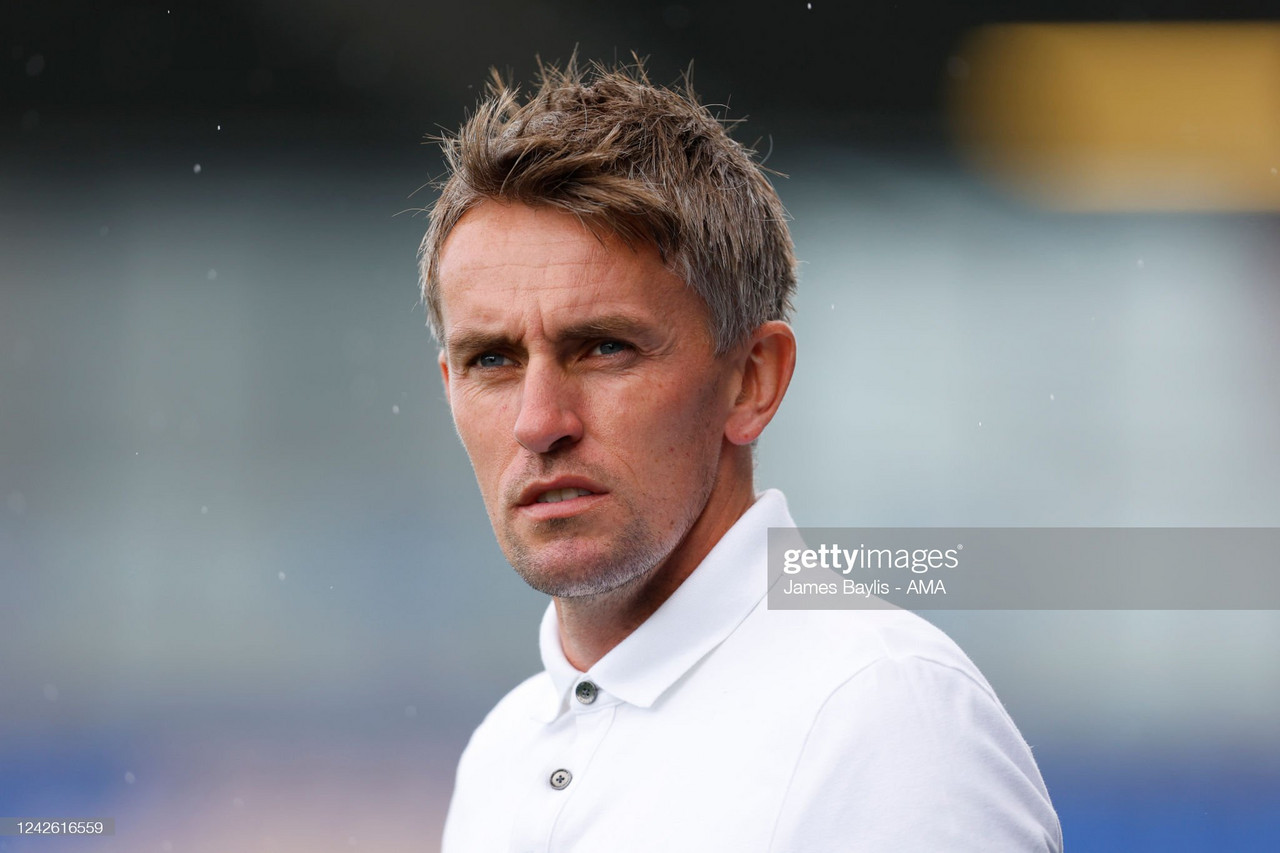 Kieran McKenna was pleased with a professional display as Ipswich Town breezed past non-league Buxton 4-0 to reach the third round of the FA Cup.
Conor Chaplin scored twice while there were also goals for Gassan Ahadme and Kayden Jackson on a night that saw Ipswich into the third round for the first time since relegation from the Championship in 2019.
The draw for the next round will take place on Monday evening.
McKenna on a professional display
McKenna acknowledged that it was a job well done for his side tonight and was complimentary of Buxton, who had reached the second round for the second consecutive season.
He said: "We knew what the game was and what we needed to do. Of course, you want a professional performance. You know that you're going to have most of the play and the opposition are going to try and make it difficult.
"So, it's about trying to create chances, score goals, make sure you give nothing away at the other end, clean sheet. We wanted to start with a strong team and try and get players off and manage the minutes later in the game and also give some of the younger players some opportunities.
"I think we managed to tick most of the boxes tonight."
On their Derbyshire opposition, McKenna said: "Credit to them, they were well organised and put their bodies on the line and gave us a tough game and certainly didn't make it easy for the goals to come.
"We had to work hard right the way through the game, and they kept going so credit to Jamie [Vermiglio] and to the players.
"I said that when we played Bracknell in the first round it was their night. It is nice for us to get through but it's a massive game for Buxton and credit them for coming for this round. Hopefully their players and manager and fans, even though they didn't get the big upset that they would have loved, but they came and gave themselves a really good account and hopefully it gives them a boost for the rest of the season.
"I thought their supporters were really vocal and stayed with the team as you would want them to."
McKenna on the goalscorers
Ahadme's goal was his first in Ipswich colours and came on his first start for the club since signing from Burton Albion in the summer.
The Moroccan had been sidelined with a foot fracture in recent weeks and McKenna was delighted for him to get off the mark.
Quizzed on his confidence levels, McKenna said: "I don't think he's lacking in that department. But of course, in your first start it's nice to get off the mark with a goal.
"He got a lot of first contacts in the box in the first half, which is something that he'll give us. I think, as time goes on, we'll be able to coordinate them movements a little bit better and find him in more dangerous positions in the box."
Chaplin ended a goal drought which saw him score his first goal for 13 matches, taking his tally to eight in all competitions this season.
"Conor's a goalscorer, so he wants to be in and around the goals," he said of the former Portsmouth forward. "He always gives us a lot, he gives us a lot on the ball, he gives us sort of off the ball, he gives us a lot in the dressing room and with his energy.
"But he wants to be in and around the goals and we need him in and around the goals. Nice for him to get his couple tonight. He's always told me he's a streaky goalscorer so hopefully that's the start of another streak."
McKenna on absentees
Panutche Camara and Greg Leigh were both involved in the midweek defeat to Pompey in the EFL Trophy but were absent from the 20-man squad this evening.
McKenna explained the reasons for this, confirming injury to again be the cause for concern for both players.
He said: "Greg has a scan tomorrow, he has an issue with his knee close to the site of his last injury. He came through 60 minutes but very shortly after in training he felt an issue as he was moving through to receive a ball, so he's got a scan tomorrow, so we'll see how he is.
"Panutche, he had issues and has issues with his groin area from the injury that he had when he was at Plymouth. That's why we've had to be patient with him, but we got him through 70 minutes the other night, but he still didn't feel right during or after the game so that needs to be reviewed."
McKenna on the competition
With Ipswich into the hat for the next round, McKenna says there is no specific ties he would be looking out for in the draw and says there are different ways of looking at it.
"Honestly, I'm open to all avenues," he said. "Of course, it would be nice to get a really challenging, big club and go and test ourselves. But we want to go as far in the competition as we can and we know if we stay in the competition for longer than those games are going to be unavoidable anyway.
"It's nice to be in the hat, I think the club hasn't been in it for a few years. We spoke before to start the season and even before today about the fact that the club's record in the FA Cup hasn't been great and I know it's a big competition for the fans as well.
"So we wanted to, bare minimum, get to the third round. We've done that, of course the draw has not been the most difficult we could have had. But it's nice to be in the hat for the third round. We'll be happy whoever we get."
McKenna is, of course, a former assistant coach at Manchester United before joining the Blues. Would the Northern Irishman consider a trip to Old Trafford, perhaps?
McKenna joked: "That would be nice, hopefully in the quarter-final."