In recent weeks, rumors have been swirling about Eden Hazard and his potential departure from Chelsea.
The 25-year-old Belgian international has been struggling majorly this season, after winning the PFA Player of the Year and Chelsea's Player of the Year (for the second year in a row). He moved to Chelsea in 2012 for a reported £32 million from the French side Lille.
A few days ago, Hazard told Le Parisien it would be very tough for him to say no to European giants Paris Saint-Germain: "It would be difficult to say no to PSG, or to any of the teams capable of winning the Champions League." He added, "PSG are now in that category. And for me, winning the Champions League is my main aim."
However, he followed up this statement with some reassurance for Chelsea fans: "For the moment, I'm not really thinking about it."
Hazard also noted that his contract ends in 2020. During a news conference today, Guus Hiddink said: "He is very keen to extend his contract here and his family are happy."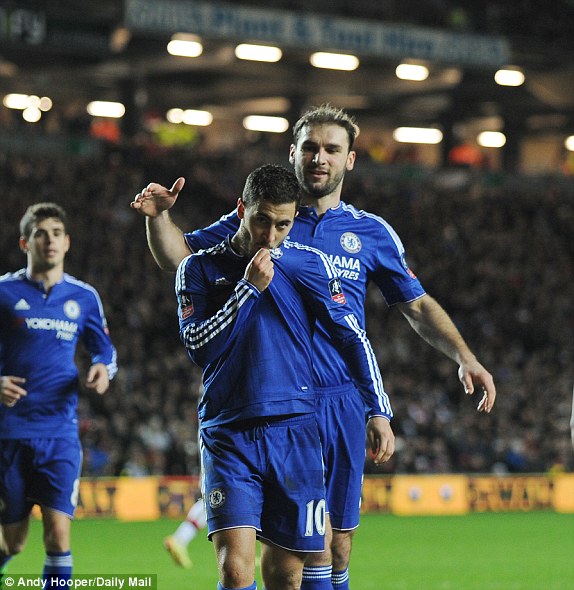 Although Hazard has regained some form, he still has work to do
It took Hazard nearly six months to get on the score sheet. His goal came from the penalty spot against second division Milton Keynes. Last season, he was a threat every time he touched the ball. Now, he's struggling to add to his goal scoring record.
The left-midfielder has shown how a player can effect a team in a positive way even without scoring goals in recent matches. He will be put to the test on Sunday's FA Cup match against Manchester City.
The FA Cup is a primary target for the Blues as getting a top-four finish seems more unlikely as each week goes by. Remaining in a European competition will be vital in bringing in players in the Summer transfer window.
Money talks, football fans know that. The money giants, including PSG, are not afraid to write a big check. The Paris outfit aren't the only rumored team to be chasing Hazard, as the interim-manager for Real Madrid, Zinedine Zidane has praised Hazard on multiple occasions.