Chelsea interim manager Guus Hiddink has said that Saturday's 1-0 defeat to Swansea City will be beneficial for his players in the long-term.
Surprising Swans
Chelsea's were left shocked at the Liberty Stadium as their 14-game unbeaten run under Hiddink came to an end; a single goal from Gylfi Sigurdsson after 25 minutes gave them the victory.
Their was a number of significant absentees to the current champions squad with John Terry, Gary Cahill, Diego Costa, Eden Hazard, Willian and Nemanja Matic all missing out.
This allowed for some of the youngsters to get a run out and Ruben Loftus-Cheek and Matt Miazga both started the game, as Kenedy and Bertrand Traore came off the bench.
Look at the positives
Miazga, the young American centre-back, was at fault for Sigurdsson's winning goal and was subsequently replaced at the break.
After the game, Hiddink didn't single out his performance but said that defeats like this in particular are things that young players need to experience.
He told Sky Sports that they had a "poor defensive spell" which gifted them the goal and that they went "looking for a goal" in the second period but it "didn't materialise".
He continued saying that he "can't complain" about the absence of some of his key players that can "make a difference". He did admit that it is "good for Chelsea" to see what other players can do and "good to expose" the younger players to defeats.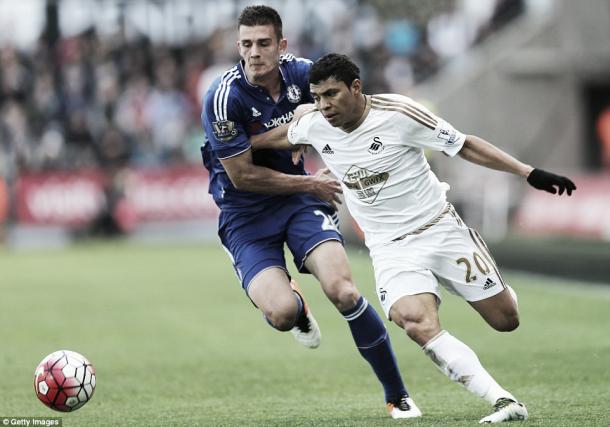 Not an affect
It was announced earlier in the week that Antonio Conte would be made the new permanent manager at Stamford Bridge after he leads Italy through the EURO 2016 tournament in France.
However Hiddink doesn't believe that this announcement had an affect on the performance of his players similar to that of next week's opponents Mannchester City, after their announcement of Pep Guardiola.
He said he didn't "think so" and that the players didn't have in their mind to "look to next season".
Chelsea will host Manchester City at Stamford Bridge on Saturday, April 16 with kick-off at 5:30pm BST.