Chelsea interim manager Guus Hiddink has said that his side showed pride during Saturday's 4-1 victory over AFC Bournemouth.
Return to form
The Blues were desperate to return to winning ways in the league when they visited Dean Court on Saturday having lost their last two matches to Swansea City and Manchester City respectively.
It proved to be a routine victory against Eddie Howe's side with goals from Pedro, Eden Hazard and Willian cancelling out Tommy Elphick's effort to give them the three points.
Hiddink shared his jubilation at his sides attacking performance telling Sky Sports that it was "very pleasing" and despite their been "nothing at stake" but believed they showed "pride" and "how they like to play football".
He continued saying that they did not want the season to "fade away" and that the teams pride and the "pride of the club" is "at stake" but believes the side responded "very well".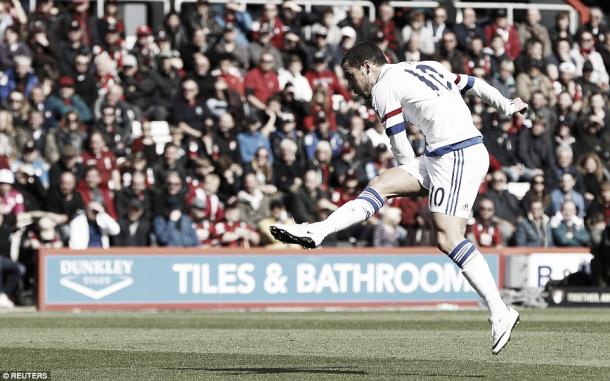 Good to be back
The biggest positive that Hiddink will take from the game is the return to goalscoring form for Hazard with the Belgian scoring his first league goals of the season.
After struggling with injuries and form for the majority of the season, Hazard was delighted to make a positive return.
He said that the team did "very well" and that they "deserved to win" and that it was "good" to be back on the pitch and "score again".
He continued saying that it had been "so long" since his last league strike which he said him "happy" and he hoped "for the future" that he will return on a regular basis.
Looking to impress
Midfielder Cesc Fabregas put in a man-of-the-match performance in Saturday's game with three assists and a major hand in the fourth and after the game, he said that the side will look in the final four matches of the season.
The Spaniard said that the side want to "finish with dignity" and make the fans a "little bit proud".
Chelsea will take on Tottenham Hotspur at Stamford Bridge on Monday, May 2 with kick-off at 8pm BST.