2016 saw Andy Spence returned to the Everton manager role after working last season at the academy. Last season, their promotion battle was not helped by their inability to beat either of the two promoted sides Reading and Doncaster Rovers Belles. They also failed to win enough games, especially at home where they only won three times.
And they began the season with a comprehensive 7-0 win over Stoke in the FA Women's Cup Fourth Round back in February. Spence was delighted that they had kept a clean sheet, as he had felt that last season, the club had given away too many soft goals.
Before the WSL 2 season began, Everton was back in FA Cup action – this time beating Nottingham Forest 5-0, after another dominant performance and a clean sheet.
However, their FA Cup run came to an end when they lost 1-0 to fellow WSL 2 side Aston Villa. But when it came to the league, they bounced back with a win in their opening WSL 2 match against the same opposition. Despite going 1-0 down, Everton fought back through goals from Simone Magill and Georgia Brougham to win 2-1 – and Spence praised their character after the match.
This character would be on show in their second league game, as they fought back from 2-0 down against Millwall Lionesses to draw 2-2.
Things were easier as they beat Watford 3-0 thanks to goals from Claudia Walker, Dan Turner and Magill. After the game, Everton's captain Michelle Hinnigan praised the depth of goal scorers in the squad, saying that in previous seasons they had relied on a couple of scorers.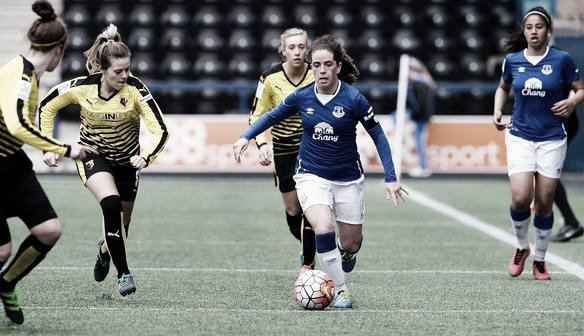 May began with Everton picking up their third win of the season, beating London Bees 5-1. Despite the scoreline, Spence still had issues with the performance, believing the scores should have been level at half-time, adding that the club will have to be more adaptable to different opposition tactics. This was something Dan Turner agreed with, and she admitted that in the first half, they didn't get the basics correct and that there were issues over communication.
After their next game, Everton moved top of the table having beaten Aston Villa 2-0, but they would not go into the mid-season break in first, having drawn their last game against Millwall 1-1. Kelly Jones, who had scored the crucial equaliser, was disappointed in the performance. Like their win over London Bees, she felt they had failed with their basics and that they should be going into the mid-season break with six wins.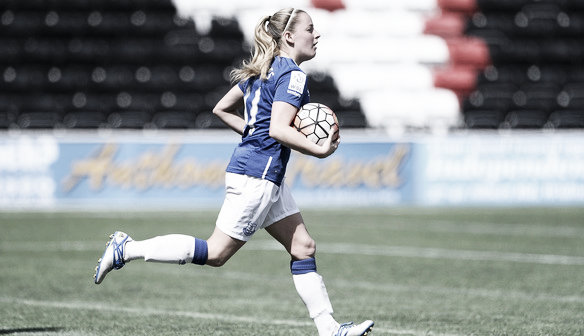 So what can be said about Everton's first-half of their season? First of all, they are unbeaten, and that is always a good thing to be. And whilst they are not top, they are only behind first place Yeovil Town by two points and have a game in hand over them.
They are also yet to play Yeovil, so if they win both of those games, then they could be in a very strong position for the title.
There have also been some clear improvements in results. For example, they've already won as many games at home this season as they did in 2015.
However, there were some clear concerns mentioned by the manager and the players after certain games, especially about communication and the basics. If they can work out what the issues were and solve them, then it looks like Everton are not only in a good position to get promoted, but to get promoted as champions.