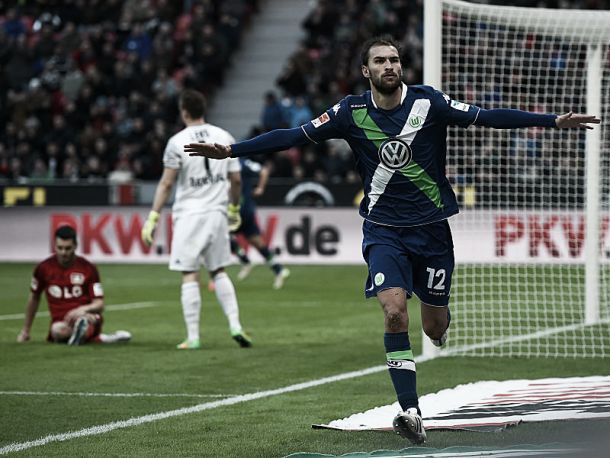 Heung Min Son scored a hattrick and Bas Dost scored four but his quadruple seals all three points in a thrilling 4-5 win for Wolfsburg.
It took just three minutes for the hosts to test Benaglio, Kießling played Karim Bellarabi in, he had acres of space, his shot was brilliantly saved by Benaglio.
The deadlock was broken after just five minutes, Vierinha with the whipped delivery to Dost who headed in the bottom corner. Just over ten minutes later, Naldo made it two. His free kick from 40-yard free kick bounced before Leno who couldn't keep it out.
Leverkusen pressed for a goal to peg back the Wolves, Karim Bellarabi had another chance to pull a goal back, Calhanoglu set him on a run but his shot flew over the bar, Luiz Gustavo fouled Emir Spahic giving Hakan Calhanoglu a chance to use his free kick expertise on Wolfsburg, his effort whistled past the right hand post, Leverkusen coming closer.
Kevin De Bruyne beat Hilbert and held him off to deliver to Dost who cheekily pokes home to embarrass the hosts further. Wolfsburg piled on more pressure trying to seal the points in the first half as Andre Schürrle bared down on goal one-on-one with Leno but his chip went wide following Ricardo Rodriguez's pass from Wolfsburg's own half.
Hakan Calhanoglu beautifully delivered to Boenisch but his glancing header floated wide of the mark.
Vieriniha slipped the Leverkusen defence open, Kevin De Bruyne beat the on coming Leno to the ball, he cut back to Schürrle but again he fluffed his lines, this time his effort flew over the bar.
Brandt played it back to Bellarabi, he burst inside, his shot dipped over the bar but Leverkusen started the half brighter. Then, the hosts pulled a goal back. Bellarabi's half volley squirmed through Benaglio but he still had it in his grasp, Heung Min Son swooped in to poke home, controversy at the goal as Benaglio felt he had the ball in his grasp. Either way, the decision stood and Leverkusen pulled one back. Then minutes later, Son made it 2-3! The South Korean who poked the ball over Benaglio this time brilliantly controlled long ball.
A minute later, Dost hat trick was completed his hat trick, Ricardo Rodriguez burst down the far side, fizzed a ball in at the back post and yes Bas Dost was lurking to fire home.
But it wasn't all done there, Son also completed his hat trick, he ran down the far side cut in and his right footed strike flies in. Benaglio could only watch the ball nestle into the corner.
Five minutes later the comeback was completed , Karim Bellarabi sprung the offside trap and ran through unchallenged and finished through the legs of Benaglio to make it 4-4, after being 0-3 down!
With eight minutes remaining, the hosts were reduced to ten. Emir Spahic was sent for an early bath following his high aerial challenge with Dost which the referee deemed to be an elbow, second yellow card the Bosnian was sent down the tunnel.
The Brazilian Naldo outjumped Boenisch following Kevin De Bruyne's delivery a minute before stoppage time, but he could only head it towards the German U21 torwart Bernd Leno.
Think it was over? Not a chance! With the last touch of the game Bas Dost made it 5-4, scoring his fourth of the match! Vierinha with the delivery, Leno committed and Dost got in before the torwart and shinned the ball home.
The excitement sadly ended. 5-4 to the visitors. What an unbelievable game it was. Wolfsburg push on trying to catch league leader Bayern Munich, while Leverkusen will have to lick their wounds after coming back so brilliantly they sadly couldn't snatch a point after it was took away from them by that man, Bas Dost.