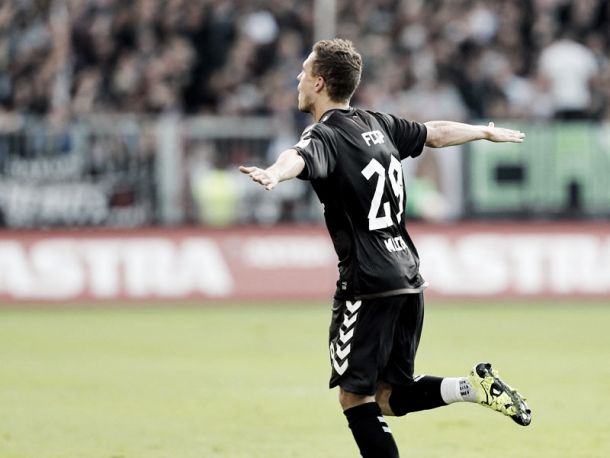 At the Millentor-Stadion on Wednesday evening, St. Pauli held onto a 1-0 lead moving them into the second spot in the 2. Bundesliga table, defeating 1. FC Heidenheim who slipped down to the ninth spot.
Waldemar Sabota tried to play a ball in towards Verhoek who just could not quite get his head on the dangerous cross in the third minute of play. From this initial attack from St. Pauli, you could tell that they were going to be the aggressors, pushing tonight's visitors deep into their defensive third of the pitch throughout the 90 minutes. Sabota then tried to chip the Heidenheim goal keeper with a lob from outside of the penalty area only to see his audacious attempt sail over the top of the cross bar, seven minutes into the match.
In the 20th minute, Enis Alushi went down grabbing his right thigh and after a long period of stoppage as we was being attended to, the 29-year-old had to be substituted out.
Alushi injury stops play
Because of the injury to Alushi, St. Pauli were down a man for a few minutes and Heidenheim nearly make them pay but Morabit was ruled offside as he was quite ahead of the last defender.
St. Pauli kept the pressure up in front of the Heidenheim goal and their hard work paid off in the 34th minute thanks to a nice strike from Sebastian Maier after he did well keeping the ball before finding the bottom right corner from an inch or two inside the eighteen yard box.
Halftime: St. Pauli 1-0 1. FC Heidenheim
With the hosts up at halftime, and deservedly so, they knew that all that was required of them for the rest of the evening was to continue applying pressure on the opposition's back four while playing sound defense themselves.
Heidenheim's matters were made worse seven minutes after the hour mark as Wittek was shown his second yellow card for a poorly timed tackle on Buchtmann. After the sending off for the visitors, there was not much flow to the match with both sides going hard into challenges and the referee being forced to stop the play in order to keep everything under control.
Rzatkowski whipped in a fantastic cross where it was met by the head of Sobiech but his effort was met by the superb reflex of Zimmerman, keeping the score at 1-0 with eleven minutes remaining.
Ewald Josef will be very happy with the result but there will definitely be things to work on considering that they had an advantage on the pitch but still only managed to find the back of the net once -- and that was before the red card even occurred. But nonetheless, St. Pauli are up to second now with SC Freiburg still to play on match day eight.