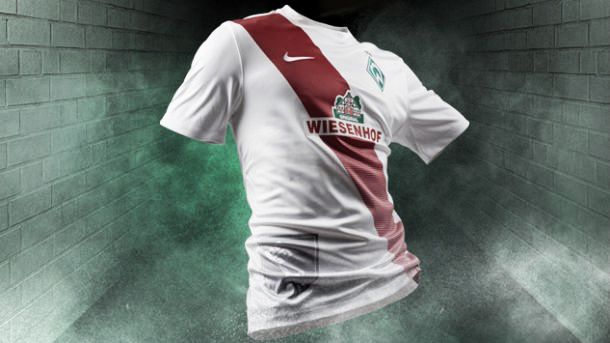 Two days before the DFB-Pokal clash against fellow Bundesliga side 1. FC Köln, Werder Bremen unveiled a new strip for the game.
A stark contrast from the usual green and white
The new shirt is mainly white, but with a striking, diagonal sash in red. Even though it may be a bit confusing for many people, as red and white are usually the colours of Werder's opponents, Köln, but the idea behind is that red and white are Bremen's city colours. Furthermore, the shirt features the key from the city's coat of arms.
"Our first cup home game in five years is the perfect opportunity to debut the new alternate kit," says Petra Stelljes, who is the chief executive of the Werder Bremen fan service.
She also communicates that the Pokal game will not be the only chance for the Bremen fans to see their team play in a special kit. It is planned for the players to wear it on the last game before the Christmas break as well - coincidentally, this game is also against the Geißböcke.
A change of kit, a change of form?
Werder Bremen have had a difficult time in the last weeks, losing five games in a row with a goal difference of 1-8. But last Saturday, they got themselves out of the danger-zone with a 3-1 away win at Mainz thanks to two goals from Anthony Ujah.
For the Nigerian, it will be a special game as he left 1. FC Köln last summer to join Werder Bremen after three very successful years. Many of the Geißböcke fans did not understand his move, as only a few believe it is a better move for the player's career. And now, many of them express their Schadenfreude because Werder Bremen's season has been much worse than Köln's.
Furthermore, Bremen fans can buy an special scarf with both team names and colours made especially for this DFB-Pokal game.